IMG Academy Private Workout: O'Bryant, Lowry, Nicholson, etc
May 18, 2006

There wasnít too much to take away from this workout considering that Nicholson was mostly working on his perimeter game, but it was very obvious that heíd lost quite a bit of weight since the last time we saw him in early April at Portsmouth.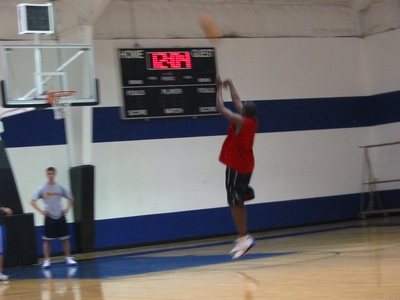 Jonathan Givony, DraftExpress.com
Nicholson ran the floor much better than he did on tape or at the NCAA seniors only camp, and seemed to be working extremely hard throughout the workout, from the start until the very end. Heís not the type of player who will look that good in many of the ball-handling and perimeter shooting drills we saw him go through, but you can at least say that heís gone from having absolutely no skills on the perimeter to not being embarrassing to watch in this type of setting. His feet were just as nimble as we remember them, his hands still huge and his arms incredibly long, so it will be very interesting to see how he looks at the pre-draft camp in June with another few weeks of training under his belt. Despite his age he hasnít been playing organized basketball for all that long, so it wouldnít be a stretch to say that he isnít done improving yet.
[
Read Full Article
]
Portsmouth Invitational Tournament: Recap
April 11, 2006
After a disappointing first game, Nicholson came on strong in his second, showing great prowess on defense and the boards to go along with some contributions offensively. Nicholson showed a few nice post moves, a mid-range jumper, and a nice touch off the glass. On the defensive end, he showed some excellent weakside awareness and blocked a few shots. Nicholson should look to improve his man-to-man defense in the post, further refine his offense, and really work on his conditioning. He has very little tone on his body and is obviously not at his athletic peak. Nicholson appears to be noticeably smaller than the 6í11 he is listed at, so his future at the center position is in question. His nose for the ball, rebounding, and weakside defense appear to be NBA-ready. If he can get into better shape and work on the rest of his game, heíll be able to make a nice contribution in the NBA.
[
Read Full Article
]
Yemi Nicholson NBA Draft Scouting Report
January 26, 2006
Strengths
Nichoslon has good basic physical attributes including size (6-10 or 6-11) a very big frame, excellent strength and long arms.

Offensively, Nicholson will score 20 or more points at the mid-major level on most nights thanks to his physical attributes and raw skills. His hands are soft, allowing him to catch almost anything thrown his way. He goes up strong at the basket and likes to finish emphatically with an aggressive dunk, even with contact. Early in games he runs the floor well and is a viable option to finish in transition. He is fairly quick off his feet here, and shows a lot of passion attacking the rim. The jump-hook or baby hook shot are his best finesse weapons; he executes them well with a nice soft touch off the glass. Nicholson plays with a lot of fire when conditioning isnít an issue, and will often just will the ball into the basket with his strength. He also can knock down the simple baseline jumper with range out to about 15 feet. His touch from the free throw line isnít bad either, with percentages hovering around 70% this year.

Nicholson shows a surprisingly good understanding of the game considering his rather limited basketball experience. He passes well out of the double team and generally uses his height well to see the floor.

Defensively, he blocks a lot of shots in the Sun-Belt conference thanks to his size, strength, length and relative athleticism.

In terms of intangibles, itís nice to see the type of fire he brings to the floor when heís energized. Heís a tough player, but also usually has a big smile on his face running up and down the court. You can tell that he enjoys playing basketball. Despite not being the youngest player in this draft, his upside is a bit higher than your average senior since he has not been playing organized basketball for all that long. Heís been playing Division 1 basketball for three years and has improved considerably from year to year.


Weaknesses
Depending on who is listing him, Nicholson is always a center but his height varies from 6-10 to 6-11. Just by eyeballing him the 6-10 figure looks about right, but it is difficult to tell with bulky big men like him. That one inch will certainly make a difference for him since his potential to play power forward is limited. He makes up for his size with his length, but things wonít be nearly as easy for him in the NBA.

His biggest problems right now revolve around his lack of conditioning and the competition heís been facing over the past few years.

Yemi gets winded easily and often looks to be laboring to get up and down the court in the 2nd half. He has a lot of baby fat on his frame still and would probably be well served to shed 15-20 pounds to improve his agility and stamina. His motor looks good when conditioning isnít an issue, but that usually doesnít last too long. Nicholson is not a bad athlete even in his current shape, so you have to wonder how much more nimble he would be if he could find a way to get into excellent shape.

Defensively, Nicholson has a tendency to rely too much on his length and shot-blocking ability. Heíll give his man plenty of space in the paint thinking he will be able to compensate by just getting up in the air and swatting the shot away. This is a bad habit that we see all too often from shot-blocking big men in college, especially at the mid-major level. His man to man defense is average at best, and this comes to play the most when heís pulled out to the perimeter, especially defending the pick and roll. He hedges half-heartedly and then is very slow to recover and get back inside. His lateral quickness is not a strength of his, which limits his potential to defend any other position but center in the NBA. Nicholsonís worst enemy might be foul trouble, this is an issue that haunts him from time to time, especially earlier in his career, although he has improved on this as a senior.

At times it isnít easy to tell that Nicholson doesnít have a great deal of experience going up against high-caliber big men, especially regarding his fundamentals. Rebounding wise, he doesnít box out all that well, again relying on his strength, length and athleticism to do the job for him. This often has more to do with how tired he is than anything, though. Offensively, his footwork is not all that polished and itís not rare to see him turn the ball over after being called for a travel. He uses his right hand almost exclusively and doesnít have a very wide arsenal of offensive moves. He would be well served to add some face-up skills to his offense, as you rarely see him take a shot outside of 15 feet. His limited offensive arsenal is enough to allow him to score 20+ points in the Sun-Belt since heís so big and strong for that level, but itís not going to cut it at the NBA level without showing substantial improvement.

Essentially being a 5th year senior, Nicholson will be 23 years old by the time the draft rolls around.

Competition
Nicholson plays in the Sun-Belt, a mid-major conference that gets very little respect nationally but actually is not all that bad a level of competition as far as mid-majors go. There are not many talented big men to be found here, though, so good matchups can be tough for him to come by.

Nicholson only played one year of basketball in high school, and was recruited to play saxophone at Fort Lewis College. He walked on to the basketball team there, and then decided to transfer to Denver, forcing him to sit out a season due to transfer rules.

This year his team is struggling at the time of this report, with a 3-3 record in the Sun-Belt and just a 10-9 record overall. There is a lot of parity in this conference, so making the NCAA tournament with an automatic bid will not be out of the question until they are actually eliminated in their conference tournament. The exposure he could receive here could be tremendous for him, since he was not particularly impressive in the high-level big men matchups heís had this year. The one that will be cited the most will probably be Denverís matchup with Stanford in the out of conference schedule. Nicholson was outplayed on both ends of the floor by 6-11 Stanford power forward Matt Haryasz, finishing with 10 points, 11 rebounds and 5 turnovers on 4-12 shooting in 26 minutes battling foul trouble. Haryasz had 24 points and 13 rebounds on 7-14 shooting in 35 minutes, and the Cardinal rolled to a 71-49 victory on their home floor.

Other good matchups involving Nicholson and an NBA draft prospect big men include:

Jason Smith, Colorado State: Nicholsonís team lost 64-58 very early in the out of conference schedule, but Yemi played well with 22 points, 17 rebounds, 1 turnover and 4 blocks on 7-15 shooting. The talented 7 foot sophomore Smith had 22 points, 13 rebounds, 4 assists and 6 turnovers, along with the win.

Justin Williams, Wyoming: Nicholson got the better of this matchup with 22 points, 15 rebounds and 4 blocks. The 6-10 senior shot-blocker extraordinaire Williams had 7 points, 6 rebounds and 3 blocks while fouling out in 23 minutes. Denver won this game 69-64.


Outlook
Nicholson is been garnering plenty of draft interest over the last two years because of his physical attributes and the numbers he puts up. He looks like a very solid candidate to get drafted and might be able to work his way into the first round depending on the type of shape he can get himself in and how his workouts go. There will probably be longer transition period than you would usually expect from a college player trying to adapt to the NBA because of the things he needs to get out of his system and the all-around polish he needs to add, but he does have nice potential as at least a backup big man.



Facts
2004-2005 Sun-Belt player of the year. Associated Press Honorable Mention All-America.

Won the Louis Armstrong Award for his stellar play of the jazz saxophone.



[
Read Full Article
]