Top NBA Draft Prospects in the Pac-12, Part 7: Prospects #15-20
September 8, 2014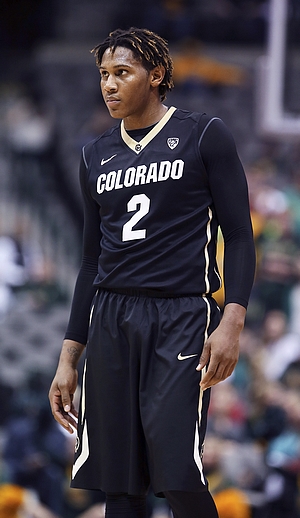 US Presswire
Matt Kamalsky
After busting onto the scene as one of the more productive freshman in the Pac-12 during the 2012-2013 season, Xavier Johnson put together a fine sophomore campaign, averaging 12 points and 5.9 rebounds per-game as Colorado made the NCAA Tournament despite losing Spencer Dinwiddie to a knee injury mid-season.
Standing 6'7 with good length and solid, but not spectacular, all-around athleticism, it isn't hard to see what makes Johnson an intriguing NBA prospect on first glance. The 69th best prospect in the 2012 high school class according to the RSCI, Johnson combines nice physical tools for a small forward at any level with an above average feel for the game and the ability to do a number of things well on both ends of the floor.
Skill-wise, Johnson remains largely the same player we wrote about a year ago. He's an opportunistic slasher and finisher whose body control helps him overcome the fact that isn't always able to explode and finish everything above the rim. His size and feel for operating inside allow him to make contributions in the post and crashing the offensive glass as well, which is reflected in his 52% shooting from inside the arc. Away from the rim, Johnson can put the ball on the floor a bit and make shots both off the catch and off the dribble.
As we noted in our last report, Johnson made an outstanding 46% of his catch and shoot jump shots as a freshman according to Synergy Sports Technology, but did so in a small, 46-shot sample that would make his sophomore numbers worth monitoring. As a sophomore, Johnson showed an improved pull-up game, but made just 33% of his 83 catch and shoot jumpers, forcing some attempts and appearing quite streaky for stretches of the year. While Johnson is by no means an incapable shooter, he was unable to replicate his numbers as a freshman as perimeter attempts became a bigger part of his offensive repertoire –more than half of his attempts were jump shots as a sophomore, compared to only 35% of his attempts as a freshman.
Looking ahead, it will be Johnson's ability to step into a feature role offensively that helps determine how he's perceived by NBA scouts in the coming years. He's a jack-of-all-trades type at this stage who can score in bunches when his shot is falling, but still makes fairly efficient contributions when it is not. With much of its core returning, aside from Dinwiddie who was sidelined for much of Pac-12 play, Colorado won't be starved for scoring, but if Johnson can find his rhythm from the perimeter on a more consistent basis and shoot a better percentage from the line, there's no reason he can't make an impression on scouts and carve out a bigger role for Tad Boyle's Buffalos.
Aside from his scoring ability, the Mater Dei (CA) product brings plenty of other things to the table at the NCAA level. He's a capable rebounder who shows good instincts pursuing the ball of the rim, an engaged, active defender, and an improved interior defender from his freshman year when he struggled mightily when matching up against interior scoring power forwards.
More of a roleplayer during the first two years of his college career, Johnson has some interesting tools for the NBA level, but will need to step into a more prominent role or improve as a shooter to solidify his potential as a roleplayer and take the next step as a prospect. Colorado is in position to have a terrific season, which will give Johnson every opportunity to improve his standing among NBA decision-makers.
[
Read Full Article
]
Top NBA Draft Prospects in the Pac-12, Part 5 (#11-15)
October 4, 2013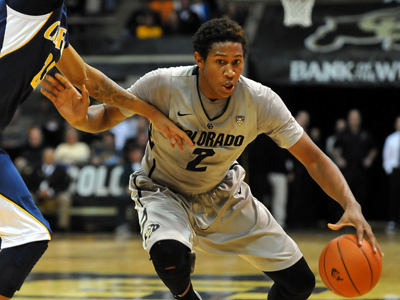 US Presswire
Joe Treutlein
Xavier Johnson had a solid freshman campaign for the Colorado Buffaloes last year, averaging 8.9 points in 24.0 minutes per game while scoring efficiently from all areas of the floor. Johnson brings a respectable base of skills to the table along with a pretty good feel for the game, but he may have a tough time taking his game to the next level as a sophomore as Colorado returns four of its top five scorers from last season.
Standing 6'7 with decent length and a good frame, Johnson looks the part of an NBA small forward on first glance. He isn't the most explosive or quick player around, but he's a smooth, rangy athlete for sure, and makes the most of the tools he has.
On the offensive end, Johnson does the bulk of his damage around the basket, with him seeing most of his shot attempts come from cuts or spot-up drives to the basket. He boasts good control with his ball-handling to go along with great footwork and instincts, which allows him to craftily get open for high-percentage shot attempts in the lane. At the basket, Johnson, despite being a mostly below-the-rim player, is a good finisher by virtue of his creativity and body control, often going up and under the rim or adjusting around defenders to get angled lay-ups.
Johnson does a lot of work catching the ball on the move, already having a half-step on his man, or operating with a mid to high post game, where he shows good touch finishing on running hooks and turnaround jumpers. He isn't much of a threat in pure isolation situations, not having the advanced ball-handling or first step to consistently take his man to the hoop, and at the same time not having the shot-creation abilities to successfully pull-up for mid-range, contested jump shots. While he shows flashes of ability with both of the aforementioned skills, it is questionable how strong he could be in either of those areas if his team relied on him as more of an offensive focal point, something that should become clearer over the next three seasons.
The most intriguing aspect of Johnson's offensive game may be his spot-up shooting ability, something that was a complementary part of his game as a freshman, but an extremely efficient one on the small sample. Johnson shot a very impressive 43.9% from behind the arc on 1.7 attempts per game, mostly on spot-ups but with a few one-dribble pull-ups mixed in. Johnson boasts good form and has a very fluid motion in rhythm, looking comfortable and natural knocking down long-range shots. As effective as he was from behind the arc, he strangely shot just 56.1% from the free-throw line, so it will be interesting to see if either number changes dramatically this season.
On the defensive end, Johnson plays almost exclusively against opposing power forwards, which clearly isn't a natural fit for him given his skill set and physical profile. Johnson is a very poor post defender at this stage, being easily backed down and shot over by opposing players, even those who don't appear to have a significant size or strength advantage against him. He appears outmatched in these situations from both a toughness and fundamental standpoint. On the other hand, for as poor as he is defending the interior, Johnson is actually surprisingly good on the perimeter, showing much better fundamentals, solid lateral quickness, and good intensity moving his feet to stay in front of his man and contest shots. His matchups against 4's leave something to be desired in terms of the quickness of the players he's defending, but he appears to have the requisite lateral ability to defend NBA 3's, especially given his good feel for using his size and length to help smother his man.
Looking forward, Johnson's slashing ability, promising spot-up shooting potential, and perimeter defense give him a solid groundwork of skills for an NBA small forward prospect, but his just decent athleticism and how he will adjust to a bigger role are question marks at this time. Johnson could stand to make games in all areas of his offensive game, from creating to finishing to spot-up shooting, but maintaining his strong two-point and three-point shooting percentages while expanding his offensive role is likely the best thing he can do for his stock in the short term. Regardless, he appears to be a player who should remain in college for another two or three years, so he has plenty of time to add to his game and will certainly be someone to keep an eye on in that time.
[
Read Full Article
]