Top NBA Draft Prospects in the ACC, Part Four (#16-20)
September 23, 2011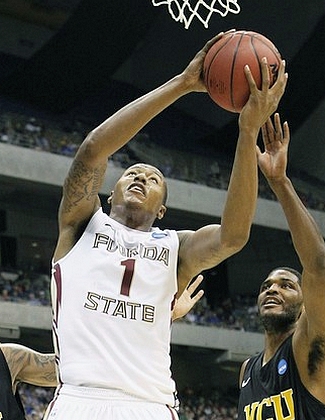 Reuters
Jeff Rush
As we noted in our last report,
Xavier Gibson
possesses the physical tools and upside to keep scouts interested when they make the trip to Tallahassee, but he has yet to come close to putting all the pieces together to produce at a high level. His excellent size, long arms, strong frame, good, but not great, athleticism, and budding inside-outside skill set piqued our interest early on in his career, but needs to rebound from an injury plagued year and have a productive senior season to show that he's worthy of being considered an NBA prospect.
Just after Christmas of last year, Gibson suffered an injury to his left knee and left hand against Butler in the Diamond Head Classic in Hawaii which caused him to miss 10 games. Up to that point Gibson had started every game for the Seminoles and was posting career highs averages of 6.9 points and 4.8 rebounds per-game.
Prior to his injury, Gibson was a key cog for Florida State which they made very clear by consistently running plays on their opening possessions to get him opportunities in the post. It seemed as if Florida State realized that they needed to get Gibson involved early and that getting him the ball early would keep him engaged and energized for the whole game.
Upon his return to floor in February, those touches had evaporated, and Gibson did not look like the same player when he did get the ball down low. He averaged just 2.3 points and 2.5 rebounds per-game in the 12 games that he played post-injury, and never played more than 14 minutes in any of those games. Only in Florida State's loss in the NCAA tournament to VCU did Gibson seem to return to form.
One of the most intriguing aspects of Gibson's game in past years was his ability to step out and knock down jumpers with some range. As a sophomore, he shot 40% from beyond the arc, albeit on only 15 attempts, and showed enough confidence that it seemed he had the potential to develop into a very effective pick and pop player. As a junior, he shot just 4-24 (16.7%) on his jumpers according to Synergy Sports Technology and made less than 8% of a similarly small sample of 3's. Although he always seem confident when letting the ball go, his release is a little bit low, especially for someone of his size, but he looks smooth and comfortable as he steps into a long jump shot.
Apart from his jump shot, Gibson does a few other things fairly well offensively. Despite his struggles, he still seems to have potential on the pick and pop, and shows good hands rolling to the basket when he doesn't step out to the perimeter. On the offensive glass Gibson is very active, but often struggles to finish and never uses his left hand, often going to extreme lengths to try to lay the ball in with his right.
Despite that tendency, Gibson continues to show that he can be effective in the post. He mixes a smooth jump shot when he turns over his right shoulder with a fairly consistent hook over his left shoulder to give himself a good 1-2 punch down low. Though he has some flashes down low, he does not always finish the shots he creates for himself.
Defensively, Gibson has intriguing physical tools with his size, length and frame. He showed some prowess as a shot-blocker early on in his career, but has not developed into the consistent intimidating threat that some hoped he would. His wingspan coupled with his mobility allows him to make some excellent plays from time to time, but his average fundamentals and awareness are still an issue at this stage.
Gibson's status as a draft prospect will depend largely on whether or not he comes back completely healthy and regains his athleticism, since that will be a key step if he is to put things together during his senior season. He will turn 23 before the first game of the season so he will be considered very old by NBA draft standards, but even if he doesn't have a huge season it is not hard to picture Gibson raising some eyebrows in NBA workouts and causing someone to roll the dice on him in the 2nd round or training camp. Players of his nature don't exactly grow on trees, and he could very well have upside still left to tap into.
[
Read Full Article
]
Top NBA Draft Prospects in the ACC, Part Two (#6-10)
October 19, 2010
Matthew Kamalsky

Looking at what Xavier Gibson accomplished on paper last season, he doesn't jump off the page as a NBA prospect. However, looking at his physical tools and watching his film, it isn't hard to see why he's firmly on the NBA draft radar. Teasing onlookers in limited minutes with an outstanding blend of size, athleticism, and potential as a stretch-four, Gibson could be a player to watch this season assuming he receives most of the minutes left behind by the departures of Ryan Reid and Solomon Alabi.

Gibson's intrigue begins with the same athleticism that made him a consensus top-60 recruit. Possessing excellent size for a power forward, he has great mobility for his size, is a good leaper, and has a tremendous physical profile overall for a power forward. In addition to his explosiveness, he has a huge wingspan and solid lateral quickness, giving him most of the tools to defend the power forward position on the NBA level and make an impact as a shot blocker. Though he still needs to add some muscle to his frame and would be able to exploit his athleticism more frequently if he was more aggressive, Gibson certainly passes the look test.

In addition to his athleticism, Gibson shows some flashes of potential that quickly pique the interest of talent evaluators. Probably the most interesting skill Gibson possesses at the moment is his ability to shoot the ball with range. Though he attempted only 24 jump shots last season, he knocked down a number of threes and seems to have some confidence in his shooting ability from beyond the arc. Though he has a low release point that is a bit inconsistent at times and less than ideal mechanics, he has a smooth shooting motion when given space that could turn him into a reliable pick and pop threat and high-post option down the road. Considering the sample size we have to work with, the fact that Gibson's turnaround jumper in the post is suspect, and that he struggles mightily from the foul line, we'll take a wait and see approach before deeming Gibson a potential spot-up threat.

Around the basket, Gibson is able to make an impact on the college level with his tremendous length and quick leaping ability. Capable of throwing down some impressive tip-dunks, Gibson looks to dunk the ball at every opportunity and his long arms allow him to score over the top of smaller defenders. He doesn't show great touch or finish through contact, but his tools allow him to finish at a good rate regardless. As it stands, he relies heavily on his teammates' ability to get him the ball to be efficient unless he's crashing the glass.

Gibson is limited with his back to the basket for some of the same reasons he sometimes struggles to finish around the rim. His lack of physical strength hurts his ability to establish position, and he just doesn't have the touch to convert the clean looks he does create for himself that aren't dunkable. Gibson likes to attack the baseline to use his length to his advantage to attempt reverse layups, falls back to a highly unreliable turnaround jumper, and generally looks like he has yet to find a move that he's comfortable using to score in the post. Additionally, he tends to get caught in bad spots on the floor, and doesn't seem to understand his limitations.

Defensively, Gibson uses his length to deny post entry passes and contest shots, but his lack of physical strength limits him to some degree in the post and his lacks great discipline often puts him in foul trouble. Though he is a step slow reacting to cutters at times, he has more than enough lateral speed to deny penetration from the midrange. The name of the game for Gibson defensively is improving his fundamentals, improving his frame, and bringing intensity on every possession, as he's capable of protecting the rim and blocking shots capably on the NCAA level.

As it stands, Gibson has had some moments of brilliances in the last two seasons, but at the end of the day, he'll need to become more consistent to emerge as a more interesting project. He has as much potential as almost any player in the ACC, but this season will test Gibson's mettle on both ends of the floor, and his ability to become more efficient and show marked development in his skill-level will dictate where he stands heading into next summer.
[
Read Full Article
]