FIBA Europe U18 Championship Scouting Reports: Small Forwards
August 5, 2015
Jonathan Givony

Strengths:
-Physically mature wing player. Can bulldoze his way through opponents
-Good ball-handler.
-Can play some pick and roll
-Pushes ball in transition. Always in attack mode
-Strong enough to play the power forward position, which he often does
-Can play with back to the basket a bit
-Has impressive court vision
-Can find the open man. Averaged 8.7 assists per-40 at U18s
-Excellent rebounder for a wing
-Plays with great intensity
-Has very good timing blocking shots and getting passing lanes
-Can make tough shots, just takes way too many of them

Weaknesses:
-Average athlete. Struggles to finish over length
-Game is based mostly on strength and aggressiveness. Relies heavily on overpowering weaker players. What will happen when everyone catches up physically?
-Struggles to play off the ball
-Has a tendency to over-dribble when he is utilized as a point forward
-Shot-selection is very poor
-Shooting mechanics don't inspire great confidence. Shoots a push shot
-Career 28% 3-point shooter, but takes a huge volume of attempts each game regardless
-Career 56% free throw shooter. How much potential does he have to improve his long-range stroke?
-Goes through huge swings or productivity or inefficiency. You never quite know what you're getting with him
-Gets roasted defensively due to lack of lateral quickness. At his best when playing power forward, but not big enough to do that at the highest levels
-Body language is poor at times. Very emotional and reactive

Outlook: Boom or bust guy who is extremely productive in the youth categories. Extremely strong and versatile. Had a triple double at the competition. Some concerns exist about how his game will translate to the senior categories due to the physical superiority he currently enjoys.
[
Read Full Article
]
Nike International Junior Tournament Belgrade 2014 Scouting Reports
March 7, 2014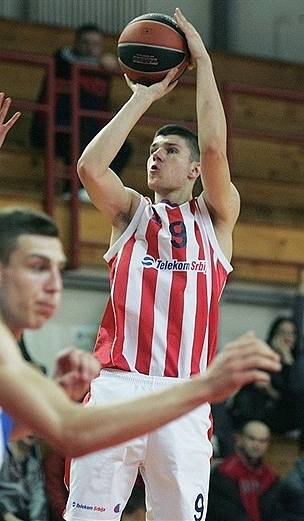 nijt-kkcrvenazvezda.com
Jonathan Givony
Strengths:
-Solid height for a wing
-Possesses a strong, mature frame
-4th leading scorer in the entire NIJT at 26.7 points per-40
-Very aggressive player
-Attacks in transition. Bounces off opponents. Finds a lot of easy baskets
-Smart player. Knows how to play
-Can create for teammates. Good in drive and dish situations. Can play a little pick and roll
-Likes to play with his back to the basket. Bullies weaker opponents
-Shows some potential as an outside shooter. Can shoot with his feet set. Solid mechanics
-Excellent rebounder
-Competitive defender
Weaknesses:
-Not particularly athletic. A little bit upright or stiff in his stance
-Lateral quickness is average
-Streaky outside shooter. Takes a lot of 3-pointers, made only 32% in Belgrade. Hit 25% of his attempts at the U16 European Championships last summer, and 44% of his free throws
Outlook:
MVP of the Tournament. Tough, aggressive wing player who is incredibly mature for his age. Tremendous scorer at youth level. Attacks in open floor, crashes the glass, posts up, and finishes very well around the basket. Has already seen some minor minutes with Red Star's senior team at the Adriatic League level, which is impressive considering he's still only 16 years old. Extent of his upside remains to be seen as he's not exceptionally athletic and a lot of his production comes off his sheer strength and aggressiveness. Continuing to improve his outside shooting is certainly a must.
[
Read Full Article
]