2016 adidas Eurocamp: Day Three
June 12, 2016
-Despite lacking elite length (6' 7" wingspan), Partizan two-guard Vanja Marinkovic measured 6' 6.5" in shoes with a proportionate 196-pound frame, solid for a 19-year-old two-guard prospect. Marinnkovic plays with a level of maturity and poise beyond his years, and shows potential as a perimeter shooter despite finishing the year shooting 27.6% from beyond the arc. He gets excellent rotation on the ball and is capable of knocking down one or two dribble pull-ups as well. The ball doesn't always come out cleanly and he can be a little bit slow getting into his release, but the touch is there for him to become a reliable shooter in time both on the move and while set.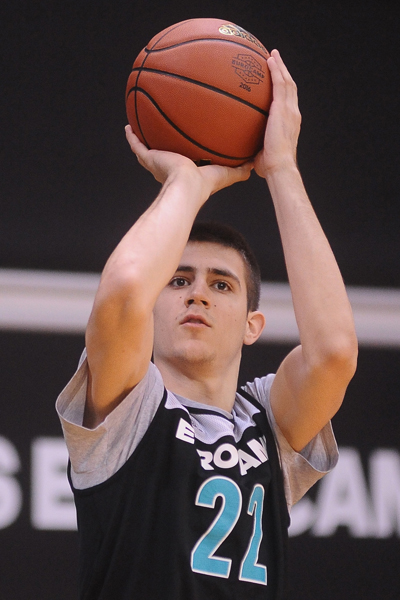 adidas Eurocamp
There isn't a whole lot to Marinkovic's game in terms of shot creation and wiggle with the ball. He's more fluid than explosive and could add a bit more craft as a slasher and finisher, evident by his career 41% 2-point percentage. He also doesn't have a ton of defensive potential given his average length and good not great athleticism, but the fact that Marinkovic is already playing legitimate minutes for Partizan at age 19 is very impressive. He really knows how to play and is by all accounts a good teammate who plays with a strong IQ on the defensive end. Marinkovic will have to be come a more consistent shooter to open up the rest of his game, but there's a lot to like about his maturity, demeanor, size, shooting potential and feel for the game.
[
Read Full Article
]
2015 FIBA U19 World Championship Scouting Reports: Shooting Guards
July 7, 2015
Jonathan Givony

Strengths:
-Decent size for a shooting guard at 6-5. Nice body. Solid length.
-Above average athlete. Can elevate around the basket. Solid quickness.
-One of the best shooters in the tournament. 44% for 3 on 4.6 attempts per game. 86% FT
-Very good shooter with feet set. Catches and shoots with good form. Has great range.
-Terrific weapon in transition and in early offense running to the corners. Decent speed running to the rim as well
-Can come off screens a bit
-Can pull-up off the dribble a bit.
-Makes contested shots in impressive fashion.
-A year younger than most of the competition

Weaknesses:
-One-dimensional player offensively right now. Struggles to create own shot
-Poor ball-handler.
-Struggles to finish around the basket in the half-court. Avoids contact. Doesn't get to free throw line (seven attempts in 191 minutes in Crete). Doesn't use off-hand.
-Can improve the quickness of his release. Dips the ball unnecessary on the catch
-Doesn't create much for teammates. Average passer

Outlook: A staple of the Serbian junior national teams at the U16, U17 and U18 age groups. One of the most experienced players at the tournament, after seeing 15 minutes per game at age 17/18 in the Serbian league, EuroCup and Adriatic League for Partizan. Had a handful of very impressive performances in senior competition. Struggled against better competition at the U19s, but ended up having a solid tournament with some good showings in the consolation bracket. Has some interesting tools to work with his solid physical tools and perimeter shooting ability.
[
Read Full Article
]