Top NBA Prospects in the ACC, Part Nine: Prospects #21-25
October 15, 2015
Jonathan Givony

After playing a fairly minor role in his first two seasons of college basketball, V.J. Beachem will likely be asked to step up as an upperclassman for Notre Dame, with the graduations of Pat Connaughton and Jerian Grant, leaving a clear-cut hole at the small forward (and small-ball power forward) position for Beachem to slide into.

Every bit of the 6-8 (possibly taller), 200 pounds he's listed at, Beachem has excellent size for the wing, the position he looks best suited for long-term. He has very long arms on top of that, and a lanky, underdeveloped frame that should continue to fill out nicely on time. Beachem is a smooth and fluid athlete who looks nowhere close to his full potential physically. He has nice quickness, covers ground well, has some ability to rise up impressively off two feet, and may continue to get even more explosive in time as he matures physically.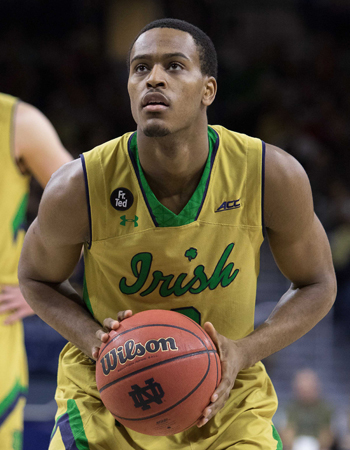 US Presswire
Beachem was sparsely used as a freshman (229 total minutes in Notre Dame's 32 games), but had some nice moments as a sophomore in ACC play before getting lost in the shuffle of a shortened rotation towards the end of the season. His 41.6% 3-point percentage last year is impressive considering he stands 6-8, and he also hit 55% of his 2-point attempts in the rare occasion he elected to venture inside the arc.
The numbers in the boxscore tell a pretty accurate story of Beachem's role for Notre Dame last season, with 70% of his field goal attempts coming on 3-pointers. He took far more 3s (101) than he did 2-point and free throw attempts combined (74), as he was mostly asked to spot-up on the perimeter and space the floor as a cog in Notre Dame's high-powered offense.
Beachen is a lights out shooter with his feet set, making 43% of his catch and shoot jumpers last season. He has good footwork and both a high and quick release, being capable of adding in a little fade to make things even more difficult on the defense, without losing his balance or rhythm. He shows some potential coming off screens, and has deep range on his smooth and effortless looking jumper.
Beachem wasn't asked to do much with the ball in his hands last year, which makes sense considering he's a fairly rudimentary ball-handler who struggles to change speeds or directions with the ball. His lack of strength is a factor here as well, as he gets knocked off his spot fairly easily and is susceptible to having the ball stripped away from him. Getting stronger will help here, as will adding a degree of toughness, as he isn't always able to finish through contact in traffic.
With that said, Beachem shows some potential to emerge as more than just a spot-up shooter. For one, he was very effective pulling up off the dribble in small doses when chased off the 3-point line, being capable of rising up and getting a shot off impressively with his size and high release point. He also shows a solid first step and very long strides on his drives attacking closeouts en route to the basket, and has the explosiveness needed to play above the rim. He wasn't always aggressive enough exploring these situations, and hence only got to the free throw line 29 times last year, but may have some untapped potential here as his role expands.
Beachem also has a solid basketball IQ. He doesn't generate a huge amount of assists, which makes sense considering his role, but did show some flashes moving the ball along the perimeter, or entering it into the post. He committed just 18 turnovers in 483 minutes, or one every 27 minutes he was on the floor, and posted a 62% true shooting percentage, which is excellent.
Defensively, there is some room to grow here as well. His size, length and ability to cover ground is very intriguing, as he's capable of getting in a low stance and moving his feet fairly well, and had some really nice possessions contesting shots on the perimeter last year. With that said, Beachem needs to get significantly stronger, tougher and more experienced to be more than just a tease on this end of the floor. He'll get posted up at times, will struggle fighting through screens, and doesn't always look like he's operating at full intensity. The fact that he barely generates any rebounds (4), steals (.7) or blocks (.7) on a per-40 basis is certainly not a feather in his cap.
While Beachem's production in his first two seasons of college basketball were nothing to write home about, he showed enough flashes of potential to keep you intrigued about how he might look with future development. With more minutes and a bigger role likely in store, we should learn quite a bit more about how good of a player and prospect Beachem actually is.
[
Read Full Article
]