Nike Hoop Summit Scouting Reports: Big Men
April 14, 2016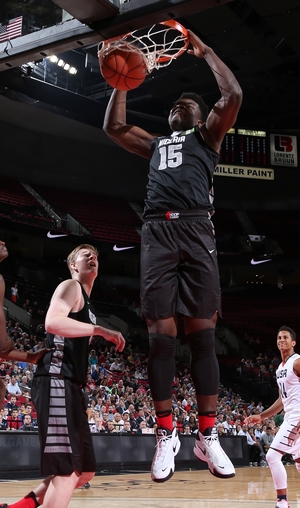 Sam Forencich/USA Basketball
Mike Schmitz
Strengths
-Elite size, length and strength – 6' 11.5" with a 7' 5" wingspan and 265 pound frame. Very developed upper and lower body.
-Good offensive rebounder. Able to carve out space with his strength. Has potential on the defensive glass. Shows flashes of a high motor.
-Solid leaper in space given his size.
-Can make an open right-handed jump hook.
Weaknesses
-Very little feel for the game. Uncomfortable passer, especially vs pressure.
-Extremely raw offensively. Super rigid footwork. Lacks touch on jump hooks. All power, not much skill and finesse. No left hand.
-Doesn't have much pop from a standstill.
-Plays five feet and in. Shoots from his finger tips without much arc or touch.
-Defensive awareness and fundamentals aren't great.
-Very thick legs. Will have to monitor his body as his career progresses.
Outlook
Udoka is a big body with impressive length and not much else at this stage of his development. Given how little Cheick Diallo played for Kansas head coach Bill Self, it's hard to envision Azubuike seeing the floor very often during his first year as a Jayhawk. He has a chance to fill a role as an energy rebounder, defender down the road, but Azubuike is a ways away from being an impact player at the collegiate level.
[
Read Full Article
]
adidas Nations Scouting Reports: Center Prospects
August 13, 2015
Mike Schmitz

Strengths:
-Elite physical profile.
-6' 11.5" in shoes with a massive 7' 5" wingspan.
-Extremely developed physically. Bruising 267-pound frame.
-Good leaper for his size and weight. Put back dunks. Can finish above the rim after catching drop offs in the paint. Soft hands.
-Career 23 points per-40 on tremendous efficiency, 68% 2P%.
-Shows some touch around the rim. Dropped in a pair of jump hooks. Effective when he's able to get deep position. Finishes through contact.
-Has the physical profile to be a very good rebounder. Career 4.7 offensive rebounds per-40. Plays with some nastiness. Not afraid to throw his body around. Chins the ball and keeps it high with other players swiping at it.
-Defensive potential thanks to his size, strength, length and mobility. Blocks 3.5 shots per-40 on career
-Career 8.3 defensive rebounds per-40

Weaknesses:
-Lacks a natural feel for the game. Not sure what to do with the ball when he catches inside. Uncomfortable passer. Career .5 steals per-40 (lacks anticipation skills and timing)
-Poor shooting mechanics. Shoots a push shot with a low release point – Career 46% shooter from the free throw line.
-Plays inside of five feet. Not a threat to make mid-range jumpers or score at all outside of the paint.
-Not a quick twitch guy on offense or defense.
-Not the most fluid athlete. Lumbers up and down the floor a bit.
-Very rigid footwork in the post. Huge feet. Lacks polish on the block.
-Doesn't have great instincts on defense. Reaction time and fundamentals aren't there yet.
-Can be a bit foul prone.

Outlook:
The supposedly 15-year-old Nigerian center Udoka Azubuike is a man amongst boys at virtually every setting he plays in. His physical profile is outstanding for a big man prospect, and he has the type of edge that coaches want from a player with his size, strength and length. With that said, Azubuike is a long way to go as a pure basketball player – feel for the game, instincts, and fundamentals on defense. Azubuike will never have to be the most skilled player given his physical tools (although he does display good hands and solid touch inside), but it will be interesting to see if he can develop into anything more than a big body on the interior.

Although Azubuike is listed as being only 15 years old, he's scheduled to enter college in a year from now, which doesn't make a great deal of sense. Even if he's 18, rather than 15, he's a very good prospect. His size, length, frame and productivity everywhere he plays is clearly legit.
[
Read Full Article
]