Top NBA Prospects in the SEC, Part Five (#5-9)
October 19, 2013
US Presswire
Matt Kamalsky
A regular starter for Alabama since he was a freshman, Trevor Releford returns for his senior season in prime position to end his career ranked as one of the top-10 scorers in Crimson Tide history. Likely filling the same role he did a season ago as Alabama's primary ball-handler and first-option, Releford will once again take the reigns of Anthony's Grant's offense faced with an even bigger burden to carry resulting from the unexpected departures of the team's second leading scorer Trevor Lacey and former McDonald's All-American Devonta Pollard.
A tenacious, competitive scoring point guard, Releford made a few notable strides as a junior en route to All-SEC First Team honors, managing to improve his efficiency while using more possessions on a nightly-basis. Though he showed growth in a few notable areas, he has continued to do with best work in transition. As we noted after his freshman year, he's exceptionally good at pushing the ball up the floor and making plays with a head of steam in an up-tempo game. He's not a blur in the open court, but he attacks with purpose, gets out on the break as often as almost any player in the country, seldom coughs the ball up, and shoots a terrific 65% from the field when he does so according to Synergy Sports Technology.
Releford posted a true-shooting percentage of 60% as a junior, good for
3rd among all collegiate points guards
, thanks to his prolific fast break ability and the work he put into improving his shooting range. Knocking down 41% of his 3-point attempts last season, up from the 27% he shot as an underclassman, Releford did a much better job taking advantage of his opportunities from the outside, showing improved footwork and more reliable mechanics in the process. Shooting the ball with a quick release and solid range, Releford emerged as a formidable threat from beyond the arc last season, even if the sample size of 3.5 attempts per game leaves something to be desired Improving his percentages both off the dribble and when spotting up, his shot-making ability helped him seamlessly take on a bigger role in Alabama's offense after the departure of JaMychal Green.
Despite his improvement from the perimeter, Releford remains limited in some areas. Standing 6'0 with a compact frame, but compensating to some degree with a 6'6 wingspan, he lacks great size for a lead guard at the next level. He's also not overly explosive with the ball in his hands, relying more-so on his terrific handle and craftiness to create for himself in the half court at the college level. Lacking the burst to get all the way to the basket when he drives at times, he only converted at a 48%-clip in close in the half-court last season. He's capable of finishing creatively at times, but gets his shot blocked among the trees a fair among as well.
Some questions still remain about Releford's ability to play the point guard positions at the NBA level, as the 3.1 assists per-40 minutes pace adjusted he recorded last season were a career low and
rank him among the least productive passers among point guard prospects in our database
. Though he isn't a prolific distributor and looks to score first when he puts the ball on the deck, Releford isn't a selfish player by any stretch, and his ability to create on the pick and roll still gives him some upside as a primary ball-handler at the next level. He may not drive and dish regularly, but he flashes the ability to make decisive passes dribbling off ball screens on occasion. There's little question his team will need him to score at a high rate to help them win games this season and it will be interesting to see what kind of balance Releford is able to strike between scoring and passing as a senior.
Defensively, Releford is capable of making an impact at the college level,
ranking among the top-50 or so players in the country
in steals per-40 minutes pace adjusted. Playing a fair amount of zone, most of Releford's steals were the result of his active hands and ability to anticipate. Lacking great lateral quickness and leaping ability, Releford struggles to keep the ball in front of him and effectively contest shots at times, but plays with good energy on this end of the floor for the most part.
Looking forward, Releford's lack of size, elite athleticism, and to a lesser extent, pure point guard ability, remain concerns from a NBA perspective, but he's been a productive player in a BCS conference from the second he stepped on the floor as a freshman, makes things happen when he has the ball in his hands, and improved significantly as a shooter last season. There's little question he'll get plenty of looks at the conclusion of his senior season and seems like a prime candidate for the Portsmouth Invitational Tournament. A fierce competitor like his older brother Travis Releford, now playing in Belgium, there's little doubt Trevor Releford will find plenty of suitors in the international game if the NBA doesn't work out.
[
Read Full Article
]
Top NBA Draft Prospects in the SEC, Part Two (#11-15)
October 28, 2011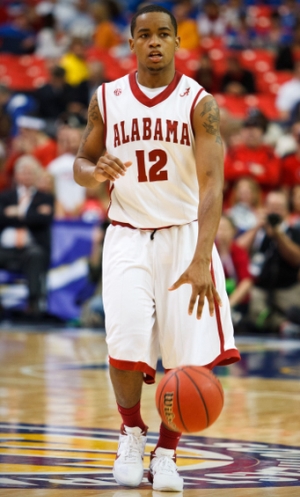 Icon SMI
Jeff Rush
Trevor Releford
may not have been as highly touted as his older brother, and current Kansas wing, Travis, was coming out of high school, but the point guard exceeded expectations for the Crimson Tide as a freshman. Releford was handed the reins of Alabama's offense from day one by Head Coach Anthony Grant, and proved to be a capable point guard at the high-major level, finishing first on the team in assists and third in scoring. Despite his productive freshman season, Releford has plenty of things of to work on to improve his professional outlook down the road.
Somewhat undersized at just 6-1, Releford feeds off of getting the ball and getting out in transition. He does a tremendous job increasing the pace of the game and often makes transition opportunities out of nothing. While in transition he does a great job weaving across the floor, especially from the right side to the left, and using the traffic in the middle to get to the rim. He stays very low as he pushes the ball and is capable of creating attempts at the rim by running his defender into other players who are simply retreating to the defensive end.
In the half court, Alabama often goes to the pick and roll for Releford when they can't get anything out of their sets and count on him creating opportunities for himself and others. Releford prefers to use the high screen and turn the corner to get all the way to the basket as opposed to pulling up for jump shots or shooting floaters in the lane.
With a full head of steam, Releford is quick enough to get to the rim, but his inability to change speeds in the half-court makes it difficult for him to maneuver around defenders at times, forced him to put up difficult shots or make passes that aren't there. When Releford learns to be effective at a slower pace he will be able to pick and choose his spots to explode in transition and get easier shots for himself and his teammates.
Additionally, he really struggles when shooting off the dribble, converting only 25.6% of his pull-up jumpers according to Synergy Sports Technology, which is nearly 10% lower than off of catch and shoot opportunities. In order to maximize his pro potential Releford will have to improve his shot selection and consistency as a shooter moving forward.
As a point guard, Releford is still trying to reconcile his natural scoring instincts with putting the team in the best position to score. He will show flashes of playmaking at times but does not do it consistently enough at this point in his career, which is somewhat understandable considering his lack of experience being thrown straight into the SEC fire already as a freshman.
Alabama was one of the best teams in the country defensively last year, and Releford was a key component in that. He used his quick feet and hands to disrupt the opponent's ball handlers, excelling in causing turnovers that were used to get the Crimson Tide out on the break. Much like on the offensive end Releford can effectively use his aggressiveness, but he is a little bit too much high risk-high reward. He does cause a lot of turnovers, but he must learn the right times to attack and the right times to play solid and force a tough shot. Considering that he's already undersized for a NBA point guard, he doesn't have a huge margin for error.
Overall, Releford was one of the more productive freshmen point guards in the BCS conferences, something that is worth taking note of. To reach the highest level he will have to learn to change pace during the course of a game, improve his perimeter shooting and develop his playmaking instincts. It will be interesting to see how Releford matures with the experience he gained as a freshman starter on a team that made the NIT Championship game, and whether he can take his game to the next level and develop into a true NBA prospect over the next year or two.
[
Read Full Article
]