Top NBA Prospects in the Big East, Part Five: Prospects #6-10
September 14, 2015
Matt Kamalsky

The #37 recruit in his high school class according to the RSCI, Trevon Bluiett was a significant get for Xavier, as the most highly touted recruit to land on campus since Drew Lavender in 2005.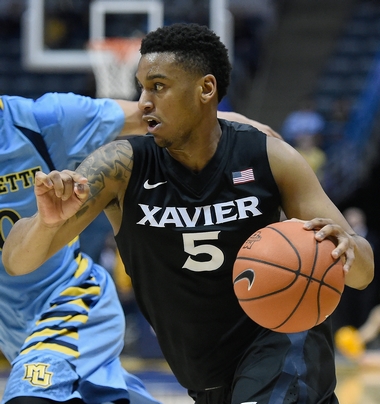 US Presswire
Standing 6-6 with tremendous length and a strong 215-pound frame that still has room for improvement, Bluiett has nice size for a swingman. He doesn't have great explosiveness or lateral quickness at this stage, so it will be interesting to see how his body and overall athleticism progresses in the coming seasons.
Stepping into a prominent role from the jump for the Musketeers, Bluiett averaged 18 points per game over the first five games of the year. Acclimating quickly to the college game, the Park Tudor (IN) product finished as the team's second leading scorer behind Matt Stainbrook, solidifying himself as the cornerstone of the Xavier program for the foreseeable future. He ultimately ended the season averaging an impressive 11 points, 4.2 rebounds and 1.9 assists over 28.4 minutes per game.
Despite his strong play throughout the year, Bluiett struggled at times as well, notably falling into a significant slump averaging only 5.7 points and 3.1 rebounds per game in March, while shooting 30% from inside the arc and 23% from deep over 27.7 minutes of action in 7 games.
Playing primarily off the ball, at both the small forward and stretch power forward positions, but also seeing opportunities to create for himself and others off the dribble, Bluiett was asked to do a little of everything in Xavier's offense. A bit under half of his field goal attempts were threes as he did most of his scoring from the perimeter, but he also drew fouls at a terrific rate on the occasions he did attack the rim.
Despite his relative inexperience, Bluiett has already proven to be a jack-of-trades thanks to his combination of skill, intelligence, and competitiveness. Making 35% of his set shots and 41% of his pull-up jumpers, the 19 year old does not have great mechanics as a shooter, but was reliable up until the end of the season nonetheless. Lacking great quickness and ball handling ability, Bluiett is strong with the ball and decisive when he puts it on the floor. Shooting an above average 54% around the basket, his lack of explosiveness hurts his finishing ability, but he isn't afraid to initiate contact.
More than just a scorer, Bluiett is a crafty passer on the wing. He wasn't a very prolific shot creator a year ago, but his 1.39:1 assist-to-turnover ratio is representative of his vision and sound decision-making. He forces up some shots, but seldom tries to do too much as a passer.
Defensively, Bluiett's lack of athleticism was a concern at times last season. He isn't particularly quick on his feet at this stage, which makes it difficult for him to stay in front of more athletic wings. His strength helped him hold his own at times, and his motor improved as the year went on, but he'll have something to prove in the coming seasons. A solid, but not impressive rebounder, Bluiett's length can be an asset to him at times as well, but he'll need to trim down his frame and continue working on his footspeed if he's going to improve his defensive potential.
One of the more mature prospects in the freshman class, Trevon Bluiett has plenty of room to grow as a college player, but already figures to be one of the more productive players in the Big East as Xavier looks to return to the NCAA Tournament without Dee Davis and Matt Stainbrook. If he can improve his frame and emerge as a more efficient shooter and defender, he could develop into a promising roleplaying prospect for NBA scouts. Given he's just a sophomore, he'll have plenty of time to make that jump.
[
Read Full Article
]
High School Class of 2014 Scouting Reports, Part One - the Guards
August 31, 2013
Jonathan Givony

Recruiting Rankings: 247: #54, ESPN: #41, Scout: #40, Rivals: #46

Strengths:
-Very good scoring instincts. Knows how to put the ball in the basket
-Efficient offensive player. 54% 2P%, 38% 3P% at Nike EYBL
-Makes extra pass. Smart, mature player. Solid feel for game
-Strong frame, can post-up a bit. Draws fouls backing opponents down
-Finishes through contact thanks to strong frame

Weaknesses
-Average athlete. Struggles to get by opponents due to underwhelming first step. Can he create his own shot against better competition?
-Low release on jump-shot. Flings ball at basket. Shots go in at a good rate, but against better defenses he might have trouble getting his shot off as effectively, particularly off the dribble
-Conditioning is fairly poor. Very stocky. Will need to tone his body and work hard to stay in shape
-Poor defender. Doesn't put much effort in. Limited lateral quickness

Outlook: Terrific scorer and a real all-around player at the high school level in the Austin Freeman mold. Lack of athleticism may hinder him somewhat against better competition and render him more one-dimensional if he doesn't improve his frame significantly. Will likely need to raise his release point. Has great instincts, knows how to play, but will need to address his shortcomings in a serious way to reach full potential.
[
Read Full Article
]