NBA Scouting Reports, Northwest Division (Part Three)
September 16, 2008
Overview:A long athletic combo forward that took a while to come around after being drafted straight out of high school, but has become a very nice role playing scorer. Has tremendous size and a great wingspan for a small forward, but sees quite a few minutes at the 4 as well. An elite run and jump athlete. Not very strong physically, but has added some muscle to his frame over time. Can make an impact with his mid-range jumper. Has all the assets you look for in a big time defensive player, but hasnít put them together yet. Still has quite a bit of potential in that area, and is extremely young despite going into his sixth season in the NBA. Was simply too athletic to be stopped during his career at Starkville HS (MS). Was picked in the first round based solely on his long-term potential. Took a few years to acclimate to the NBA level. Needed to hone all of his skills and had a hard time making an impact early in his career. Hasnít made a big stride in one particular area but has simply improved every year. Not the smartest player in the world, but is a hard worker and has a very easy going personality. Could grow into a very valuable niche player if he manages to keep his ego in check.

Offense: An athlete that is capable of scoring in a number of ways. Gets about one-third of his offense in spot up situations, with another large portion coming in one-on-one opportunities and moving without the ball. Displays a semi-consistent jump shot that heís honed significantly over the course of his career. Used to shoot a ton of off balance shots, but has refined his form in recent seasons. Gets great elevation when he pulls up off the dribble. Can score driving in either direction, but still shows some questionable shot selection on his pull ups. Get separation easily due to his length and athleticism. Capable catch and shoot player. Has slowly extended his range out to the NBA line, but doesnít take many attempts from that far out. Much more of a mid-range player. Sees a good amount of isolation plays from the high post. Not a great ball-handler, struggles to change directions and speeds when he attacks the rim. Could stand to improve in that area. Usually just tries to blow by his man. Will force some shots going away from the rim when he canít get all the way to the rim. Not a great finisher for an athlete of his caliber, despite his terrific extension around the rim. Has a hard time dealing with contact. Goes to the line at a very good rate, and shoots a decent percentage. Will make some highlight reel plays in transition. Gets some chances in the post, showing a nice turnaround jumper. Doesnít set up teammates or turn the ball over often. Will grab an offensive rebound from time to time. Can create his own shot due to his athleticism, but still needs to learn how to pick and choose his spots. Shot-selection is questionable at times. Top-20 in the league in field goal attempts per-minute, but isnít efficient enough to really warrant that.

Defense: A solid defender who needs to recognize that he has all of the physical tools to be an elite defender. Has the length and lateral quickness to be a menace on the perimeter, but has only been to take advantage of that in small doses. Is largely inconsistent with the things he shows on the defensive end. Follows up one great play up with a terrible one, blocking shots and getting steals, but also falling for fakes and taking some possessions off. Isnít always very aggressive when defending the perimeter. Doesnít get low in his stance will let slower players beat him off the dribble periodically. Wonít give up a lot of penetration when heís giving a good effort. Has the length to contest shots and the quickness to close out shooters effectively. Can be a force when heís fully tuned in thanks to his awesome physical tools. Will get an occasional steal or block. Tends to largely let the game come to him, not always following the scouting report or displaying good fundamentals. Rebounds at a solid rate by virtue of his athleticism. Has all kinds of potential as a defender. Needs to recognize what an added measure of defensive intensity and awareness could do for his value as a role player.
[
Read Full Article
]
NBA Market Watch-Player Report: Travis Outlaw
December 30, 2007
Travis Outlaw- season: 11.9pts 5.2rbs .9stls/.8blks best game: 22pts 8rbs 2stl 1blk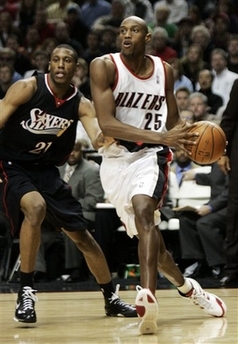 AP
Background:
The 23 year old Outlaw has finally started to blossom in his 5th year in the league. Itís a credit to both the Portland organization and Outlaw himself that theyíve persevered through the lean years. Outlaw came out of high school half a decade ago as a raw athlete with very little basketball skill and has slowly refined himself into a high quality role player for the streaking Blazers.
The team thought long and hard about letting Outlaw go after last season but elected to re-sign him. Coach
Nate McMillan
must have been intrigued by the late season burst Outlaw showed last year as well as the good attitude and coach-ability he possesses.
It appears that loyalty will now pay off as Outlaw is quickly beginning to perform at a level that exceeds his modest salary level.
The Good:
Outlaw has been pretty consistent in terms of his usage over the past three seasons. The team typically finds him on the perimeter, inside the three point line for spot shots off of penetration and post ups.
Outlawís set shot still has a long way to go before it can be used as a reliable part of the offense, but he has reached a very solid level of effectiveness off the dribble with his pull-up shot. Itís a tribute to his elevation and athleticism that he has become so adept at shooting off the dribble. Outlawís game is about staying in motion and using his length to beat recovering opponents.
While Outlaw isnít an amazing ball-handler, heís leaps and bounds better than he was three years ago. Early in his career Outlaw was limited to transition baskets and the occasional one-dribble shot, which he didnít hit with much consistency. Outlaw used to heavily favor his dominant right hand, a common trait for many players. But he mixes up his drives very nicely now and gets to the basket with good ability going either way.
It was rare for Outlaw to be used in any type of structured offensive set when he first started getting playing time, but now the team uses him frequently in pick and roll situations, which speaks to his improved reliability on the offensive end. As a screener, Outlaw has a few options at his disposal and frequently isolates on the baseline, preferring to take the ball into the middle.
Defensively, Outlaw provides energy with his weak side shot-blocking and his ball-thievery. Heís not a thick-bodied player, so he relies more on timing to challenge larger players, but as a wing defender he is very effective both as a team defender and in man situations. An energy player, Outlaw feeds off the situation on the court and will turn up the intensity when itís called for. He is capable of harassing an opponent into giving up the ball when his mind is set on stopping his man from scoring in isolation.
The Bad:
Outlaw has come a long way, but he still has quite a bit of improvement to do if he wants to take his game up another level.
One area he could really stand to improve on his range from the elbow and behind the arc. Outlaw is solid when in motion, but suffers when his feet are set. Itís almost as if he is uncomfortable standing in one place, often not ready to receive the ball to go into the shot. When Outlaw catches he is instantly thinking ďdrive,Ē which causes him to stand with his feet and body out of alignment. If he added a catch-and-shoot game, he could become a very good scorer.
It would also be nice to see Outlaw utilized in the post more frequently. What he lacks in footwork, he makes up for in length and elevation. Outlaw has good touch on his shots, despite the occasional breakdown in fundamental form. On the face up drive or turnaround jumper, Outlaw would have a speed advantage against most threes and fours with the length and explosiveness to go up for a soft shot.
Though he has flashes of brilliance on the defensive end, Outlawís intensity when playing man defense isnít consistent on every play. If he set his mind to it, he could be an absolute nightmare defensively and could legitimately shut down opposing wing men with his tremendous length and footspeed. But like most players, Outlaw gravitates toward preventative defense as opposed to aggressively attacking his opponent with heavy pressure.
Outlook:
Portland has some tough personnel decisions to make over the next couple of off-seasons. Outlaw has to battle for playing time in a rotation with
Martell Webster
taking some of the wing minutes and
Channing Frye
taking away from his time at power forward.
But the three year contract and Outlawís penchant for clutch play down the stretch should see him through the eventual personnel movement that is sure to come. Outlawís versatility and two-way ability give him a very good shot at becoming the teamís starting small forward in time. Whether or not he starts or becomes the teamís all-purpose player off the bench, Outlaw should see an increase in playing time and responsibility as he progresses forward.
Outlaw was on the verge of becoming a journeyman in some peopleís eyes as recently as last season, but by the time he hits free agency again the 23 year old should command quite a bit of attention around the league.
[
Read Full Article
]