West Coast Swing: Shawne Williams, Thomas Gardner Workout
June 1, 2006

Gardner had a very solid all-around workout, showing the type of urgency youíd like to see from a junior who is clearly on the bubble as far as getting drafted, but recently hired an agent regardless. He played very hard for every second he was on the floor, much like he did at Missouri, and did a nice job displaying how hard heís been working on his now much-improved ball-handling skills. Like Williams, heís also an impressive physical specimen, not so much with his height but more with the kind of terrific strength and NBA ready frame he already brings to the table.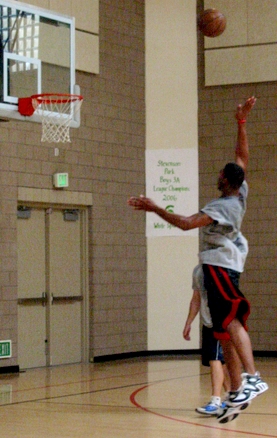 Jonathan Givony, DraftExpress.com
Gardner has solid physical attributes for the shooting guard position, but nothing spectacular. His touch and balance are his greatest strengths in this regard and it shows in his shooting, which is excellent. Gardner has a sturdy frame and looks to be a relatively strong player for the shooting guard position. His shoulders and core should enable him to play well in the post, though he doesnít have tremendous reach and wonít elevate over defenders with his back to the basket. Gardnerís first step is average and he doesnít have explosive lift, but he gets up above the rim easily off one foot and can do it from a decent distance from the hoop. Smooth is the best way to describe his movements on the court, with the exception of his ball handling, which still needs some work.
As far as basketball skills, Gardner is a shooter in the mold of
Rashad Anderson
, just stronger. He showed a very consistent release and puts his shots up with nice trajectory and very limited arm motion, making every shot identical. Gardner drifted inward a bit on his shots, but it wasnít dramatic and he still kept the same motion throughout every repetition. During the 3 point shooting drills, Gardner shot 15 of 24 total and made 10 of his last 13 after warming up to it. In the midrange drills, Gardner actually looked much better shooting in motion, only having difficulty going left.
Gardner hit some decent shots during the two on two work, but certainly needed separation from his defender in order to get into his motion or penetrate the lane. Gardner really doesnít have the ball-handling ability at this point to free himself from heavy pressure, though it is has improved since his time at Missouri. The floaters and other in-between shots werenít falling for him, so heíll definitely have to work on this because his outside shooting and quick release will enable him to get defenders to rush him enabling him to get runners and other motion shots. His pull-up is strong however, so heís got some more offensive game to offer beyond his spot-up 3-point shooting.
In terms of weaknesses, Gardnerís athleticism might be considered the main one. He isnít a poor athlete by any stretch, but also isnít the quickest or most explosive wing player in the draft, particularly in terms of his leaping ability. His ball-handling skills have come a long ways from the drills we saw here, but his entire game from the left side of the court needs serious refinement, both in terms of his left hand as well as his ability to knock down shots going left.
All in all, Gardner clearly helped himself in this workout. His perimeter shooting ability should help him land a spot on someoneís roster this summer already, and the work-ethic he displayed both here as well as over the past year in raising his scoring averages from 10 points per game to just under 20 in almost identical playing time speaks volumes for his ability to continue to improve over the next few years. A top-level NBA executive we spoke with following the workout appeared to be even more impressed than we were, saying that he thought Gardner will surely make the league, mentioning being quite a bit more impressed with him than
Shawne Williams
, and openly saying that DraftExpress has Gardner ranked too low. From what Gardner told us following the workout, he has yet to receive his invite to the Orlando pre-draft camp, which comes as a bit of a surprise considering some of the players that have.
[
Read Full Article
]
Thomas Gardner NBA Draft Scouting Report
February 8, 2006
Strengths
Gardner has a good combination of strength, speed, and athleticism for a SG. He has a pretty solid build and possesses about average athleticism for a SG in the NBA. He is fast in getting up and down the court and also moves well within the halfcourt, where he can change direction quickly to get himself open on offense.

Gardnerís greatest skill is his shooting, especially from long range. He has a high and quick release with range out to the NBA three-point line. He shoots with good, consistent mechanics and is especially accurate when spotting up. He can also shoot it off the dribble and usually maintains good balance in doing so. He responds pretty well to hands in his face and doesnít let it alter his motion. The majority of his shooting is done from behind the arc, but he can also step in to hit mid-range shots. He can get himself open without the ball by using his speed to lose his defender.

Passing is another of Gardnerís strengths, due to his strong court vision. He has good recognition for when his teammates are open and makes strong, crisp passes to get them the ball.

Defensively, Gardner shows good ability as a perimeter defender. He possesses strong lateral quickness and reaction speed, allowing him to stay in front of his man. He is fundamentally sound with his footwork and technique. He keeps his center of gravity low and his arms extended while moving laterally to stay in front of his man.

Weaknesses
While Gardner is not flawed in terms of athleticism or strength, he is only 6í5, which is slightly undersized for a SG in the NBA. This could potentially hinder certain aspects of his game.

The most notable area where Gardnerís size could hurt him is with his shooting. While he possesses a high release on his shot, his size partially negates that strength against many longer, taller swingmen in the NBA.

Gardnerís game is full of weaknesses as he does not possess much versatility at this stage of his development. One key problem is his ball-handling, which is certainly not ideal for an NBA shooting guard. He doesnít look very comfortable handling the ball and commits a good deal of turnovers because of it. He also is very weak with his left hand, which would be greatly exploited in the NBA. He basically can only go right when penetrating into the lane. The vast majority of his turnovers come from traveling or dribbling the ball into the hands of his opponent, usually when he is attempting to drive.

Gardnerís poor ball-handling also negatively affects his passing. Because he canít handle the ball for more than a few dribbles, he doesnít get many opportunities to make use of his good passing abilities.

In terms of getting to the basket, while Gardner can penetrate fairly well by going right, it often doesnít lead to a high-percentage shot. He doesnít have much creativity in the lane and is often left taking a tough shot. His lack of ball-handling certainly does him no help here. He does get to the line at a decent rate, but at the next level, he wonít be getting as many opportunities once the scouting report gets out on his left hand. Defenders will force him left, likely leading him to turn the ball over or take a low-percentage shot.

Defensively, while he does show the ability to play good man-to-man defense, his tenacity often wavers through the game. In terms of team defense, he is not especially strong with his awareness in man-to-man sets, often simply sticking to his own man and not making a difference in the passing lanes. He also has some trouble chasing quicker guards around without the ball.

He isnít very active on the boards either. He doesnít make rebounding one of his priorities, which is very concerning considering he really doesnít bring much to the game when his shot isnít falling.

Gardnerís effort and body language also tend to correlate with how his shot is falling. If he isnít scoring, he doesnít try as hard in the other areas of the game, sometimes exhibiting negative body language after plays donít go his way.

Competition
Gardner plays for Missouri in the Big 12 Conference against good overall competition. The level of play is fairly high for Division I, though he isnít on a very good team himself. While the overall competition is high, he doesnít face many NBA-type swingmen in his games, which is something to be concerned about. His game would probably not be as effective against longer, more athletic swingmen who could do better to contain his shooting. Became one of the best scorers in his conference as a junior after two fairly non-descript initial seasons at Mizzou. Many have called him one of the most improved players in the country.

Outlook
Gardner doesnít look like a great NBA prospect at this stage in his development. He does not possess enough versatility to have more than very limited success in the league. He needs to develop his game to find other ways to contribute for when his shot isnít falling. He most importantly needs to improve his ball-handling so he could better use both his scoring and passing abilities. His improvement from last year to this leaves some optimism about the fact that he still has some room to improve his all-around game. Not looking like a very strong first round prospect in a draft stacked with wing players, he could do well to return for another season, win some more games and become a more versatile player. Although strong rumors suggest that he will test the waters this year and possibly try to attend the Chicago pre-draft camp.


[
Read Full Article
]