Top NBA Draft Prospects in the ACC, Part Eight (#20-24)
September 13, 2013
US Presswire
Matt Kamalsky
Now in his fifth year at Pitt, after redshirting his freshman year due to a shoulder injury, Talib Zanna will look to build on a solid season that saw him average 9.6 points and 6.1 rebounds per-game slotted as Pittsburgh's starting power forward next to Steven Adams. With Adams moving to the NBA ranks early and Dante Taylor graduating, Zanna will play a key role in Jamie Dixon's team's success this season as the program's only returning big man with significant D1 experience.
Getting off to a fast start last season, Zanna cooled off significantly as the year went on. He averaged a tremendous 25.2 points and 12.1 rebounds per-40 minutes pace adjusted through December 31st, but posted averages of 11.7 points and 10.7 points per-40 minutes pace adjusted over the last three months of the season as the competition stiffened. Poised to see more touches offensively this season, Zanna will have ample opportunity to bounce back and assume a larger role as the veteran presence in an inexperienced front court.
Standing 6'9 with good length and a strong frame, Zanna looks the part of an NBA power forward. An active, mobile big man, he was the third leading scorer for the Panthers last season, despite his role revolving almost exclusively around his ability to finish the opportunities his teammates created for him. A fairly unrefined scoring threat, the Nigeria native remains inconsistent as a scorer away from the rim, is limited with his back to the basket, and struggled to finish in the paint at a high level to close the year. He flashes soft touch and will toss in a hook shot from time to time, but does most of his damage catching and exploding to the rim, still having plenty of room to grow and develop his skill level on the offensive end.
Where Zanna has proven capable of making a significant impact over the course of his collegiate career has been on the offensive glass, like many former Pitt big men. Doing a tremendous job using his athleticism, length, and aggressiveness to corral 4.9 offensive boards per-40 minutes pace adjusted, his willingness to mix it up in the paint offensively and create extra possessions for his team is one of his most significant attributes as an NBA prospect.
Despite his impressive production on the offensive glass, Zanna averaged a much less robust 5.9 defensive rebounds per-40 minutes pace adjusted last season, seldom pursuing the ball out of his area, but doing a fine job boxing out. A foul prone player early in his career, Zanna has improved his fundamentals on the defensive end by leaps and bounds in his time under Jamie Dixon. He may not block many shots, but he has become adept at going straight up on would-be scorers in the post and shows terrific foot speed for a big man defending the perimeter.
Pittsburgh will feature a lot of new faces in 2014, and Zanna will be counted on to step up and assume a leadership role. His size, athleticism, and offensive rebounding ability give him some intrigue as a prospect, but showing more variety offensively and improving on the defensive glass could help his standing in the eyes of scouts considerably. A strong candidate for the Portsmouth Invitational Tournament, Zanna is a player worth keeping tabs during Pitt's first run through the ACC, despite turning 23 years old in a few weeks.
[
Read Full Article
]
Top NBA Draft Prospects in the Big East: Part Three (#11-15)
October 17, 2011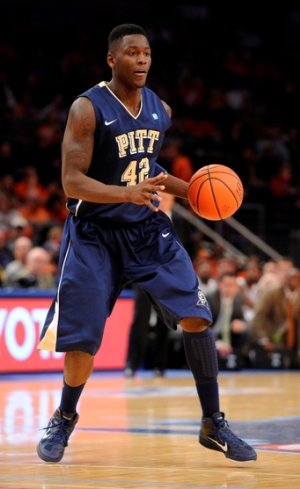 Icon SMI
Walker Beeken
After being granted a medical hardship waiver for the 2009-2010 season with an injured shoulder, Pittsburgh's
Talib Zanna
shined early as a freshman, putting up season-highs of 14 points and 12 rebounds in a win over Maryland in Madison Square Garden in November. Unfortunately, the rest of Zanna's freshman season didn't go as well, as he earned inconsistent minutes in a crowded Panther frontcourt, playing sparingly through the Big East schedule, before sitting out the last seven games of the season with an injury to his right thumb.
Despite Zanna's lack of minutes and on-court production as a freshman, he still displayed enough potential to establish himself as a prospect down the road, most notably due to the physical tools that he brings to the table. The Nigerian big man has good size for the power forward position at 6'9", with a solid build and what appears to be a long wingspan. He couples that with an excellent motor and very good mobility for guy his size.
Offensively, Zanna is still a bit raw at this stage and played a very minor role last season, mainly only touching the ball on offensive rebounds and off of cuts around the basket, and hardly seeing any post touches. His athleticism and aggressive mentality help him finish at the rim, as he shot a solid 56% from the field last season, making the most of his opportunities. He also runs the floor hard on every possession, making himself available for easy baskets and put-backs.
He showed glimpses of being able to shoot mid-range jumpers, and looks to have decent touch, but he seems to lack confidence in his stroke, and still has work to do, as evidenced by the very poor 48% he shot from the free throw line as a freshman.
Defensively is where Zanna has excellent potential. He's big, strong, and long enough to defend in the post, and also possesses the mobility and lateral quickness to step out and defend some on the perimeter. Most importantly, he plays with outstanding intensity and effort and is playing for a coach in Jamie Dixon who is known for producing tough players who understand how to play on the defensive end, which should bode well for him down the road.
Zanna utilizes the same relentless energy to be a force on the boards, where he averaged 12.3 rebounds per forty minutes pace adjusted as a freshman for one of the best rebounding teams in the country.
This season could give a better indication's of Zanna's professional potential, but the extent of his playing time and role is uncertain. With the return of starter
Nasir Robinson
and former McDonald's All American
Dante Taylor
, as well as the addition of heralded freshman
Khem Birch
, minutes at the four and five spots could once again for hard to come by for the 21 yeard old sophomore.
Pittsburgh should once again be one of the top teams in the Big East, and Zanna's physical attributes and energy will make him an intriguing player to watch. While a breakout sophomore season may not necessarily be in the cards, NBA scouts will likely be keeping an eye on Zanna's development over the course of his time in Pittsburgh.
[
Read Full Article
]