Top NBA Prospects In the Rest of the NCAA, Part Four: Prospects 4-7
November 8, 2016
Josh Riddell

Cleared by the NCAA just a day before his freshman season started, Tacko Fall was able to seamlessly incorporate himself back into the UCF rotation after missing nearly a week of pre-season practice to be a productive rotation player. Now the tallest player in the NCAA by several inches after UC Irvine's Mamadou Ndiaye declared for the NBA Draft, the 7'6" Fall will be looking to build on a strong freshman season,after averaging 16.7 points, 13.3 rebounds and 5.3 blocks per 40 minutes in seventeen minutes of action per game.

Born in Senegal, and only playing basketball for a few years, having crisscrossed the country before landing at UCF, Fall is clearly still at an early stage of his development.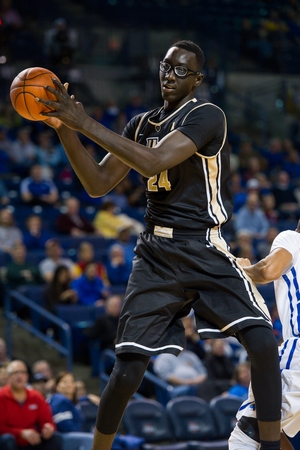 US Presswire
Fall has a reported wingspan that spans over eight feet, which gives him an elite reach around the rim. The rest of his physical tools raise questions about his ability to break into a rotation in the modern NBA, as he lacks a high level of lateral quickness to move in space or a strong frame to carve out space around the rim. With the NBA focusing on smaller and quicker lineups, Fall will need to show how he could make his mark at the next level using his size and length, something he has time to do with three years of eligibility remaining.
45.9% of Fall's total possessions were logged as post-ups by Synergy Sports Technology, but he struggled to score as a freshman at times, even with a clear size advantage. Although he is listed at 300 pounds, he doesn't yet have the lower body strength needed to establish position on the block and will use his off arm to push his defender back, which can result in offensive fouls.
Once he gets the ball, if he has deep position, he can turn and shoot a hook shot over his defender, but he struggles if he needs to start his move away from the rim. His footwork is rudimentary, and when he tries to make a move either with his back to the basket or from a face up position, he often gets off balance and is ineffective.
Fall's lack of high-level experience was evident as a freshman, as he was somewhat of a black hole at times once receiving the ball, averaging just 0.8 assists compared to 3.7 turnovers per 40 minutes. When he did pass out of the post, his passes were inaccurate and his teammates struggled to turn them into points. He also has a tendency to clog the lane when looking to post up and will demand the ball even when surrounded by defenders, which can bog down the offense. His size helps him score with the back to the basket, but he is by no means a dominant post player at this point and he will need to improve his footwork, passing ability and overall understanding of the game to be a more well-rounded post scorer.
With that said, Fall is nearly automatic when he catches the ball heading toward the rim, and he converted 74.7% of his shots at the rim according to Synergy Sports Technology. His 75% two point field goal percentage
ranked third among all players who played at least thirty games last season
and he was easily able to finish on baseline cuts or offensive rebounds, as he has solid hands to make easy catches and finishes, and a solid feel for rotating into space to present himself for layups and dunks.
Fall averaged 4.1 offensive rebounds per 40 minutes last season, a solid mark, especially for a raw freshman. He's not overly explosive off the ground, and can be a step slow when chasing down rebounds that fall outside his area, but his sheer length and size can make him a difference maker at times in this area.
He will step out to the perimeter and set a ball screen, but he's slow to roll to the rim, taking a wide line to the rim instead of rolling straight down the paint, which limits his effectiveness out of this play type. He would be a prime target for a lob pass with his reach, but he can be slow getting off the ground, and will get knocked off his path by contact. While there is no question about Fall's ability to score when he is right at the rim, scouts will be watching to see whether he can expand his offensive game as a sophomore and beyond, which will help him stay effective as the competition level stiffens.
Fall rarely left the paint defensively, and was able to focus solely on protecting the rim and rebounding. His 5.3 blocks per 40 minutes
ranked third in the NCAA last season
and while he was able to be a productive shot blocker, he took himself out of plays by biting on ball fakes or trying to block shots that he had no chance to block. He also has a tendency to get pushed under the rim when he doesn't engage early, as he seemingly expects to block every shot, which causes him to foul his opponent or give up easy baskets at the rim.
Fall's 9.2 defensive rebounds is an impressive mark, and improving his strength and explosiveness could help him progress in this area even more. He uses his arms rather than his body to hold off opponents at times, and is only going to get rebounds that fall right to his area when he is in rebounding position. If his feel as a shot blocker can improve and he limits the amount of shots he tries to block, he could become a more productive rebounder by being in position to be first to the ball off the rim with his reach.
Fall will have a major transition to make at the next level, as he won't be able to camp inside the paint with the NBA defensive three second rules. He'll need to get stronger to defend the post consistently and significantly quicker stepping out to the perimeter. He was foul prone even in his limited defensive role, averaging almost six fouls per 40 minutes.
Fall has already shown his value as a shot blocker and rebounder early on, but he'll need to prove he can also contribute as an all-around defender to take the next step in his development, especially when asked to move laterally in the half court.
Fall demonstrated flashes of impressive prowess around the rim on each end as a freshman, and will be monitored closely to see how he progresses moving forward. While his enormous size will keep him on the radar of NBA teams, the soon the be 21 year old Fall will need to prove how he can fit into the modern NBA game in the upcoming years to raise his profile as a draft prospect.
It's somewhat understandable why Fall is such a raw prospect considering the circuitous route he took to the NCAA, so it will be interesting to monitor his improvement and whether he's able to continue to post gaudy rebounding and block numbers as his minutes increase.
[
Read Full Article
]