2015 Basketball Without Borders Camp Roster Analysis
February 5, 2015
Gombauld is an undersized power forward who brings tremendous energy to the floor. A terrific rebounder and defender, scouts will be monitoring Gombauld to see if his skill set will allow for a transition to the perimeter sooner rather than later. With a ripped frame and impressive athleticism, he was an early bloomer at the NIJT settings already two years ago, despite just having turned 16, and while he continues to put up impressive numbers at the junior level, there are some question marks about how his game will translate to the senior level since he's neither grown, nor developed an outside shot.
[
Read Full Article
]
Nike International Junior Tournament Belgrade 2014 Scouting Reports
March 7, 2014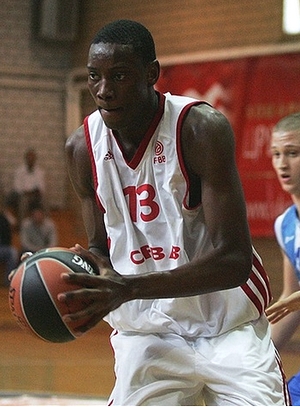 nijt-kkcrvenazvezda.com
Jonathan Givony
Strengths:
-Long wingspan and gigantic hands
-Very good athlete. Quick and explosive
-Terrific transition scorer and all-around finisher around the basket. 59% 2P%
-Can attack opposing power forwards from the elbow or short corner with a quick first step
-Draws fouls in bunches thanks to activity level and quickness around the basket. 10 free throw attempts per-40 minutes
-Excellent rebounder on both ends of the floor
-Has the potential to defend multiple positions. Gets in the passing lanes frequently
-Just turned 17. Extremely young
Weaknesses:
-Body looks virtually the same as it did last year. Hasn't grown or filled out
-Still more of an inside player at 6-8, which raises some question marks about his tweener status
-Skill-level is fairly limited. Poor ball-handler in half-court court. Looks out of control whenever he needs to dribble more than once or twice
-Cannot shoot at all seemingly. 0/5 from beyond the arc. 61% FT%
-Size of hands and grip on basketball could make it difficult to develop his outside shot
Outlook:
Young, athletic forward who was one of the most productive scorers at the NIJT at 26 points per-40 (5th best in competition). Too long, quick and aggresive for most European big men his age inside the paint at this level of competition. Missed a significant part of the year with a hand injury and hasn't done much to improve his body or skill-level from the perimeter. Will he continue to be as effective inside the arc as other players catch up physically?
[
Read Full Article
]
Nike International Junior Tournament London Scouting Reports Part Two
May 18, 2013
Stephane Gombauld, 6-7, Power Forward, INSEP, France, 1997

Jonathan Givony

Strengths:
-Just turned 16 years old, but already competing with players significantly older than him
-Has incredibly long arms, huge hands, and a body that should fill out very nicely in time
-Good athlete. Quick to the glass and getting off the floor
-Shows some signs of interesting footwork and touch

Weaknesses:
-Extremely raw, which is to be expected considering he's two years younger than everyone he's facing
-Doesn't have any consistent means of scoring at the moment
-No real post game, ball-handling skills or jump-shot
-Very upright on defense. Gets pushed around by the stronger, more mature post players he faces. Rarely boxes out. Energy level is average. Does not appear to have the lateral quickness to develop into a perimeter player

Outlook: Was just 15 years old at the NIJT Belgrade Tournament. Made a big splash in the very first game, scoring 25 points with 8 rebounds. Never came close to replicating that afterwards but showed some interesting flashes of talent and inspired a great deal of debate about what he might develop into over the next few years. Will he grow? What will his body look like down the road? Will he improve his skill-set and develop into a perimeter oriented prospect, or is he best suited as an interior player?
[
Read Full Article
]