Top NBA Prospects in the SEC, Part Eleven: Prospects #14-17
September 29, 2014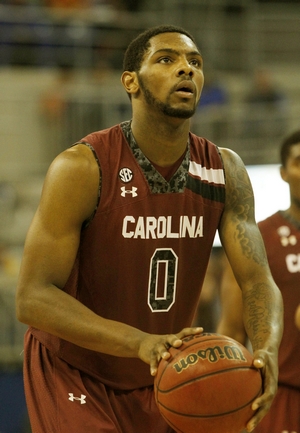 US Presswire
Jonathan Givony
The highest rated recruit to commit to South Carolina since Rolando Howell in 2000, Sindarius Thornwell's decision to "stay home" (he grew up an hour up the road) was a huge boon for Frank Martin's rebuilding effort.
Thornwell wanted to play a significant role as a freshman, and did so in a major way, as his 28% usage rate was the third highest among freshmen prospects last season. He saw minutes playing both on and off the ball for the Gamecocks, especially once starting point guard and then-leading scorer Tyrone Johnson was lost for the remainder of the season with an injury in January.
Thornwell has good size for a guard, measuring 6-5 1/2 in shoes, with a sturdy 214 pound frame, and a 6-9 wingspan at the Nike Skills Academy this summer. He is stronger than he is explosive, with a frame and style of play somewhat reminiscent of Dion Waiters with his ability to simply overpower defenders en route to the basket.
Thornwell scored at a decent clip as a freshman--18 points per-40, but was extremely inefficient, shooting just 39% from 2-point range, the third lowest rate among returning players in our Top-100 prospect rankings. Getting to the line 7-times per-40 minutes helped him salvage some scoring efficiency, but his 51% TS% certainly won't blow anyone away and is something scouts will want to see him improve upon as a sophomore.
While asked to see significant minutes as South Carolina's primary facilitator and clear-cut go-to guy, Thornwell is a relatively average ball-handler at this stage, being primarily a straight-line driver who relies heavily on his strength to help create offense. His first step is not extraordinary, as he often simply tries to bully his way through defenders, which makes it difficult for him to generate too many clean looks once inside the paint, as he usually has his man still connected to him at the hip.
Thornwell struggled to score efficiently inside the paint, converting a mediocre 42% of his attempts in the half-court in these situations last season. He doesn't appear to have great touch around the rim, often looking content just getting inside the paint and then throwing the ball up on the rim hoping for the best. Things aren't that much better in the open floor, as he hit just 45% of his field goal attempts in transition situations, a very low rate. Part of this is due to his decision making skills, but he's also not terribly explosive, which combined with his inability to blow-by defenders at a high rate might make it difficult for him to emerge as a high-level slasher at the NBA level unless he improves his ball-handling and finishing ability significantly.
Thornwell did an admirable job trying to execute South Carolina's offense playing out of position at the point guard spot, a role that led to some real growing pains, but will likely benefit his long term development. While he's obviously most comfortable looking to score, he made a concerted effort to execute the team's offense and get others involved. Not a natural playmaker by any stretch, most of his assists came off simple drive and dish plays or by making the extra pass in the flow of the offense, helping him post a respectable 4 assists per-40 minutes and 24% assist percentage.
Turnovers were somewhat of an issue as you might expect considering the transition Thornwell was forced to make as a freshman playing out of position in the competitive SEC. His 19.1% turnover percentage rated second worst among the 26 returning players classified as guards in our Top-100 prospect rankings.
As a shooter, Thornwell is somewhat of a mixed bag at this stage, showing clearly defined strengths and weaknesses. He is very solid with his feet set, showing good mechanics and a quick release. He made 39% of his attempts last season in catch and shoot situations, helping him knock down 37 of his 100 3-point attempts.
Pulling up off the dribble is where Thornwell tends to struggle, as he converted just 31% of his attempts in these situations. Shot-selection and decision making are the biggest culprits here, as Thornwell seems to overestimate his shot-making ability significantly, regularly settling for tough, contested pull-up jumpers in the mid-range area, sometimes just a foot or two inside the 3-point line. This is part of the reason his 2-point percentage was so low, and it will be interesting to see if his efficiency rises once he isn't forced to shoulder such heavy playmaking and scoring responsibilities.
Defensively, Thornwell has all the tools to emerge as a solid piece on this end of the floor eventually, with his excellent combination of size, length and strength. Unfortunately he's far from that at this stage, as his fundamentals are poor and he lacks the intensity level to compensate for that at the moment.
Thornwell gets lost defending off the ball frequently, and is regularly caught upright and out of a stance in one on one situations as well. He gets blown by off the dribble far too frequently, and doesn't do a great job of fighting through screens, looking a little bit lazy at times in this area. The huge amount of offensive responsibility Thornwell was forced to shoulder as a freshman certainly didn't bode well for his efforts on the defensive end, so it will be interesting to see how he evolves here as his career moves on.
He shows some very nice flashes from time to time, coming up with plenty of steals, blocks and deflections on the perimeter, showing good anticipation skills in the process.
Thornwell will play a significant role for South Carolina once again as a sophomore, but Frank Martin's team should be better as they return almost their entire rotation from last season. Making the NCAA Tournament would likely go a long way in showing scouts that he can translate his talent to winning situation, which makes this an important season coming up for him.
[
Read Full Article
]