Top NBA Draft Prospects in the ACC, Part 16: Prospects 28-31
November 3, 2016
Jonathan Givony

Growing up playing soccer in his home country of Senegal, Sidy Djitte switched to basketball at the age of 12. He moved to the US at 17 to attend Thomasville Prep and later Northwood Temple in North Carolina, committing to Clemson as a raw high school senior still learning the game.

Djitte's first two seasons in college were fairly inconsequential, playing only ten minutes per game on average. The light bulb seemed to come on as a junior, as his playing time rose to 15 minutes per contest, and his per-40 production skyrocketed to 15 points, 15 rebounds and nearly two blocks and two steals, on 62% shooting.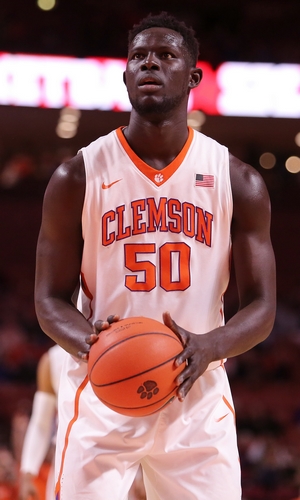 US Presswire
Djitte has an unconventional physical profile, as he plays the game almost entirely below the rim, and at times lacks balance and coordination, but covers ground incredibly well with quick and nimble feet. He has a chiseled 240 pound frame, with long arms, big hands, narrow hips and a low center of gravity.
Djitte is not a skilled offensive player, as most of his touches come by virtue of his energy-level. The game moves a little too fast for him when things come to a stand-still, as he has a rudimentary post game, and is largely relegated to finishing what others create for him around the basket.
Djitte nevertheless found ways to be effective at times for Clemson offensively, primarily as a cutter, pick and roll finisher, and offensive rebounder. He has terrific feet stepping out to the 3-point line to set bruising screens, and then roll to the basket fluidly. He has a knack for moving into open spots and presenting himself for easy finishes, as he was able to convert an excellent 71% of his non-post-up field goal attempts around the basket last season according to Synergy Sports Technology.
He doesn't appear to have the best hands, as he'll bobble some passes that are thrown to him at times, and isn't always ready to catch the ball, but he's certainly not clueless in this area either. He seems to have made major strides the past few seasons and showed some really nice flashes finishing around the paint in some contests, even if his largely below the rim style of play may hamper him at times at the professional level.
Where Djitte is truly a difference maker at the collegiate level is as a rebounder, as his 15 boards per-40 minutes average (ranked sixth best in the country among draft prospects) last season would attest. He has an uncanny knack for pursuing loose balls coming off the glass as soon as shots go up, and absolutely loves putting a body on opposing players to box out and move them out of the way. His energy-level is remarkable, as he seemingly never gets tired, and is constantly looking to make things happen with his long arms and tremendous frame.
Defensively, Djitte has some very interesting characteristics that are highly coveted in today's professional basketball, particularly with his ability to skate around the court with his very nimble feet. He is extremely agile stepping outside the paint and covering ground defending pick and rolls, hedging outside the 3-point line and recovering impressively.
He also does a very nice job rotating from the weak-side to take charges or contest shots, getting vertical for two-handed blocks and challenges, even sometimes without jumping thanks to his tremendous length.
While he has the frame to be an excellent one on one post-defender, he's not quite as impactful here as you might hope, as he's susceptible to biting on fakes and lacks much in the way of experience and technique against more savvy big men. On top of that, his focus and intensity tends to lapse at times off the ball, and he won't always get a hand up contesting shots, or gets caught out of position gambling for steals.
He was exceptionally foul prone last season at 8.2 fouls per-40 minutes, a rate that has remained constant his entire college career thus far. That must drop significantly if he wants to see more playing time this year, which Clemson will need with starting center Landry Nnoko graduated.
Djitte had a handful of highly impressive games last season for Clemson, but was also a total no-show in many others, getting yanked after one foolish mistake or another. With Nnoko out of the picture, Djitte will have no choice but to step up and show serious progress for Clemson to make the NCAA Tournament like many forecasts project them to. He'll be in a great situation to increase his stock dramatically with a strong year, and has a ready-made role he can play at the professional level if he's able to show progress.
[
Read Full Article
]