Top NBA Prospects in the Big Ten, Part 5: Prospects #8-11
October 9, 2014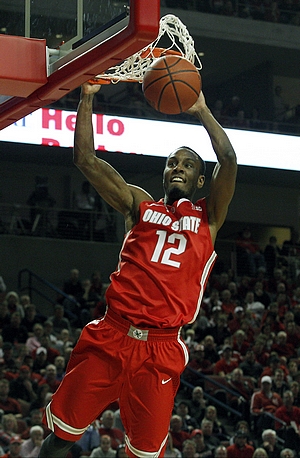 US Presswire
Matt Kamalsky
Arguably the most explosive leaper in all of college basketball, Sam Thompson once again provided plenty of highlight reel material for Thad Matta's Buckeyes during his junior year. Unfortunately, Thompson's production largely stagnated otherwise, as he wasn't able to step into a feature role and provide the scoring Ohio State desperately needed last year.
Standing 6'7 with a 6'8 wingspan, Thompson is not terribly long for a small forward, but he has good size and everything you look for in a wing prospect athletically. On top of his ability to play above the rim, he has tremendous speed in the open floor and terrific lateral quickness.
Offensively, Thompson used marginally more possessions as a junior than he did as a sophomore, but his scoring efficiency fell significantly. Ranking fifth on the team in the percentage of the team's possessions he used according to Synergy Sports Technology, Thompson's dip in overall efficiency stems from his regression as a jump shooter. After knocking down 41.5% of his perimeter attempts as a sophomore, he connected on just 31.3% as a junior as he shot at steady 38.1% in catch and shoot situations, but made just 2 of his 24 pull-up jumpers. As we noted the last time we evaluated Thompson at this time last year, he proved to be a limited shot creator, as his ability to create off the dribble and score from the midrange still leaves a lot to be desired.
When Thompson can find an opportunity to score around the rim, his athleticism is an obvious asset, but his 56.5% shooting as a finisher is only above average, as he appears out of control at times and sometimes struggles to convert when he can't dunk the ball, especially in a crowd.
Functioning as a complementary option offensively and seldom asked to create for himself, Ohio State's overall offensive struggles (128th ranked offense—KenPom) certainly didn't put Thompson, who is best suited to be a role-player alongside more prolific scorers, in great position to have a strong year. Thompson has one last chance to turn the corner on this end of the floor and emerge as a legitimate weapon as a senior on what figures to be a more balanced offensive team.
Thompson makes his best contributions defensively, where he is simply outstanding at times, combining the intensity that has become a staple of Thad Matta's program and the lateral quickness to defend multiple perimeter positions. He doesn't always get over screens quickly, is only an average rebounder, gets caught watching the ball, and needs to continue to get stronger, but the framework is there for Thompson to become a capable wing defender at the professional level over time.
Entering his final season of eligibility, Thompson, like other Ohio State seniors, is still trying to get traction as a NBA Draft candidate. His size, athleticism, and defensive potential are tantalizing, but he is still looking to show potential as a niche player offensively. Likely to get invited to the Portsmouth Invitational Tournament, if he can make strides as a shot creator or show a more consistent set shot, Thompson could figure into the 2015 NBA Draft when all is said and done.
[
Read Full Article
]
Top NBA Draft Prospects in the Big Ten, Part 7 (#11-15)
September 23, 2013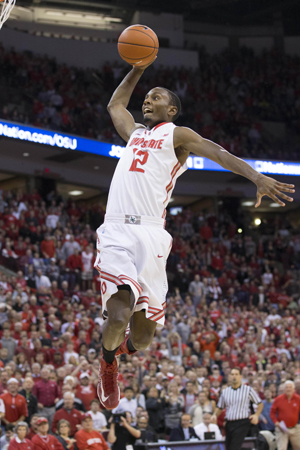 US Presswire
Kyle Nelson
Swingman Sam Thompson has long dazzled spectators with
athletic finishes
since he arrived at Ohio State as a
RSCI Top-50 recruit
. Now a junior and coming off of an sophomore year where he showed improvement, Thompson is out to prove that he is more than merely a
human highlight reel
while assuming a larger role on the offensive end of the floor for Ohio State.
Such a projection is not entirely out of the question considering how far he has come since his freshman year. Thompson started all 37 games as a sophomore, averaging 25.1 minutes per game while seeing 10.7% of Ohio State's possessions as a sophomore versus averaging 10.3 minutes per game and using a measly 3.3% of its possessions as a freshman.
Yet, despite the bump in usage, he attempted only 4.2 shots from inside of the arc and 1.5 from beyond per game, resulting in a meager 12.5 points per 40 minutes pace adjusted. He scored in double figures just 10 times as a sophomore, and only three of these performances came against teams that qualified for the NCAA Tournament.
A look into his play type breakdown on Synergy Sports Technology reveals that 35.1% of his possessions were spot-up jump shots, 24.5% were in transition, 12.4% off of cuts, and 5.7% came out of his work on the offensive boards. In short, despite seeing more playing time and possessions, Thompson is both an extremely limited player as well as one of the
least productive small forwards in our database
.
That said, there is a lot to like about him as a prospect. For one, he is an outstanding athlete, extremely explosive around the rim and very quick. Though his shaky handles don't allow him to move particularly quick with the ball in his hands, he is among the NCAA's top finishers in transition at this stage and does an outstanding job of finishing off of cuts to the basket. Given his athleticism at 6'7, it's easy to see why scouts are intrigued with his potential at the next level.
Additionally, he has developed into a capable spot-up shooter at this point in his career, converting on 38.1% of his overall attempts, not to mention 42.9% of his overall catch-and-shoot opportunities, while displaying the ability to make shots both guarded and unguarded. On film, his mechanics tend to break down a bit when he's guarded, but he shows a fluid shooting motion in space, with plenty of elevation and a high release point.
The issue is that he is simply not a shot creator at this point in his career. While he is a solid spot-up shooter, he struggles to create the space necessary for shots off of the dribble (8/24 total) and attempted only 11 shots from mid-range. Scouts will be watching to see how he builds on the flashes that he showed as a sophomore during his junior season while developing a more aggressive mindset, given the fact that he is often unselfish to a fault.
As mentioned above, improving his extremely raw ball handling ability will not only go a long way to helping him create offense for himself from mid-range, but also help him to improve as a slasher. Though he finishes an impressive 65.4% of his shots in transition, he made just 26.3% of his shots around the basket, 55.9% of his overall attempts around the basket, and 53.2% of his overall attempts inside of the arc. His rail-thin 200-pound frame and average wingspan (6'8) are clearly issues, but so too is his questionable shooting touch around the basket. Despite his reputation for acrobatic dunks, he misses a remarkable amount of short looks, while lacking the strength to fight through contact.
That said and while Thompson is extremely raw on offense, he showed the potential to develop into a formidable perimeter defender. His combination of size and lateral quickness allow him to stay in front of most wing players at the collegiate level, both inside and out. His tendency to gamble, both in passing lanes and as a shot blocker, sometimes leaves him out of position and his man open on the perimeter, but his physical gifts allow him to be a playmaker all over the floor. He will have to get stronger, as he struggled to both fight through screens and hold his ground against more powerful wing players, but with continued physical development, focus and intensity at all times, he has the potential be an elite defender in the Big Ten.
Thus, Thompson's draft prospects are unclear at this point. He took a big step forward as a sophomore, moving from a curiosity to a bonafide roleplayer, but scouts will want to see him become more productive and assertive as a junior. While many expect LaQuinton Ross to pick up a majority of DeShaun Thomas's production, Thompson should also have plenty of opportunities, as well. With his physical profile and potential on both ends of the floor, continued improvement should keep him squarely on scouts' radars.
[
Read Full Article
]