Top NBA Prospects in the AAC, Part 2: Prospects #2-5
September 17, 2014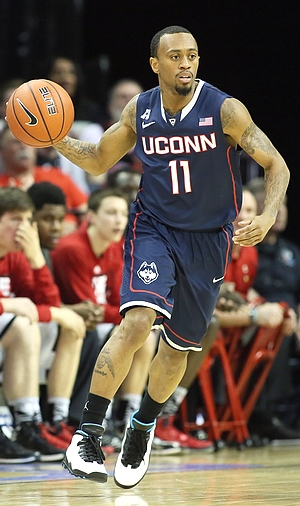 US Presswire
Derek Bodner
After spending the first three seasons of his collegiate career playing alongside Shabazz Napier, forming a tandem that helped propel UConn to the national championship last season, Ryan Boatright will finally take the role of lead guard for Kevin Ollie.
Part of Boatright's effectiveness over the years has been his versatility. While Boatright is at his best attacking a defense off pick and rolls, his ability in catch and shoot situations allowed him to remain effective while Napier ran the offense. With Napier's departure, it will put Boatright in a situation that should maximize his offensive potential, but also one that will put a huge premium on his ability as a decision maker.
Even playing alongside Napier, the pick and roll has been a huge part of Boatright's game, taking up just about a quarter of his possessions in each of the last two seasons as Kevin Ollie began to feature him in the offense more. Boatright combines a very strong pull-up game with incredible speed and quickness to create a matchup nightmare when coming off the pick, and this is a part of his game that he could see even more possessions from this season as he is handed the reins to the UConn offense.
When Boatright gets into the paint, he's an explosive leaper with excellent body control, but his size, both his short stature and his lack of strength, present some problems. He has struggled to convert in the paint at a high rate over the past two seasons, shooting only 43.7% and 45.8% the past two seasons, respectively. If Boatright could add some sorely needed upper body strength he could see some improvement in this regard, but his height will likely always put him at a physical disadvantage in this regard. He tries to overcome this by utilizing an in-between game that makes heavy use of a floater, but he's relatively inconsistent with this shot to this point in his career.
A key in his development will be using the attention that he receives on penetrations to setup his teammates, a skill that is going to become even more crucial with his changing role in the UConn offense. Boatright can get wild on his forays into the lane, leading to both low percentage attempts of his own and also risky passes, while frequently getting caught in the air with nowhere to go with the ball. Over the years Boatright has been far more the offensive spark than floor general, and his overall decision making and feel for the game are in vast need of improvement if he wishes to maximize his chances to succeed, not only in the NBA but also this season at the helm of UConn's offense.
As a shooter, Boatright shows the ability to hit shots with both his feet set and off the dribble. He does a good job of getting into position before receiving the pass, and has a short, compact shooting motion that looks fairly repeatable. Despite his diminutive size, Boatright has a number of moves off the dribble to get himself the space needed for quality looks, including an incredible crossover and step back move that he can pull off with ease. His incredible ball handling is a huge advantage he has in his arsenal, and something that allows him to take advantage of his quickness. He's not quite as consistent shooting off the dribble as he is from the catch, and can go through prolonged hot and cold stretches. A big part of this is more decision making and shot selection than it is skill level, however, and being more selective in when he chooses to attack would serve Boatright, and the UConn offense, well.
Boatright has an intriguing combination of strengths and weaknesses on the defensive side of the court. He has quick hands, which is reflected in the 2.0 steals per 40 minutes pace adjusted that he is able to generate. He plays incredibly pesky defense on the perimeter, frequently picking his man up from near half-court, and with the foot speed to effectively pressure from this far out without putting a huge strain on the back line of UConn's defense. He also does a very good job of avoiding screens, working hard to fight over the pick and roll and also showing a good awareness of the opponent he's defending, correctly picking whether to go over or under the pick most of the time.
That being said, his physical profile brings many disadvantages along with it. Standing just six feet tall (at best) in shoes, Boatright is going to be at a height disadvantage at any position at the next level, which is only compounded by his below average six foot wingspan. The combination of his height, wingspan, and slender frame make Boatright a constant threat to be posted up, and he struggles to adequately contest shots on the perimeter as well. Combine this with his penchant for roaming off his man looking for steals when playing off the ball, and, while Boatright's pressure defense can certainly be an asset if utilized correct, he's a player that also comes with considerable shortcomings as well, especially considering the type of size he'll be asked to defend at the next level.
Boatright brings with him a combination of athleticism, aggressiveness, and shooting ability that makes him an interesting prospect, but his lack of size and, more importantly, his dubious decision making and point guard skills make it questionable whether he can be a productive player at the next level. With the departure of Shabazz Napier and Boatright's change in role in the UConn offense, he will have every opportunity to disprove the question marks surrounding his shot-selection and decision making abilities.
[
Read Full Article
]