Top NBA Prospects in the Big East, Part Seven: Prospects #16-20
September 16, 2015
KyleNelson

Ryan Arcidiacono did not post the most eye-popping numbers as a junior, but there is no denying the role that he played in Villanova's run that culminated in a top seeding in the NCAA Tournament, and Big East Player of the Year Honors for him.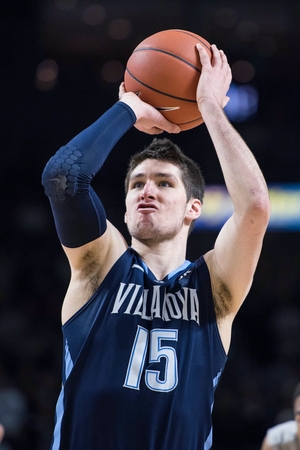 US Presswire
Though Arcidiacono ultimately struggled in Villanova's disappointing loss in the Round of 32, he solidified his reputation as one of the top point guards in the country as a junior. Villanova needs another big season from its four-year captain in order to repeat, but backcourt help is on the way in the form of freshman phenomenon Jalen Brunson. The question on scouts' minds, however, is whether Arcidiacono can be more than just another great collegiate point guard.
At 6'3 with a 195-frame, Arcidiacono has good size for an NBA point guard, though his 6'3 wingspan leaves a lot to be desired. So, too, does his below average athleticism, particularly his lack of explosiveness and average first step. While he can play at different speeds and seems to know and play within his athletic limitations, quicker guards gave and will continue to give him problems on both ends of the floor.
Arcidiacono was not a prolific scorer during his first two seasons at Villanova, and his junior year was no exception. His role remained unchanged, as well, and he once again saw a majority of his possessions in pick-and-roll and spot up capacities. Ultimately, he averaged just 13.2 points per 40 minutes pace adjusted, but he did so on better efficiency, up to 56% TS%, while splitting backcourt duties among a trio of talented guards.
His most pronounced weakness, however, is represented by his 42% 2P%. Arcidiacono attempted more 3s than 2s for a reason, and 87% of his half-court shots came on jumpers. Even when he did attack the basket, he struggled to finish over and through defenders at the rim, making under 50% of his looks inside the paint.
As has been the case throughout his entire career, Arcidiacono's biggest strength is his steadiness at the point guard position. He averaged 4.7 assists per 40 minutes pace adjusted against 1.7 turnovers, and his 2.69 assist/turnover ratio ranked eleventh among point guard prospects in our
database
. On film, he displays good instincts as a distributor out of the pick-and-roll, particularly to spot-up shooters who made 45.8% of the attempts that Arcidiacono set up for them. He is an unselfish player in general, not particularly flashy, but he does a good job of finding his teammates in rhythm while making good decisions with the ball in his hands.
Arcidiacono is also a decent scorer out of the pick-and-roll. Along these lines, he made an impressive 38% of his shots off the dribble, many of them coming off difficult attempts. In particular, he knows how to change speeds with the ball in his hands and create space to find a shot when needed.
Arcidiacono posted a career high shooting from beyond the arc, making 38% from 3 as a junior, up from 33 and 34.5% the two seasons prior. This is an important development for his pro prospects, especially considering his limitations as a scorer inside the arc.
On defense, Arcidiacono lacks ideal length and lateral quickness for the point guard position, but does a good job of moving his feet, rotating and communicating, and staying involved while guarding the perimeter. Though his physical limitations will be more pronounced at the next level, he is a pesky defender for Villanova and consistently displays solid effort, awareness, and fundamentals.
There is a lot to like about Ryan Arcidiacono's game at the collegiate level, and NBA scouts should expect another strong season from Villanova's four-year captain. His combination of intangibles, steady point guard play, defensive effort, and ability to create on the pick and roll will get him looks as an NBA prospect, even if his below average athleticism significantly limits his potential as a player at the next level. Even if the NBA does not work out, Arcidiacono's experience with the Italian national team the past two summers, and his collegiate resume should prepare him well for a long career playing professional basketball at a high level.
[
Read Full Article
]
USA Basketball U19 World Championship Training Camp Report, Part Two
June 19, 2013
The Villanova point guard struggled for the most part throughout his first few sessions at Colorado Springs, but lived to see another day initially, likely thanks to his experience playing with USA Basketball as well as his team first mentality and playmaking skills. Eventually the coaching staff elected to go with the superior athleticism, defensive prowess and versatility of Marcus Smart, Nigel Williams-Goss and Elfrid Payton over him on the final roster, though.

Featuring very good size at 6-3, but below average athleticism, Arcidiacono is a creative ball-handler who shows nice ability to play at different speeds and keep defenders off balance. Unfortunately his underwhelming first step and lack of strength made it difficult for him to be very effective as a finisher inside the arc—something that was clearly an issue for him as a freshman as well, as indicated by his sub-par (37%) 2-point percentage. He also was extremely streaky from beyond the arc in Colorado Springs, really struggling to get anything going with his perimeter shot for long stretches, and also having a difficult time keeping opponents in front of him defensively. Arcidiacono will have to step up his play on both ends of the floor if he's to make strides in his sophomore season at Villanova and help his team return to the NCAA Tournament, even if his size, court vision, ball-handling and creativity are very interesting attributes to work with long term.
[
Read Full Article
]