All-Portsmouth Invitational Tournament, Third-Team
April 17, 2011
Joseph Treutlein

One of the highest profile players in attendance, Rick Jackson had just a solid showing at the PIT, mostly affirming the strengths and weaknesses he's shown over the course of his career. He measured out very well, coming in at 6'8.5" without shoes with a solid 7'1" wingspan.

A good rebounder in college, Jackson didn't especially stand out in that department here. He pulled in a solid 8.0 rebounds in 26 minutes per game, but his own numbers weren't helped any by sharing a frontcourt with Old Dominion's Frank Hassell, who led the entire tournament in rebounding by a wide margin. Looking to the NBA, Jackson's work on the boards is still his best selling point, but it's worth noting on a per-minute pace-adjusted basis, he was outrebounded by over 20 players in our database this past season.

Looking at the rest of Jackson's game, he does the majority of his work operating with his back-to-the-basket, having a simple repertoire of turnaround jumpers and hook shots that he usually doesn't have much trouble getting off. He finished inconsistently here, and was very inefficient in this area in college, scoring just 0.82 points per shot in back-to-the-basket situations according to Synergy. Looking to the next level where he'd frequently be facing bigger, more athletic opponents, it's hard to see this area of his game translating well.

Where Jackson is at his best is with most of the little things, crashing the offensive glass, finishing off the ball, setting picks, and making passes in the flow of the offense. He's a smart player with good awareness that has developed into more of a hustler as his career has gone on. A strong player with solid hands, Jackson rarely showed problems finishing in traffic in the lane at the college level, though may show more problems in the NBA where he won't stand out athletically.

Defensively, Jackson has most of the same issues other players do coming out of Syracuse's zone, though he posted solid helpside numbers with his 2.5 blocks and 1.3 steals per game, a testament to his activity level. There are certainly questions about how he will deal with perimeter 4's or bruising 5's at the next level given his physical limitations, but he can make up for it somewhat with hustle and smart play.

Looking forward, Jackson brings a solid, well-rounded game to the table, but may not stand out enough with one exceptional skill to find a role in the NBA initially. His work ethic, learning curve, and overall approach to the game are pluses, and it also helps that he'd have to be considered one of the most well-conditioned bigs in the draft considering he averaged more minutes per game than any other big man in our database this past season. He should have a chance to get drafted towards the end of the second round and make a team's roster as a high-energy body, but will likely need to continue developing to find a long-term niche.
[
Read Full Article
]
Trending Prospects (12/16/2010)
December 16, 2010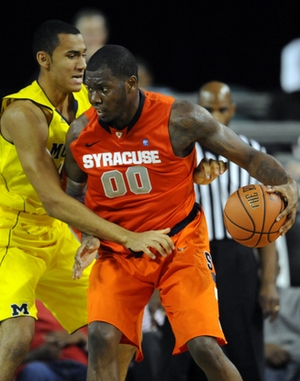 Icon SMI
Matt Kamalsky
Much like
Demetri McCamey
at Illinois, Syracuse's
Rick Jackson
put in the work last summer to dramatically improve his pro prospects and maximize his opportunity to have a breakout year by shedding a few pounds. Jackson's skill set hasn't changed too much, but his new physique has allowed him to be more aggressive and look like a radically different player because of that.
From a NBA perspective, Jackson's weight loss can't be discounted, as it has allowed him to climb back onto the radar. Standing 6'9 with a frame that would benefit from additional work in the future, Jackson is a solid athlete in the college game who wouldn't stand out at the NBA. However, on the college level, the trimmed-down Jackson plays with an excellent energy level that was severely lacking from his game early in his career.
Jackson's new approach to the game has paid big dividends for him so far, especially on the glass. An oft-maligned rebounder for his position in the past, Jackson is averaging an exceptional 12.5 rebounds per-game. While those numbers will likely level off when Syracuse enters conference play, Jackson has been impressive on both ends of the floor thus far and it will be important to his draft stock to continue to rebound the ball at a high rate as the season progresses.
Offensively, Jackson is playing a very similar role to the one he's played in previous seasons, but is now able to do a better job taking advantage of his aggressiveness in the post thanks to his improved stamina, putting himself in position for easy catch and finish opportunities, and passing the ball in Jim Boeheim's offense. Though he hasn't been the most productive scorer, he's finished at a very good rate, is getting to the free throw line more often, and has been a big part of Syracuse's hot start. His physical presence down low will be essential to their success this season.
Moving better without the ball and earning a ton of easy put-backs, Jackson still isn't a terribly consistent one-on-one scorer in the post and lacks an effective jump shot. According to Synergy Sports Technology, nearly one-third of his possessions come in the post, but the senior is shooting converting just 33.3% of his back-to-the-basket shots. He's heavily reliant on his left handed hook shot and turnaround jumper, both of which are very much a work in progress in terms of consistency. Looking forward, it will be important for Jackson to improve his offensive skill-level to project as more than a role-player on the next level.
Though Jackson has his shortcomings offensively, he's done a solid job protecting the wings and a tremendous job rebounding from the weak-side in Syracuse's zone thus far. Keeping his feet active and making some plays because of it, Jackson shows solid awareness, and makes a concerted effort to track the ball off the rim. While he may not project as a great defender at the next level, his lateral quickness has improved, and if he continues maximizing his frame, he could ease a transition to a man-to-man heavy system.
A single piece of the puzzle for a terrific Syracuse team, Jackson's value on the NBA level, at least at this point, would be as a high-energy rebounder. Considering his limitations offensively, inexperience in man-to-man systems, and that this is his first season producing at a high level, Jackson is going to have to continue proving his mettle throughout Big East play and is a likely candidate to earn an invitation to the Portsmouth Invitational Tournament. If he can dominate the glass there like he has early this season, he could do a lot of good for his draft stock.
[
Read Full Article
]