Top NBA Draft Prospects in the ACC, Part Six
September 24, 2012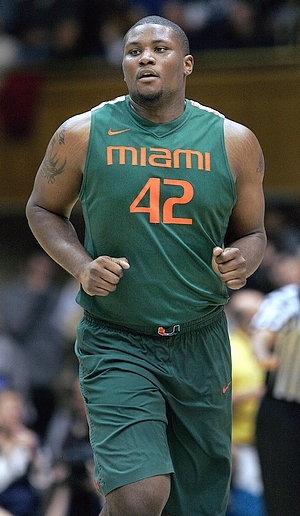 US Presswire
Derek Bodner
After coming off of an encouraging sophomore campaign that saw significant improvement both in his physique and production,
Reggie Johnson
suffered a setback when he tore his meniscus during a pickup game in late June of 2011. The injury caused him to miss the first nine games of his junior season and, with the exception of one
monster outing
in an upset overtime win over Duke in Cameron Indoor, Johnson was never able to regain the same impact he had as a sophomore.
After spending six months rehabbing his injured knee, the work Johnson spent improving his physique did not go to waste. Johnson, who lost upwards of 40 pounds during his first two years in Miami, didn't appear to have added much, if any, weight to his frame while he was rehabbing. Unfortunately Johnson may have let him go once the season ended, as he tipped the scale at 329 pounds at the
LeBron James
Skills Academy in early July. He still has considerable work to do on his massive frame in order to maximize his potential, as this appears to be one of the biggest keys to carving out a consistent role in the NBA.
On the offensive end, Johnson remains largely an effective, albeit still not all that diversified, post-up player. His bread and butter is still a right handed hook shot, which he shows very good touch and solid range on. While he gets very little elevation, he does a very good job creating separation, and has little trouble getting the shot off with regularity. His overall diversity in the post still remains a little underwhelming, and he would be well served to develop his left hand should he look to make a living in the post at the next level.
One area of Johnson's post game that did see considerable improvement during his junior year was his recognition of double teams. Johnson saw double teams more frequently last year and he did a much better job of recognizing the double team early and locating the open man and preventing himself from getting trapped by defenders. His assist rate nearly doubled last season and he was able to post a near 1/1 assist to turnover ratio for the first time in his career, which is a good sign moving forward.
Johnson's other main source of offense is from the offensive glass. Johnson wasn't nearly as prolific as he was during his sophomore year, where he was one of the best offensive rebounders in the nation at 5.5 per-40, but his 3.9 offensive rebounds per 40 minutes pace adjusted still represents an above average mark. He does a good job of fighting for position and is able to use his bulk and soft hands to corral balls that are in his vicinity.
Johnson also shows some promise as a pick and roll threat, where he uses wide frame to present a clear target for passers as he dives to the hoop. Johnson has very soft hands and is able to catch most passes thrown his way. While Johnson isn't very explosive, he has good touch around the hoop and does a solid job creating separation with his off hand to get shots up. Still, his overall lack of explosion creates some concern about his ability to consistently get shots off against the taller defenders he'll see at the next level.
Johnson's main development in his offensive game has been from his jump shot, which he started to show some ability with during his junior season. At roughly 10% of his offense according to Synergy Sports Technology, that still represents a significant increase over the 3.8% jump shots took up during his sophomore season. Johnson overall shot 47.1% on jump shots, including 4-11 from three point range, which corresponds to a slight increase in his effectiveness at the free throw line, up to a solid 70.8%. His overall form and touch look solid and is something to keep an eye on during his senior season.
The defensive side of the ball still represents some troubles for Johnson due to his frame. He has good strength and long arms, but he's not able to change directions with his massive frame all that quickly, and his lack of elevation doesn't allow him to be much of a shot-blocking threat or weak side help defender. His defensive technique looked marginally improved, but he still finds himself off balance too often. His effort level is solid, but continuing to improve his conditioning would go a long way towards trying to project him as a defender at the next level.
Johnson made huge gains between his freshman and sophomore season, improving his conditioning and overall skill level significantly. His injury after his sophomore season set him back, but if he is able to get his conditioning back on track and continues to score efficiently both facing and with his back to the basket, it wouldn't be surprising at all to see him find his way onto an NBA roster.
[
Read Full Article
]
Top NBA Draft Prospects in the ACC, Part Three (#11-15)
September 21, 2011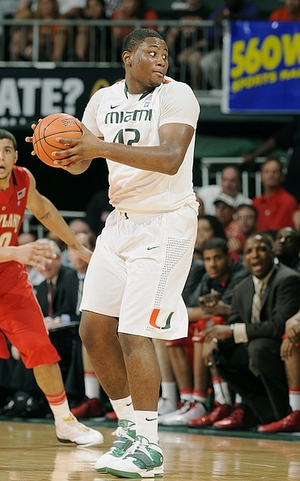 Icon SMI
Joseph Treutlein
A bruising center who was very raw when he stepped on campus as a freshman,
Reggie Johnson
has made considerable strides in his first two years at Miami. He's lost an estimated 40 pounds in two years while developing into a solid contributor in the post and on the glass for the Hurricanes, and still has substantial room for more growth as a player.
Standing 6'10 with a long 7'2.5 wingspan,
Reggie Johnson
has a very nice frame to work with, and is already pretty mobile for a guy who weighs 307 pounds with 22.4% body fat—as measured at the New Jersey Nets group workout last May. Despite not having much definition in his body, Johnson possesses terrific brute strength and has no problem using it, playing a very physical brand of basketball on the offensive end.
His weight does hold him back in terms of his ability to elevate, however, and below average conditioning is likely a contributor to playing just 26 minutes per game, so continuing to trim down his body could have multiple positive effects. Johnson unfortunately suffered a setback this summer, as he tore the meniscus in his right knee in July, which will likely keep him out until at least January, and won't help his continued efforts to maximize his physical abilities.
Looking at Johnson's game on the basketball court last season, there are numerous things to be encouraged about for a player who came onto campus as a substantial project.
Johnson does the majority of his damage operating with his back to the basket, where he shows a simple but solid repertoire of moves. He is very much reliant on a right-handed hook shot, something he shows very good touch on with range out to about eight feet. Beyond that, he does a good job using his frame to back his man down and finish with power through contact, having no qualms about bullying his way to the basket.
On the downside, Johnson does show some troubles with double teams, specifically in protecting the ball from help defenders. He also doesn't show much in terms of a left hand, and his overall repertoire is very limited beyond his right-handed hook and just overpowering his man. That said, with his size and touch, assuming he can continue to trim down and maximize his quickness and explosiveness while not sacrificing power, he may be able to get by with his limited repertoire as others in his mold have.
In terms of setting up in the post off the ball, Johnson does a good job moving to get open and is often eager to call for the ball, where he shows great hands catching entry passes. He is a bit inconsistent in terms of using his mass to establish dominant post position early, sometimes opting to settle for catching the ball in the 10-15 foot range and working to back his man down from there.
Johnson doesn't possess much in terms of perimeter abilities, showing no discernable ball-handling prowess and being very limited with his mid-range jumper. His 67% free-throw shooting (down from 79% as a freshman) isn't awful, so this is certainly something he can build upon to become a more versatile player.
Johnson does make some contributions in the pick-and-roll game, where he is occasionally featured, being surprisingly nimble for his size and doing a nice job on catch-and-finishes with his good combination of hands and touch. He actually gets quite a few dunks in this manner, showing no hesitation to elevate with power around the basket when he builds the necessary momentum to do so.
The other area Johnson makes strong contributions on the offensive end is with his rebounding, something he does consistently well on both sides of the floor. Johnson was
the third best per minute rebounder in the DraftExpress database
last season, as he does an excellent job using his strength and mass to carve out space around the rim, and then using his good hands, long arms and strong nose for the ball to pull in everything he can.
On the defensive end, however, Johnson is very much a work in progress, not possessing much in terms of post fundamentals, where he's often shot over and beaten around. Johnson's effort level is solid, and he shows decent timing on shot blocks despite his weak elevation, but he clearly is disadvantaged from a fundamentals and quickness standpoint. To his credit, he shows good effort when he has to close out on the perimeter, and does his best to move his feet when he's rarely matched up with an opponent on the perimeter, but clearly has a ways to go here.
Looking forward, Johnson has a nice framework of skills to work with and has the makings of a strong physical specimen if he can continue his body transformation. His work ethic and learning curve are obviously positive attributes for him, and they'll be tested to see if he can overcome his injury setback to continue his progress this season. Continuing to trim down his body while maintaining his strength, improving his post-game, developing a more reliable mid-range jumper, and putting in substantial work defensively will all be important for his stock, but he still has plenty of time left to hone his skills.
[
Read Full Article
]