Strong Start for Rasmus Larsen in Spain
October 28, 2013
Three games into the ACB league season, it's safe to say that Rasmus Larsen has established himself as an important player in Spain thus far, averaging 27 minutes per game for La Bruixa d'or Manresa, who are off to a strong 2-1 start.

Larsen virtually spent all of last season on the sidelines after moving to Spain from his home country of Denmark, unable to play due to a pesky shoulder injury that eventually required surgery in March.

In the meantime, his frame has matured substantially since the first time we saw him in June of 2011 at the adidas EuroCamp in Treviso, as well as the last time, at the Nike International Junior Tournament in Kaunas in February of 2012, while his skill-level has continued to evolve.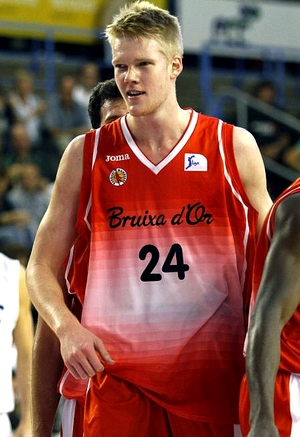 ACB.com
Despite seeing his first taste of action at the professional level, and despite still being 18 years old (he turns 19 next month), Larsen got off to a dream start for Manresa, scoring 21 points and pulling down 13 rebounds in just 25 minutes of action in his first game of the season against Joventut Badalona. His production has been more modest since, which has given us a better opportunity to explore his strengths and weaknesses at this stage of his development in this video scouting report by Mike Schmitz:
It remains to be seen how many more games Larsen will have this season like he did against Joventut a few weeks ago, but that's not really a realistic expectation anyway. Seeing steady playing time in the ACB at his age is a huge accomplishment as is, and Larsen will surely draw a good number of NBA scouts to evaluate him every time he steps on the court until he decides to enter the draft, as his unique combination of size, skill, mobility and upside is extremely difficult to come by.
[
Read Full Article
]
Nike International Junior Tournament Kaunas: Elite Prospects
February 14, 2012
Jonathan Givony
Rasmus Larsen
only played 27 total minutes at this tournament due to a groin injury that has reportedly been plaguing him for a few months now, but he nevertheless had no problem showing off his significant talent level.
Having added around 20 pounds of bulk to his frame since the last time we saw him at the adidas EuroCamp in Treviso last July, Larsen simply looks like a different prospect now. His confidence and ability to make his presence felt on both ends of the floor have skyrocketed, allowing him to emerge as one of the most talented young big men we've seen this year on either side of the ocean.
Standing around 7-feet tall, with a solid wingspan and a terrific frame, Larsen looks the part of a NBA big man prospect and then some. His upper body is extremely well developed in particular, while his lower body is solid. He's very mobile for a player his size, running the floor well, being capable of playing above the rim, and looking extremely coordinated.
Offensively, Larsen possesses a versatile skill-set, appearing capable of impacting the game in every way you'd want a big man to. He can establish solid position in the paint and has the footwork and ball-handling skills needed to create shots for himself, usually opting to finish with a hook shot or turnaround jumper. On the perimeter, he's a very proficient ball-handler, able to put the ball down and attack his matchup, and even looking capable of passing on the move with either hand. His jump-shot looks excellent, both with his feet set or off the dribble, and he shows range out to the 3-point line. He uses shot-fakes well, makes his free throws and generally seems to have a very good feel for the game to go along with his excellent fundamentals, a testament to the coaching staff that has worked with him.
Defensively, Larsen's size, length and mobility make him a huge presence inside the paint, particularly at this level of competition, where he's simply a man amongst boys. He shows good timing as a shot-blocker, and can even step outside and hedge screens out on the perimeter, not looking out of place when forced to step out of the paint like many big men often do.
There aren't that many question marks about Larsen's physical attributes or skill-level at the moment, but some concerns do exist about his approach to the game. For one, he looks far more interested in playing out on the perimeter at the moment, which would be a shame if that continued at the senior level considering how much potential he has as an interior scorer. Pretty much every time he sets a screen, he prefers to pop outside for a jumper rather than roll into the paint and receive the ball where he could attempt a much higher percentage shot.
Defensively, there are some question marks about his toughness, as he doesn't look exceptionally active crashing the glass and seems to avoid contact at times. Part of this might have to do with his injury, but he was noticeably missing on rotations inside the paint and didn't look very physical setting screens on the other end of the floor. Like most players from Scandinavia, he'll have to overcome the perception that he doesn't play with enough emotion on the floor.
Nevertheless, Larsen is likely to be considered one of, if not the, top prospect in the 1994 international class when it's all said and done, as players with his combination of size, mobility, smarts and skills are difficult to come by. Even if at one point Larsen considered taking the NCAA route, it appears that now he's leaning more towards signing somewhere in Europe next season where he can continue to develop against higher level competition than he's currently able to find playing in Denmark.
[
Read Full Article
]