Top NBA Draft Prospects in the SEC, Part Seven: Prospects 16-20
October 7, 2016
Matt Kamalsky

A McDonald's All-American and consensus top-25 high school recruit, P.J. Dozier's freshman season was mostly a learning process, as he averaged 6.8 points, 3 rebounds, and 2.1 assists over 19 minutes per game for Head Coach Frank Martin's best South Carolina team to date.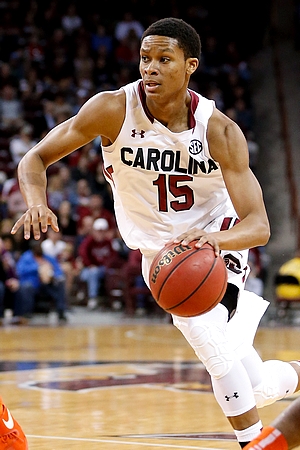 US Presswire
Listed at 6-6, with a sturdy 205-pound frame and nice length, Dozier certainly looks the part of a NBA shooting guard. A fluid, very bouncy athlete with decent quickness, it isn't difficult to see what made Dozier such a highly sought after recruit coming out of Spring Valley HS (SC) on first glance.
A regular starter until late in the season, Dozier finished sixth in points and third in assists for a balanced South Carolina team. Spending time playing both on and off the ball, Dozier struggled through some growing pains, scoring a dismal .636 points per possession, due to his 25% turnover rate and 23% shooting from beyond the arc. Nonetheless, he finished the year as one of just four SEC players averaging over 13 points, 6 rebounds, and 4 assists per-40 minutes pace adjusted.
The 19 year old rising sophomore is very raw on the offensive end at this stage. Though 44% of his shot came outside of the paint, he connected on just 26% of his attempts away from the rim, including 23% from beyond the arc. An unreliable set shooter who isn't too much more consistent pulling off the dribble, Dozier's mechanics don't look awful at times, but his lack of accuracy is the result of an inconsistent release point and lack of touch.
Able to use his physical tools to create a bit off the dribble, Dozier is a threat to finish impressively inside, and does show some ability to change speeds and create space, but his inability to make perimeter shots allows defenders to sag off him, making it very difficult for him to generate clean looks inside. Making 44% of his floaters and 53% of his overall half-court attempts in finishing situations, Dozier was most effective when he was able to catch his defender off balance and find lanes to the rim.
Dozier showed flashes of promise as a passer in the pick and roll, but his somewhat loose handle and unrefined decision-making limited his impact when creating offense on the whole. Seldom getting low on his drives and not showing much shake off the bounce, the young guard could stand to be more physical and patient both when slashing to the rim and when looking for the open man.
Defensively, Dozier fared far better than he did offensively in his first season in the SEC, as did the Gamecocks on the whole. An engaged defender with good size who rebounds the ball effectively, he gave up a bit more dribble penetration than one might hope, and uses his hands a bit too much on the perimeter, but played with a nice sense of urgency for stretches. His physical tools give him promising upside on this end, if he can cut down on his mistakes and improve his fundamentals.
P.J. Dozier is an interesting prospect with excellent physical tools who got the opportunity, for better or worse, to learn on the job last season. Frank Martin will look to Dozier to take the next step to help compensate for the departures of his team's entire starting frontcourt and three most efficient offensive players. It's a little early to speculate about what direction Dozier's game is heading. Whether his future is as a playmaker, or if he can take a page from the DeAndre Liggins playbook and rebrand himself as a lockdown defender who can spread the floor a bit, remains to be seen. With three years of eligibility remaining, Dozier has plenty of time to sort out those details and emerge as a viable NBA prospect.
[
Read Full Article
]