Top NBA Draft Prospects in the Big Ten, Part Four: Prospects 4-7
October 13, 2016
Jonathan Givony

Voted to the All-Big Ten's Second Team as a junior after being named honorable mention as a sophomore, Malcolm Hill had a breakout season in what proved to be another disappointing year for an Illinois squad again decimated by injuries, arrests and suspensions. Hill proved to be one of the few rays of light for the Illini, who went 5-13 in Big Ten play, with four of those wins coming against pitiful Minnesota and Rutgers squads. He filled up the stat-sheet to the tune of 21 points, 7.5 rebounds, 3.8 assists and 1.4 steals per-40 minutes, being one of only six players in college basketball to accomplish that feat.

Coming off a strong showing at the Nike Academy in late July, sporting an improved physique and proving to be one of the most productive players in attendance, Hill looks primed for a big senior year on what should be a much better Illinois team that will likely contend for an NCAA Tournament berth.

One of the youngest seniors in college basketball, Hill has still yet to turn 21, while other players in his class on our mock draft are already 23, and some will even turn 24 during the season. The fact that he won't be 22 virtually until opening day of the 2017 NBA season indicates he easily could have been a member of the junior class but elected to start college a year early.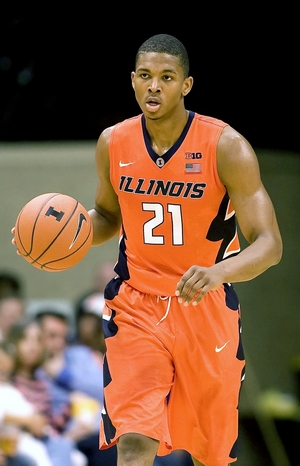 US Presswire
Hill isn't blessed with elite physical tools, measured just 6'5 ½ in shoes with a fairly pedestrian 6'8 ½ wingspan for a small forward. He's not an exceptional athlete on top of that, lacking overwhelming quickness or explosiveness, but brings strong versatility, competitiveness and intelligence to help compensate.
On a team that lost quite a bit of firepower prior to, and as the season moved on, Hill was asked to do a little bit of everything for Illinois, leading the team in rebounds, assists and scoring. He saw time sliding between the 1-4 positions, and was utilized frequently as a ball-handler in pick and roll, isolation and transition situations, as well as off the ball and with his back to the basket. The significant uptick in usage (from 20% as a freshman, to 24% as a sophomore, and finally a sky-high 28% as a junior) certainly hurt his ability to be the most efficient option, as his 48% 2-point percentage and 31% 3-point suggest. Still, his ability to get to the free throw line frequently (eight times per-40) and propensity for converting his attempts once there (82% FT%) helped him post a respectable 56.5% True Shooting percentage.
Hill's outsized role allowed him to showcase the unique versatility he brings to the table as somewhat of a 6'6 point forward. He sees the floor very well for a player his size, using both sides of the floor intelligently and making pinpoint passes out the pick and roll. He is creative and unselfish, frequently making the extra pass along the perimeter or pushing it ahead in transition, even if the dwindling amount of Big Ten caliber options alongside him hampered his ability to display this part of his game at times.
Hill is a good ball-handler who can create his own shot, but doesn't display elite burst with his first step or overwhelming quickness operating downhill, which makes it difficult for him to create high percentage looks at times. He is forced to rely heavily on his strength at the college level, being called frequently for offensive fouls due to his propensity for using his off-arm to fend off opponents and create some extra space to utilize. He isn't always able to get inside the paint at a high rate in turn, and lacks a degree of explosiveness as a finisher when he does, partially due to frequently having a man stuck on his hip as he drives down the lane with his inability to create separation from the perimeter on the initial move.
With that said, Hill is a tough, aggressive player who is willing to initiate contact and draws fouls at a good rate. Those same traits come into play with his ability to post up weaker players inside, utilizing strong footwork and his high basketball IQ and intensity level to get the job done.
As Hill makes the transition to the professional level, he'll likely see less responsibilities as a playmaker and more time off the ball. His ability to space the floor from the perimeter will be a major component in whether he's able to carve out a niche at the NBA level, as he's been somewhat streaky with that part of his game up until this point in his career.
While Hill's 35% career 3-point percentage is not bad, less than a third of his field goal attempts in college have come from beyond the arc, with that number dropping every season from his freshman to junior years as his ball-handling responsibilities have increased. He does not appear to have the most natural shooting stroke, as he dips the ball excessively unnecessarily on the catch, which slows down his release significantly and makes it difficult for him to get off when closely contested.
Hill was a much more effective shooter pulling up off the dribble (41%) than he was with his feet set (29%) last season, as it appears more natural for him to get his shot off the bounce due to the ball-dip. He has some inconsistencies in his release, like his tendency to flail his elbows out or shoot off the back of his palm at times, but the fact that he is a career 80% free throw shooter, and has the touch to throw the ball in the basket, sometimes after creating separation nicely from his opponents, shows that there is some potential to work with.
Despite playing too many minutes (35 per game), and being asked to do it all offensively, Hill demonstrated strong potential on the defensive end. He's tough, strong, intelligent, and fundamentally sound, getting in a low stance on the perimeter and moving his feet effectively. Illinois did a lot of switching on ball-screen actions, and Hill showed nice versatility staying in front of guards, wings and forwards alike, which will help his cause significantly at the NBA level. Hill's lack of prototypical tools for a small forward (6'5 ½ in shoes, 6'8 ½ wingspan) is not ideal, especially since that may depress his small-ball power forward potential somewhat, and he did struggle at times last year when tasked with guarding bigger players in the post, and is not an exceptional rebounder.
Illinois will likely be a much better team this season, if everyone is able to stay healthy. Malcolm Hill will be their leader and could significantly improve his standing among NBA scouts with a strong showing in what appears to be a fairly wide open Big Ten. He's apparently had a
great off-season
in the weight room, putting him in prime position for a huge senior year.
[
Read Full Article
]
Top NBA Prospects in the Big 10, Part Nine: #11-15
October 28, 2015
Josh Riddell

Coming off a breakout sophomore season for Illinois, Malcolm Hill was invited to try out for the USA Basketball team that played in the Pan-American games. He was ultimately cut from the team but he gained valuable experience heading back to the Illinois for his junior season.

Hill is looking to build on a sophomore season that saw him double his minutes per game up to 30.6, while increasing his point production to 18.6 points per 40 minute pace adjusted, up five points from his freshman season. He also saw an increase in efficiency with his increase usage, with his true shooting percentage rising from 52% to 56%.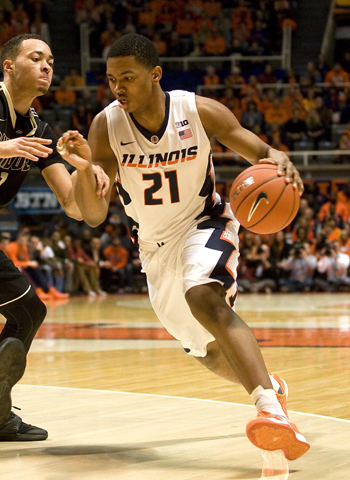 US Presswire
Hill has nice size for a NBA wing, measured at 6'7" during his USA Basketball tryout but the rest of his measurements aren't on par to a prototypical wing. He has just a 6'9" wingspan and his impressive frame is still developing, as he needs to add lower body strength to compete with NBA athletes. At just 19 (turning 20 in October), Hill is one of the youngest rising juniors in all college basketball, so there is still a chance for him to grow and his body to develop.
His athleticism isn't flashy in any areas but is solid across the board. He has decent open court speed for a player of his size and can beat his defender down the court from time to time. Most of his shot attempts around the rim are layups rather than dunks, but he can play above the rim from time to time. While he won't overpower most NBA wings with his athleticism, he should be able to match the overall physical skill sets of most players.
Hill demonstrated an ability to shoot the ball from distance as a sophomore, placing him squarely on the map as a NBA prospect. He has great form, with a high release point and a smooth stroke that should translate to NBA range. He is capable of shooting consistently both from a stand-still catch and shoot position, where he shot 42.2% according to Synergy Sports Technology, as well as on the move by either coming off a screen or relocating on the perimeter.
He's also proficient shooting off the dribble, where he shot 37.5% on all jump shots according to Synergy Sports Technology. These shots usually come off one or two dribbles into the mid-range area after he is ran off the three point line. This is a good secondary weapon for him to have when defenders close out hard on him, especially since he's often used as a floor-spacing power forward at the college level.
Hill has the ability to straight line drive all the way to the rim, although he isn't yet a great finisher around the basket. He's finished just 52.6% of his attempts around the rim according to Synergy Sports Technology. Hill isn't able to shake his defender that often and can get out of control at times on his drives, leading to wild shots that have little chance of going in. When he is under control, he can get off good looks or draw a foul as he shot 6.1 free throws per 40 minutes pace adjusted last season. He is also working on incorporating a eurostep into his repertoire which should help him get easier looks at the rim. Adding more strength as he matures will also help, meaning he could grow into a better finisher around the rim.
Hill isn't a great passer and doesn't have the court awareness yet to see his open teammates when he has the ball in his hands. The good news is that he doesn't turn the ball over that much at just 1.9 per 40 minutes pace adjusted. This is caused more by his lack of playmaking ability than an ability to hold onto the ball, as he doesn't look to create for his teammates on a regular basis.
Defensively, Hill projects to be a competent defender in the right situation but he still has room to grow on this end of the court before he becomes someone who can be relied upon against NBA wings. His average wingspan is a cause for concern, as he will struggle to challenge shots both on the perimeter and near the basket. He can move his feet well in the half-court to cut off dribble penetration which will help him slow down wings or funnel them to the right areas on the floor. He does get muscled out of the way at times operating at the 4-spot, but that should decrease as he adds strength to his frame.
He is still learning how to defend in a team scheme, as he sometimes gets lost in his individual matchup and fails to see the whole play develop which hurts his team overall. He focuses on his man and gets caught in screens or runs into his teammate, opening up space for the offense. He doesn't always see the right rotations or close out effectively and needs to make smarter decisions on the defensive side of the ball to help the team. He looks like a useful defensive player individually but will have to increase his court awareness to become an all-around defender.
A year younger than his classmates, Hill is brimming with NBA potential. He's already demonstrated he can shoot the ball and he will have a larger role in the offense after the graduation of Rayvonte Rice and Ahmad Starks to show off any improvements in the off-season. With another productive season, Hill will have a difficult decision to make about entering the draft or returning for his senior season.
[
Read Full Article
]