Top NBA Prospects in the Big East, Part Five: Prospects 9-13
September 10, 2016
Kyle Nelson

Although Marquette missed postseason play for a third consecutive year, the Golden Eagles took another step forward in 2015-2016 under Coach Steve Wojciechowski, improving to 20-13 and adding a trio of top-100 recruits in its 2016 class. Now without one-and-done big man Henry Ellenson's size, skill, and versatility anchoring its offense, the Golden Eagles need a breakout senior season from 6'11 center Luke Fischer more than ever. Since transferring from Indiana, Fischer has put together two solid seasons, but has struggled with passivity and inconsistency, while remaining on the outside looking in as an NBA Draft prospect.

At 6'11 and a 245-pound frame, Fischer has prototypical size for an NBA center and has improved his body substantially since graduating high school. While he is not the longest or most impressive athlete, he is mobile, moves well laterally, displays adequate quickness in the open floor, and is explosive enough around the basket to make an impact at the collegiate level.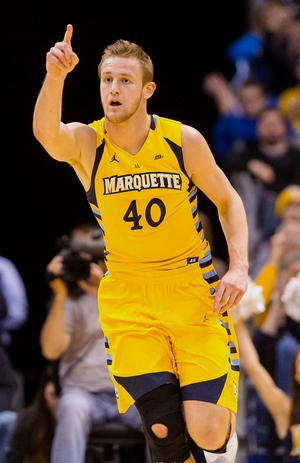 US Presswire
Fischer didn't change substantially from his sophomore to his junior season from an offensive perspective, as he once again saw most of his shot attempts close to the basket. Fischer was not the most productive player as a junior, either, scoring just 16.1 points per 40 minutes pace adjusted. With that said, he was efficient, making 60.8% of his overall field goals, and may be able to assume a more substantial role in Marquette's offense now that Ellenson has moved on to the NBA.
On film, Fischer still looks most comfortable operating with his back to the basket, using his body to carve out space, his length to collect passes, and his combination of strength and footwork to work his way to the basket. His jump hook remains his go-to post move and he showed the ability to execute it smoothly with both hands, with the body control and quick release allow him to get his shot off against most collegiate post-defenders. With few exceptions, however, this remains his only post move and, without diversifying his repertoire or more actively drawing contact, he may struggle to find clean looks without Ellenson around.
Elsewhere, Fischer did a good job of moving without the ball, putting himself in the position to receive the ball off of cuts (71.7% FG) and while trailing in transition (83.3% FG) due to his awareness, timing, and soft hands. While he is not featured in pick-and-roll sets that often (18 FGA), he was a very efficient finisher (77.8% FG) in these situations. Fischer is a decent offensive rebounder, as well, grabbing four per 40 minutes pace adjusted and converting 63.6% of his resulting field goal attempts.
Fischer has yet to demonstrate any competence away from the basket, however, as he struggles to put the ball on the floor and attempted only three jump shots as a junior (six total at Marquette). While his significant improvement from the foul line, from 58.2% FT as a sophomore to 68% FT as a junior, suggests that he may still develop his ability to step away from the rim, he has yet to show that he can stretch the floor for Marquette, let alone at the next level. The increased spacing of not playing alongside another collegiate center in Ellenson may again help us learn more about this part of his game as a senior.
As is also case on the offensive end of the floor, Fischer is at his best defensively around the basket, where his strength and solid lateral quickness allow him to hold his own while guarding his man in the post, even if his below average length and at times lethargic style of play makes him highly inconsistent in this area. Moving away from the basket is a mixed bag as well, as he still struggles with positioning in the pick-and-roll, does not close out as aggressively on shooters as one would hope, and does not show any type of fundamentals or effort crashing the defensive boards (4.4 per 40 minutes pace adjusted), which is one of the worst rates among big men prospects in college basketball. He regressed significantly as a shot blocker, as well, averaging a career low 1.9 blocks per 40 minutes pace adjusted. To have any chance of improving his NBA prospects, Fischer must work much harder on defense as a senior in order to show scouts that his inconsistent resume is a thing of the past.
Even with improvement on both ends of the floor, it remains to be seen how much of a role there is in the contemporary NBA for a traditional, post-bound center with average physical tools like Luke Fischer. A year older than most in his class and with a solid, but unspectacular resume, Fischer still has much to prove to NBA scouts on the eve of his senior season. He should have every opportunity to impress, however, as Marquette's top returning post player in a very shallow frontcourt rotation. For these reasons, scouts will be watching to see both how he responds, as well as how he stacks up alongside of NBA-caliber athletes, in early season match-ups against Wisconsin, Michigan, and Vanderbilt.
[
Read Full Article
]
Top NBA Prospects in the Big East, Part Five: Prospects #6-10
September 14, 2015
Derek Bodner

Luke Fischer arrived at Indiana as part of a highly-touted recruiting class, joined by Noah Vonleh, Troy Williams, and Stanford Robinson, all top-100 recruits in their own right.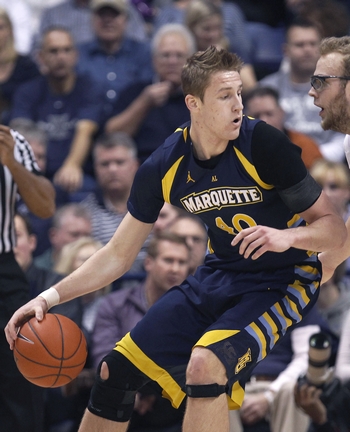 US Presswire
Fischer never really lived up to that promise, however, as a shoulder injury before the season started, combined with the emergence of Vonleh, limited Fischer's opportunities. Fischer's Indiana career ended almost before it began, as he very quickly elected to transfer to Marquette, and back to his hometown state of Wisconsin, midway through his freshman season, after only 130 minutes in a Hoosiers uniform.
After seeing little playing time at Indiana, averaging 2.8 points and 2.1 rebounds in 10 minutes per game with the Hoosiers, Fischer made an immediate impact with the Golden Eagles upon becoming eligible in mid-December, chipping in 19 points, 9 rebounds, and 5 blocked shots in the first game he was eligible to play for Marquette. While the Golden Eagles struggled to a 13-19 record under rookie head coach Steve Wojciechowski, their first losing season since joining the Big East in 2005, the emergence of Fischer, who finished the season averaging 11 points, 4.8 rebounds, and 2.2 blocks per game in over 29 minutes per night, gave Marquette some much-needed size up front.
On the offensive side of the court, Marquette used the 6'11" Fischer with his back to the basket quite a bit, as post-ups made up nearly 50% of his half-court field goal attempts, according to Synergy Sports Technology. Fischer doesn't have an incredibly diverse set of moves in the post, with almost all of his attempts coming off of simple hook shots, with an ability to make shots over either shoulder. He sometimes flashes other moves, such as a drop step move that he uses at times to attack the basket, but he can sometimes appear like he's out of his comfort zone, and can look rushed.
That being said, while Fischer's post game is fairly limited, what he does he does relatively well. He establishes good position down low, and has enough strength in his still-developing core and upper body to hold his ground and play through contact. He positions himself well and does a good job of sealing off his defender to give him a clear angle at the basket, and gets good elevation on his hook shots, making it tough to block.
The rest of Fischer's offensive game comes mostly off of hustle points, including offensive rebounds, cuts to the basket, and in transition. Fischer is a quick, fluid athlete, who can beat his man up and down the court on most nights, and he uses this to his advantage in transition. He also has good hands, soft touch and elevates quickly around the basket, making him a threat cutting to the basket.
One area where Fischer is clearly going to have to diversify down the line is in his perimeter skill set, as he flashed virtually nothing away from the basket for Marquette. Synergy Sports logged a grand total of three jump shots and nine isolation possessions for Fischer on the season. Fischer does have a fairly quick first step and long strides, so if he could force his man to defend him further from the basket it could open up the possibility of assuming a larger role in the half-court offense down the line.
On the defensive end, Fischer makes an impact as a shot blocker, swatting 3.0 blocks per 40 minutes, pace adjusted. Fischer rotates well for Marquette, who plays a lot of zone. Fischer was the only player over 6'7" in size for Marquette last season, and his ability to rotate over and alter shots was critical for their defense. Fischer does a good job of using his good timing and plus length to alter shots, although he will still bite on the occasional pump fake.
The rest of Fischer's defensive game is a work in progress, although he has some tools he can develop. On the perimeter he shows the ability to move his feet laterally well enough to defend the pick and roll, even if he wasn't asked to do so all that much for Marquette last season. Standing 6'11", with relatively long arms and a developing upper body, Fischer also has the tools to make an impact defending the post, although he can at times be too upright defensively, and can get dislodged more often than he should because of that.
One area where Fischer will need to improve is on the defensive glass, as he hauled in only 4.3 defensive rebounds per 40 minutes, pace adjusted, and with a defensive rebounding rate of only 12.8%, both very poor numbers for a center. Some of this is no doubt influenced by his role with Marquette, as he's frequently playing a zone surrounded by 4 perimeter players, and thus regularly the team's only shot blocker and post defender. The overall scheme and roster construction left Marquette a really bad defensive rebounding team. Despite that, Fischer needs to find a way to make a more consistent impact on the defensive glass, both for his own draft stock and for Marquette's chances at success.
Luke Fischer has a combination of size, athleticism, hustle, and ability to alter shots at the rim that gives him some intrigue as a prospect. While his hook shot in the post will likely remain his go-to move offensively, he'll need to diversify his offensive game quite a bit to really cement himself as a prospect at the next level.
[
Read Full Article
]