2014 Albert Schweitzer Tournament - Elite Prospects
May 13, 2014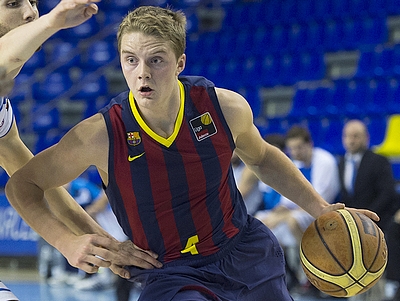 DavidGrau.cat
Jonathan Givony
Strengths:
-Good size for a "point guard"
-Strong frame
-Looks a little more athletic than in the past
-Terrific outside shooter (46% 3P%, 94% FT% in Germany)
-Fantastic off the dribble shooter. Only needs an inch of daylight to get his shot off
-High basketball IQ
-Creative passer
Weaknesses:
-Average athlete
-Loose body, still hasn't reached full potential yet
-Very slow first step
-Rarely gets inside the paint offensively
-If he gets even a toe inside, he's heaving up a floater
-Always fades away from contact inside paint
-Defensive potential looks very limited
-Poor lateral quickness
Outlook:
Combo guard with a good feel for the game. Had a terrific tournament in Germany, averaging 26 points and 6 assists per game in 33 minutes. Played 25 minutes per game in the Spanish second division this season (LEB Gold), but was up and down with his play (44% 2P%, more turnovers than assists). Looks to have great potential for Europe, but jury is still out as a NBA prospect. Is he quick enough to create his own shot against better athletes? Can he defend anyone?
[
Read Full Article
]
Nike International Junior Tournament London Scouting Reports Part Two
May 18, 2013
Ludde Hakanson, 6-3, PG/SG, Barcelona, Sweden, 1996

Jonathan Givony

Strengths:
-Playing point guard now. Has good size for position
-Can make an open 3-pointer
-Has a good feel for the game
-Very young

Weaknesses:
-Average athlete
-Struggles to create anything inside the arc. Shot 29% from 2-point range in the NIJT
-Not athletic, strong or tough enough to finish around the basket
-Lacks aggressiveness. Doesn't show much intensity on the floor
-Defensive potential a question mark

Outlook: Doesn't look like he's grown in the last year. Still the same physically. Barcelona is trying to convert him to point guard, with mostly mixed results. Lacks the quickness or aggressiveness to create effectively off the dribble. Operating on the ball has hurt his shooting percentages from outside as well (33% at NIJT). Struggles to stay in front of opposing guards. Long-term upside is a question mark.
[
Read Full Article
]
Nike International Junior Tournament Istanbul Scouting Reports
May 17, 2012
Jonathan Givony

Strengths:

-One of the youngest prospects here, born in 1996
-Big, strong upper body
-Terrific shooter with feet set
-Deep, deep range on jumper
-Can shoot off the dribble as well
-Good scoring instincts
-Nice basketball IQ

Weaknesses:

-Early bloomer?
-Average athlete
-Struggles to make plays inside the arc

Outlook:

Transferred to Barcelona from Sweden at a very young age. Already getting major hype in Spain. Long term upside will be determined by how much he grows and develops athletically.
[
Read Full Article
]