Top NBA Prospects in the Big East, Part Four: Prospects 4-8
September 9, 2016
Josh Riddell

After a solid freshman season as an unheralded recruit from the state of Kentucky, Butler's Kelan Martin saw statistical improvements across the board in his sophomore season. This helped earn him an invite to the Adidas Nations summer camp, where he was able to test his skills against some of his peers and fared fairly well. He now returns to Butler ready to step into a leading role while trying to get the Bulldogs back to the NCAA Tournament for a third straight season.

The 6'6" forward may not have received serious NBA consideration several years ago, as he seems caught between positions, but with the evolution of the NBA game, Martin will certainly stay on the radars of scouts the rest of his collegiate career. He has a stocky frame at 6'6", 235 pounds, and although he isn't impressively long or athletic, he uses his size and strength well to battle bigger players. This can allow him to play an undersized power forward as he has the potential to be the versatile, skilled big man that many NBA teams are looking for these days.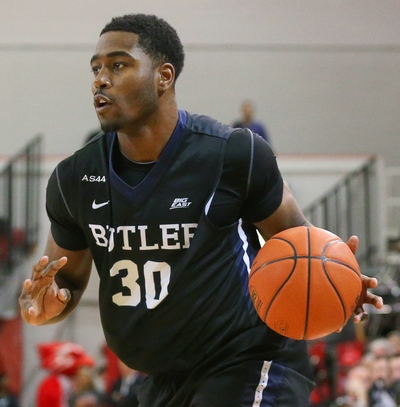 US Presswire
What boosts Martin's NBA case, despite his lack of size and physical tools is his feel for the game,which gives him some potential as a shot creator. He doesn't have a great first step or an elite burst so he works best off ball screens in the halfcourt which account for 22.7% of his total possessions according to Synergy Sports Technology. He can attack in a straight line to his right or left with a low, tight dribble while using his strength to get into the paint.
He converts his attempts at the rim at an average rate of 50% according to Synergy Sports Technology, and will need to find a way to improve his 47.7% overall conversion rate inside the arc. He lacks a high level of explosiveness, and although he has some touch around the basket, he is left with tough, contested below the rim finishes against rim protectors. He does balance this with an ability to get to the line, as he attempted 5.9 free throw attempts per 40 minutes. This will help his potential to finish his drives, but he will also need to find a way to help his offense when he can't draw a foul.
Martin is a capable pull-up shooter who can stop on a dime and pull up, as he made 39.6% of 101 jump shots off the dribble as logged by Synergy Sports Technology. This does help him score when he can't get all the way to the rim but these will be tough shots to rely on against quicker, longer NBA defenders.
Where Martin can really solidify his draft case in the mind of NBA scouts is by improving his shot creation for his teammates. He sees the floor from a standstill position and moves the ball effectively in the flow of the offense, but has struggled to pass when he gets moving downhill and drives into traffic too often. He keeps his head down on his drives which limits his vision and potential to find his open teammates after drawing the defense. He averaged just 1.5 assists to 2.3 turnovers per 40 minutes as a sophomore, and will need to be able to facilitate better to become a playmaking forward to help his team's offense when he cannot get a good shot.
Martin saw an impressive jump in his three point accuracy in his second season, with his percentages rising from 24.7% to 37.7% on over five attempts per 40. He demonstrated improved potential operating off the ball and being a threat when he isn't creating off the dribble. He's a capable spot-up shooter with solid mechanics who should be able to stretch his shot out to NBA distance but he will need to continue to show progress with his jumper to demonstrate to scouts that he will need to be guarded off the ball.  
The defensive end is where Martin is going to need to leave his mark going forward to prove he is capable of fitting into NBA rotations. He's not really athletic enough to sit down in a stance and move his feet guarding quicker wings, so he'll need to show some versatility with his ability to defend bigger players. However, he'll be at a size disadvantage against those players and may struggle to contest shots and hold them off in the post. He'll have to increase his intensity level and become more fundamentally sound here to compensate.
Martin's basketball IQ and feel for the game does show up on this end as well which he will need to tap into in order to become a helpful defensive player. He can be in the right spot off the ball and rotates well to slow the opposition even if he can't finish the play with a strong shot contest. He is always looking to make an impact defensively and plays with high level of energy, shown in his 7.5 defensive rebounds per 40.
He's a little inconsistent in his individual defense as he sometimes is able to get into a stance on the perimeter and slide his feet to stay in front of his man but more often than not, he is hunched over and too slow laterally, which causes him to reach with his arms and foul to stop his man. There will certainly be question marks about who he guards at the next level and he'll need to find a way to demonstrate his defensive value to scouts.
With the graduation of Roosevelt Jones and Kellen Dunham, Martin will need to step into an even larger role as an offensive creator, which he can use as an opportunity to demonstrate to NBA teams that he can be more of a playmaker off the dribble. He will be facing an uphill battle to overcome his relative lack of his size and athleticism, but has the basketball IQ to make an impression on scouts and earn him a shot to make a NBA roster down the line.
[
Read Full Article
]