Moving Up the DraftExpress Overseas Free Agent Rankings (Part Two)
December 8, 2009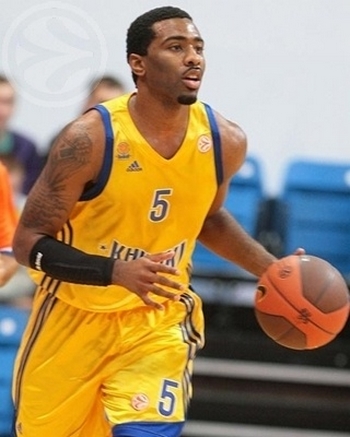 Euroleague.net
The former Kansas player and Mozgovís teammate in Khimki has emerged as one of the best American guards in the Euroleague this season, improving his playmaking and perimeter shooting skills substantially while still maintaining the same athleticism and terrific activity level that made him an intriguing player to begin with. The fact that heís legitimately playing the point guard position, having improved his basketball IQ significantly, combined with his aggressive slashing mentality and strong defensive skills make it a practically a no-brainer for an NBA team to give him an extended look.
The only problem is that Langford signed a 2-year deal this summer for well over a million dollars per and no out clause, meaning any team that wants him would probably have to negotiate directly with the Russians. Itís possible that might keep him out of the NBA until 2011, although there is always room for negotiation in Europe.
[
Read Full Article
]
NBA D-League Showcase, Day Four
January 18, 2008
Keith Langford showed off the two sides of his game here in Sioux Falls quite nicely, displaying the considerable improvement heís made as a basketball player since he graduated from Kansas, but also the different areas of his game that he needs to improve in.

Standing somewhere between 6-3 and 6-4, Langford is somewhat undersized for the shooting guard position, but has a terrific 6-9 wingspan to make up for that. A left-handed player, Langford is an explosive athlete, blessed with great quickness and terrific body control, which he likes to put to use particularly well in transition.

Offensively, Langford is at his best with the ball in his hands, where he can put his explosiveness and solid ball-handling skills to good use. He has good footwork and strength, being a tenacious player who gets to the rim with impressive spin-moves and is not afraid to draw contact and make his way to the free throw line. Heís a very good finisher at the rim, and if he sees some traffic coming his way, will not hesitate to drop in a pretty left-handed floater. His mid-range game is very solid, as he loves to pull-up off the dribble from 17 feet. Langford used to be known as an extremely weak perimeter shooter, but he put some of those notions to rest here in the second game by knocking down 4 out of 6 of the NBA 3-pointers he attempted. Heís shooting 33% from that range on the season in the D-League, which indicates that he probably still has some work to do in this area. His shot flattens out at times when heís rushed, but his form for the most part isnít bad, so there is certainly room for optimism here. Being more effective playing without the ball (shooting off screens and such) is the next step for him.

Langford was somewhat turnover prone earlier in his career, but he really did a nice job staying under control in the two contests we took in, even shouldering a good amount of ball-handling duties at the point guard position at times. His court vision isnít good enough to be considered a great prospect at the 1-spot (heís a natural 2), but he can certainly bring the ball up the floor and get his team into their offense effectively enough.

Defensively, Langford really gets after it, smothering opposing players with his combination of quickness and length, and being tenacious in the passing lanes. He lacks some size and maybe some awareness at times, but really makes up for it with his effort.

All in all, Langford is a borderline NBA player who could get another call-up this year, as a sparkplug type scorer to bring off the bench. If that plan doesnít work out, heíll have many suitors overseas, where his terrific athleticism could really make him a difference maker at a pretty high level.
[
Read Full Article
]