Top NBA Draft Prospects in the Big Ten, Part Four: Prospects 4-7
October 13, 2016
Derek Bodner

After playing just under 10 minutes per game for Thad Matta and the Buckeyes as a freshman, the loss of Amir Williams and Sam Thompson to graduation opened up quite a bit of playing time in Ohio State's frontcourt rotation. Keita Bates-Diop was one of the primary beneficiaries of their departures, seeing his playing time rise to over 30 minutes per game and showing the ability to stuff a stat sheet to the tune of 11.8 points, 6.4 rebounds, 1.1 assists, 1.2 blocks, and 0.7 steals per game.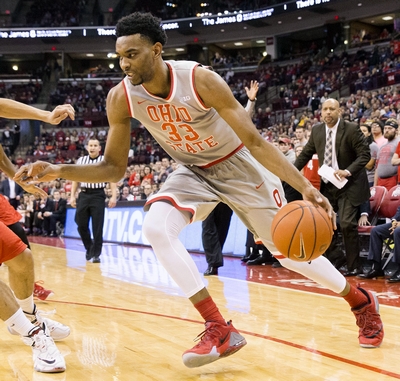 US Presswire
Standing 6'7" with exceptionally long arms and a frame that looks like it can fill out over time, Bates-Diop's NBA intrigue starts around that physical profile. Add in his mobility and coordination and Bates-Diop has the chance to develop into a player who can defend multiple positions, especially as his body continues to physically mature down the line.
In order to really maximize that potential, Bates-Diop is going to have to continue to evolve as an offensive player as well, and that begins with his jump shot. While Bates-Diop shot 46.2% from three-point range on an extremely small sample size of 39 attempts as a freshman, the 32.4% he shot as a sophomore is likely more in line with where he stands as a shooter, and more indicative of the amount of work he still has to put in to become reliable from deep.
Bates-Diop's form on his jump shot could be a cause for some of his inconsistency, as it's not the most sound and fluid release in college basketball. His release is slightly out in front of his body, with a slight hitch halfway through and a left elbow that has a tendency to flair out to the side. Improving on some of these moving parts could dramatically help increase his consistency, and creating gravity from the corners would do wonders to help Bates-Diop's viability as a Three-and-D candidate at the next level, and give him a clear role he can fill.
Bates-Diop's jumper shows even less progress on the move, where he's not much of a threat at all to shoot either off the dribble or running off a screen. While Bates-Diop doesn't project to be a high-level shot creator off the pick and roll, giving defenders something to think about would help open up his dribble drive game.
He does show some potential as a slasher, despite not creating many driving lanes by nature of his jump shot forcing defenders to close out. Bates-Diop has a relatively quick first step, with long, rangy strides that can cover ground in a hurry. While Bates-Diop doesn't have a ton of wiggle in his game to create separation off the dribble, he's not a complete non-ball-handler, either, with enough confidence to dribble in traffic with either hand, and could be realistically expected to show continued improvement in this area down the line.
When Bates-Diop does get to the hoop his length, athleticism, and solid touch and body control around the hoop serve him well, allowing him to connect on 64.9% of his field goal attempts around the basket, per Synergy Sports. Part of this efficiency is no doubt influenced by selectivity in his attempts and by playing a limited role, but he has the chance to be effective at the rim if his perimeter shot, and his ability to create, matures.
That being said, the defensive side of the court is where Bates-Diop's future is, and where he makes the most consistent impact as of now. His length, lateral quickness, and ability to cover ground effectively allow him to be a decent off-ball shot blocker. When Bates-Diop is fully engaged, he shows the ability to be a real stopper defensively, and has the quickness, perimeter mobility, and length to defend multiple positions, something which you can't have enough of in today's NBA.
That "when engaged" comment is still a problem for Bates-Diop, however, as he'll go stretches without appearing to give consistent effort, at times appearing either disinterested or unsure of himself, and leave plays on the court as a result. He also struggles quite a bit to recognize, and fight through, screens on the perimeter, and still needs to continue to fill out his frame to compete more consistently on the defensive glass, where his 6.3 defensive rebounds per 40 minutes, pace adjusted, is a relatively low output for somebody who played quite a bit as a small ball power forward. Bates-Diop struggles to hold ground as of now, and adding strength to his core and lower body would help quite a bit in this regard.
Bates-Diop has quite a bit of potential as a shutdown, versatile defender who has shown just enough offensively to tease two-way potential. Still, he has to become more consistent on both ends of the court, with his effort level and physical maturation holding him back from reaching his true defensive potential, and his inconsistent outside shot a roadblock to filling a clearly defined offensive role in the NBA. Should he be able to improve upon those weaknesses, and find a way to ramp up his inconsistent motor, there's clear NBA role player potential in Bates-Diop's game.
[
Read Full Article
]
Top NBA Prospects in the Big 10, Part Nine: #11-15
October 28, 2015
Jonathan Givony

The #25 player in the 2014 high school class according to the RSCI, Keita Bates-Diop played a fairly minor role for Ohio State as a freshman playing under 10 minutes per game. Still, he showed some impressive flashes of potential in that short time, solidifying himself as a player to keep an eye on as his career moves along.

The intrigue around Bates-Diop beings with his impressive physical profile. Standing 6-7, with a pterodactyl wingspan (reported to be around 7-4), and an ideal basketball frame (listed at 190 as a freshman, now 235 by Ohio State), Bates-Diop stands out immediately the moment he steps on the floor. He's not quite as athletic as he looks on first glance, but is smooth and fluid, and may still have considerable room to improve his quickness and explosiveness as he gets closer to reaching full physical maturity.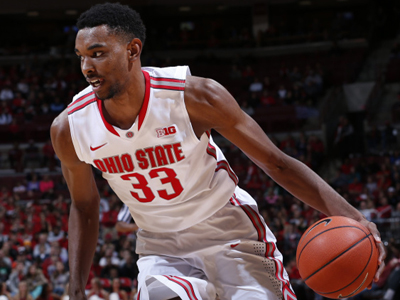 US Presswire
Forced to make the transition from high school power forward to collegiate wing, Bates-Diop was a little more advanced skill-wise as a freshman than you might suspect. He hit 18 of his 39 (46%) attempts from beyond the arc, showing nice confidence in his perimeter shooting ability late in the year hitting a couple of huge jumpers in the NCAA Tournament. He has good shooting mechanics from the waist up, with a compact, repeatable stroke. He is capable of creating separation nicely with a high release and good elevation, even if he tends to jump too far forward while leaning back excessively when rushed, not always fully getting his legs underneath him.
While the small sample size from last season leaves something to be desired, Bates-Diop should be able to develop into a good perimeter shooter, which will be very important considering his limitations in other areas.
He wasn't really asked to trusted to do anything off the bounce last year, as it was very clear in the handful of possessions that he did put the ball on the floor that he has a lot of room to grow here. While capable of attacking opponents in a straight line smoothly with long, rangy strides, Bates-Diop struggles when forced to change directions, lacked the strength and/or explosiveness to finish many of the plays created for him, and had a difficult time when forced to use his left hand around the basket.
Although his freakish length allows him to finish around the basket while barely jumping, and he converted an impressive 61% of his attempts inside the paint in the half-court, Bates-Diop still has room to improve here as his skill-level and explosiveness evolve.
Defensively, Bates-Diop was somewhat caught between positions as a freshman, which may help explain why he played as few minutes as he did. He wasn't strong enough to guard most power forwards, while he was a little too upright and naive to be trusted to guard smaller guys consistently on the perimeter.
Bates-Diop showed many of the issues most young players do in making the transition from high school to college, biting on pump fakes, losing his concentration off the ball, helping unnecessarily off his man, getting burned off the dribble, and generally not being solid or consistent enough to be trusted against better competition.
Nevertheless, he shows significant potential here, even if he doesn't always really know what he's doing at the moment. Bates-Diop's combination of size and length can absolutely suffocate ball-handlers on the perimeter, which could be an incredible weapon as he learns to get in a low stance and move his feet effectively against smaller players. He can close out on shooters from extreme vantage points and still get a hand up to bother a shot, and even when he does get beat off the dribble, can rotate back into the paint and make a play impressively at the rim.
Bates-Diop showed great flashes of defensive potential in small doses, executing a number of plays last season that only a handful of players in college basketball can even think of making. That showed up to an extent in the boxscore, as he generated 2.3 blocks, 1.3 steals and 8.2 rebounds per-40 minutes, even if the tiny sample size again throws some caution to the wind.
While Bates-Diop's lack of experience was evident last year, it still didn't prevent him from getting on the floor in some crucial moments for Ohio State, which certainly tells you something. He came onto the court late in the Round of 64 NCAA Tournament game against VCU for example, and had some huge plays that sealed the win for his team hitting a pair of key 3-pointers and dishing off a transition assist.
With Sam Thompson (who played 32 minutes per game) graduated, there should be more of an opportunity for Bates-Diop to see playing time for Ohio State as a sophomore, especially now that he's reportedly added significant bulk to his frame in the offseason.
Although Bates-Diop only averaged 3.8 points and 2.1 rebounds per game as a freshman, he'll get plenty of attention from NBA scouts if he continues to progress as expected.
[
Read Full Article
]