Top NBA Prospects in the Pac-12, Part Eight: Prospects 16-21
September 18, 2016
Josh Riddell

The 2014 National JUCO Player of the Year, Kadeem Allen transferred to Arizona to complete the last two years of his collegiate career. After taking a redshirt season in 2014-15 due to a rotation crunch, Allen averaged 13.4 points, 5.0 rebounds and 5.7 assists per 40 minutes as the starting point guard in his first D-1 season.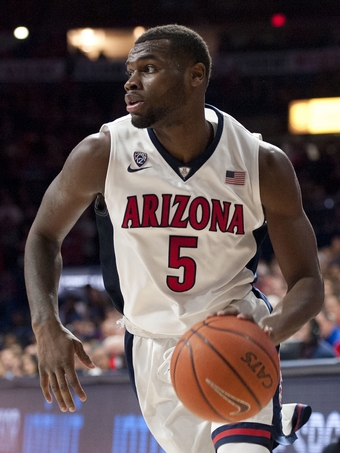 US Presswire
Already 23 and turning 24 partway through his senior season, Allen will be one of the oldest players on the draft radar. He has an impressive set of physical tools, listed at 6'3" with a strong 200 pound frame and an impressive wingspan, and certainly has the size of a NBA point guard. Much of his potential up to this point has stemmed from his physical profile and scouts will be watching to see if his skill set can catch up to match his athleticism to turn him into a complete player.
Ideally, Allen would become more efficient as an offensive creator in the half court, to help show he is capable of running an offense at the NBA level. Improvement in this area would start with his creation out of the pick and roll, with such possessions accounting for 46% of his derived offense according to Synergy Sports Technology. While Allen has shown flashes of offensive creation skills working off ball screens, he has not done so consistently enough to demonstrate he can regularly create efficient offense in the half court.
Allen's 5.7 assists per 40 minutes is a solid rate, and he has demonstrated some vision with the ball in his hands, which gives him the potential needed to develop into a shot creator in the half court. He's a capable passer in transition, but he needs to replicate this in the half court to maximize his passing ability. In the open court, he is constantly scanning the floor and looking to make a pass, but he puts his head down in the half court as he tries to get to the rim which limits his vision. He has the ability to make accurate passes on the move with either hand, but will need to show more refined vision in the half court to keep his teammates involved and distribute more regularly to lead an efficient offense.
He is also a little too turnover prone, coughing it up on a very high 23% of his possessions last season. He doesn't have a tight dribble in crowded spaces which lets defenders strip him in traffic or he will pick up his dribble without a plan to finish the play, which can leave him without an outlet and prone to a mistake. Becoming more protective of the ball and developing as an attacker will be key in his senior season.
While he has room to grow as a distributor in the half court, he has shown he can create for himself by getting to the rim with his quickness and shiftiness with the ball. While he has demonstrated an ability to get good looks, he struggled with his efficiency as a redshirt junior with a true shooting percentage of 55.5%. He has to improve as a finisher in the paint, converting on only 46.9% of his 64 attempts at the rim according to Synergy Sports Technology. He drives hard toward the rim but looks to avoid contact once he gets close to the rim which leaves him with some off-balance layup attempts as he falls away from the rim. On top of that, he doesn't have great touch on his layups or floaters which can turn open shots into misses. Allen has been able to leverage his physical tools to get into the paint but needs to develop his skills as a passer and finisher to finish these plays.
Converting 36% of his 50 three point attempts, Allen's shooting stroke is still a work in progress. Shooting a line drive shot, he'll need to improve his mechanics to become an efficient shooter over a larger sample. He had a similar number of spot-up and pull-up attempts and has a solid foundation as a shooter, but needs to improve his accuracy to become a shooting threat. He does prefer to get to the rim, but needs to feel confident in his shooting ability when he doesn't have a lane to drive to develop a more well-rounded offensive game.
While Allen is not yet a finished offensive prospect, his potential defensive role is much clearer to NBA teams. Sporting an excellent combination of physical tools at the guard position, he utilizes his quickness and length well to pressure the ball outside the three point line. He accepts the tough defensive assignments with the ability to guard several positions by leveraging his lateral quickness, wingspan and strength.
He will be locked in on every possession by moving his feet on penetration, fighting through screens, not letting his man getting anywhere on the court freely and recovering to finish plays. He's a physical defender who is not afraid to get in his opponent's chest and look to create a turnover, and he recorded 1.7 steals per 40 last season. He helps rebound from the guard spot as well, crashing the glass from the perimeter and pulling down 4.5 defensive rebounds per 40.
Allen has the potential to defend NBA guards right now and his desire to accept that role as a defensive stopper along with his physical tools has placed him firmly on the NBA Draft radar after his first season with Arizona. Since he will be one of the oldest draft prospects by next summer, he will need to show a more developed and efficient offensive game to prove to scouts he is capable of running an NBA offense as well. If he can do that, he'll show that he can be an asset on both sides of the floor and will be a strong draft candidate.
[
Read Full Article
]