Top NBA Prospects in the Big 12, Part 5: Prospects #5-8
September 12, 2014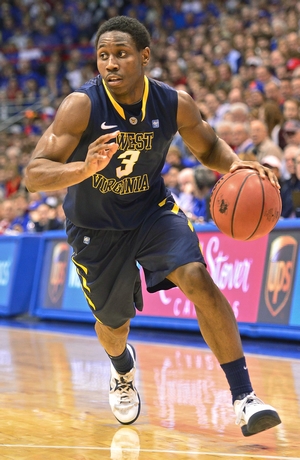 US Presswire
Josh Riddell
After flirting with leaving West Virginia for the 2014 NBA Draft, Juwan Staten elected to return for his senior season after a junior campaign that saw him make the Big XII All-Conference First Team and All-Defensive Team. Staten will attempt to lead West Virginia to the NCAA tournament, after a 2013-14 season that ended with a first round NIT loss to Georgetown.
Measured at just 5'11" at the 2014 Nike Skills Academy, Staten is a little undersized relative to most NBA point guards. His wingspan was measured at 6'3", which helps his cause somewhat, and he is absolutely lightning quick with the ball, further compensating for his small stature. He isn't especially strong for a player of his size, so he might get pushed around by bigger players, but he still has some room to add some strength as he matures. He has demonstrated he is in excellent shape, as he played 37.3 minutes per game last year.
Staten was the focal point of the Mountaineer offense and did an excellent job of getting his own shot while setting up his teammates at the same time. His 6.1 assists per 40 minutes pace adjusted
ranked near the top of point guard prospects last season
, while his pure point rating
of 4.74 ranked 9th
, showing he does a good job of distributing while not turning it over. Staten allows the offense to develop and runs through the options to find an open teammate without forcing his own shot. He sees the floor well and delivers strong passes to his teammates to allow them to score.
Staten has plenty of ways to score himself, starting first with his ability to beat a defender off the dribble. Staten showed a strong inside out crossover to get by his defender in isolation situations, which put him in a good position to score. Considering his size, Staten is a capable finisher at the rim, where he shot 52.7% on 131 attempts last season, according to Synergy Sports Technology. One piece he could add to his game is a floater or runner, as he attempted only 30 last season, according to Synergy Sports Technology. A floater he could rely upon would add to his offensive arsenal and give him another way to score when he beats his defender on the perimeter by avoiding the rim protectors.
Instead of going for the short floater, Staten often attempted pull-up mid range jump shots off the dribble after getting a step on his defender, where he shot an excellent 44% on 100 attempts according to Synergy Sports Technology. This would rank him seventh among all players who had at least 100 attempts last season, according to Synergy Sports Technology. He does an excellent job of gathering himself off the dribble to take a controlled jump shot and demonstrated solid fundamentals in the mid-range area, which is very important at his size.
While Staten is a proficient mid-range shooter, this did not translate to the three point line, as he attempted only fifteen threes last season. He has good form on his mid-range shot, so the potential is there for him to be a capable three point shooter, but this aspect is not a major part of his game.
The list of guards who have been drafted since 1994 who averaged at least twenty minutes per game and attempted less than twenty total threes in a single season isn't very large, showing just how important this is considered to be among NBA teams:

DraftExpress Blue
To improve his draft stock, Staten will need to add a three point shot to his offensive arsenal in his senior season. He has demonstrated he is a capable jump shooter in the mid-range area, so a three point weapon would allow him to be a floor spacer while forcing defenders to guard him on the perimeter, improving his ability as a penetrator.
Although Staten was named to the Big XII All-Defensive team, there are some questions about how his defensive skills will translate to the next level. He is at an immediate disadvantage because of his size, as he will have trouble matching up physically against taller guards in the NBA. His averaging length allows taller players to shoot over him on the perimeter, as he is unable to challenge jump shooters. He also fails to recognize screens on occasion and is knocked off balance when he runs into them, effectively taking him out of the play. He only blocked three shots last season which, as we showed earlier,
isn't something many NBA players can boast
. His speed and lateral quickness will be an asset for him to help bother players and play the passing lanes but he will likely struggle overall because of his size.
Staten returns to West Virginia as the leading offensive option and will likely have to shoulder a larger scoring role due to the departure of the second leading scorer, Eron Harris. Staten's mix of point guard skills combined with his athleticism make him an intriguing draft prospect and he will need to show once again he can balance between scoring and distributing. Since Staten sat out a year after transferring from Dayton, he will be 23 at draft time. He is on the radars of many scouts and another solid season from a production standpoint, coupled with adding some semblance of a three point jumper to his game will put him in the mix to have his name called for the 2015 NBA Draft.
[
Read Full Article
]