Top NBA Prospects In the Rest of the NCAA, Part Five: Prospects 8-12
November 9, 2016
Derek Bodner

Despite being the younger brother of All-SEC player and ex-NBA prospect Jarvis Varnado, and leading his high school team to their first ever Tennessee state title, Jordon Varnado slipped between the cracks as a recruit, not garnering much national attention and eventually landing at Troy University in the Sun Belt conference.

Landing at Troy provides some familiarity for Varnado, as head coach Phil Cunningham coached Jordon's older brother while an assistant at Mississippi State. Jordon Varnado hit the ground running during his freshman season, averaging 12.7 points, 6.7 rebounds, and 1.2 blocked shots per game, while shooting 52% from 2-point range and 32.6% for three.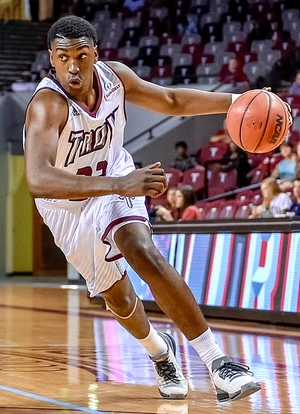 US Presswire
While Varnado largely played the power forward spot for the Trojans, the 6'6", 215-pound 19-year-old projects as a small forward long term. He has excellent size for the position, with long arms and a well-developed frame that should allow him to compete with NBA-level wings.
Offensively, Varnado is somewhat stuck between his past life as a big man and his future role as a perimeter player, with a mixture of post-up plays ran for him along with perimeter face-up situations, combined with a knack for creating opportunistic scoring opportunities off offensive rebounds, cuts to the basket, and rim-running in transition. That versatility creates an intriguing combination for Troy in the Sun Belt, even if it's not necessarily the role he might play at the pro level.
Still, while that transition to a perimeter player can cause growing pains for vertically challenged former big men, Varnado appears to be making the transition relatively smoothly. His jump shot, while still wildly inconsistent and finishing the season connecting on just 33% of his three-point attempts, shows potential, with good upper body mechanics and soft touch sometimes foiled by taking shots out of rhythm. His ball-handling ability is still relatively rudimentary, but is good enough to attack closeouts and handle the ball in transition, and he has the first step to grow that into more if he becomes more comfortable on the perimeter.
On top of that, Varnado does enough off the ball to fill a future role-playing capacity, with quickness in his cuts to get open and the upper body strength to absorb contact in the paint, even if he is more of a quick athlete than an overly explosive one. If Varnado can improve his catch-and-shoot jumper -- in which he made 35.7% of his shots despite most of them being contested, according to Synergy Sports Technology -- transitioning from high-usage, non-major big man to role playing wing is an evolution that could very well be in his future, a relatively rare transition to make successfully.
Defensively, Varnado flashes much of the same versatility that could allow him to successfully transition to a more perimeter oriented role in the future. He's currently strong enough and has long enough arms to hold his ground in the post against Sun Belt post scorers, but his height will become a factor in the NBA, thus likely necessitating a more perimeter focus. Varnado is equipped to handle that defensively as well, with relatively quick feet, long arms, and the ability to change directions that should allow him some versatility. On top of that, Varnado does a good job of getting into a stance on the perimeter, closes out under control when jumping out on shooters, and is attentive off the ball, all qualities which should help him at the next level.
Jordon Varnado played for a Troy team that lacked much in the way of talent, finishing the season with a record of just 9-22, including 4-16 in conference play. They are a team that is likely to struggle once again, being projected by Sun Belt coaches in the preseason to finish ninth out of the twelve teams. Varnado may not get many post-season opportunities to make a name for himself against high level competition if that's indeed the case, something that is typically necessary for non-power-conference prospects to hear their name drafted in the NBA.
Still, Varnado has the physical tools and the emerging, if still incomplete, offensive skill set to be worthy of attention from the pro level. If he can show progress as a catch-and-shoot player, while also perform well in whatever few high-profile matchups he might have over the coming years, there could be a potential find buried deep in the Sun Belt Conference.
[
Read Full Article
]