2016 FIBA U17 World Championship Scouting Reports: Big Men
July 10, 2016
Jordan Brown, 6'10, Power Forward, Woodcreek High School, 1999

Strengths
-Great size for a big man at around 6'11
-Fluid athlete with some nice bounce. Runs the floor well and is quick off his feet
-Good leaper off one or two feet
-Has good hands and soft touch around the basket
-Shows some budding footwork inside the paint
-Draws fouls at a nice rate
-Nose for the ball on the offensive glass
-Can handle the ball fluidly in the open floor
-Young for his class. Born in late December. Not turning 17 for some time

Weaknesses
-Body hasn't changed much the past two years. Still very narrow, especially in the lower body
-Has a relatively poor wingspan relative to his height. +1-2 inches. Sub-9-foot standing reach
-Shooting mechanics don't allow him to use his touch as a jump-shooter. Flings the ball from his wrist
-Doesn't have the strength or mentality to utilize his size consistently around the basket
-Struggles to score against better competition. Can't create any offense for himself
-Needs to develop his off hand. Uses his right hand on the left side of the basket
-Not a comfortable passer. Very turnover prone. 9 assists compared with 49 turnovers in 302 minutes in DX database thus far
-Very poor defender at the moment. Gets tossed around inside the paint by stronger players. Not tough enough to offer much resistance
-Effort level comes and goes
-Struggles to guard on the perimeter as well. Very upright in his stance
-Not much of a rim-protector due to his lack of length (1.7 per-40 career)

Outlook Played just 12 minutes per game for USA at the U17s, mostly in blowouts with the game already out of reach. Shot 46% from the field. Has been a somewhat low efficiency offensive player for most of his career. Very highly regarded by recruiting services (top-5 by everyone), likely based on a very long-term projection. Body will take some time to fill out. Young for his class, may not be ready to play at the highest levels of college basketball right away.
[
Read Full Article
]
USA Basketball U16 Training Camp Scouting Reports: Big Men
June 4, 2015
One of the most improved players from October to June among those that attended both the USA Basketball Development Camp and this training camp, 2018 recruit Jordan Brown (#6 Future150) not only grew an inch and added 7 pounds to his now 190-pound frame, but also became a significantly better player.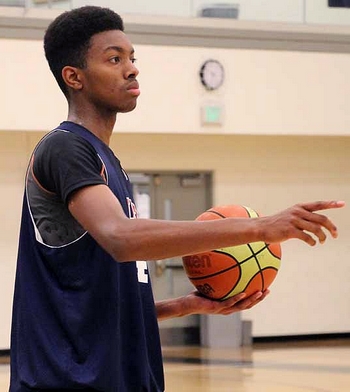 USA Basketball
He has good size for a big man at 6-9, to go along with a near 7-foot wingspan and nice athletic ability. Offensively, he showed very intriguing versatility, with the ability to create his own shot from the perimeter in a straight line, execute pretty spin moves with impressive body control, and very soft touch on his floaters. He has good shooting form, with the ability to knock down mid-range jumpers fairly consistently, and even some off the dribble shooting prowess too. He was active on both the offensive and defensive glass utilizing his length, quickness, explosiveness and solid timing, even if his lanky frame doesn't always allow him to finish around the rim.
While Brown's frame has a long ways to go, it looks like should fill out nicely considering he's only 15 years old and has big shoulders. That will help him defensively, where he struggles at times. He's not going to wow anyone with his production anytime soon, but has a chance to develop into a nice versatile power forward down the road if he continues to work hard.
We talked to him about as development as a basketball player and much more in the following interview:
[
Read Full Article
]