Top NBA Prospects in the Pac-12, Part Seven: Prospects 11-15
September 18, 2016
Kyle Nelson

After a promising freshman season, Oregon big man Jordan Bell spent his entire summer and eight games into his sophomore campaign recovering from foot surgery. While his sophomore season was inconsistent, Bell recovered by March and played a key role on Oregon's NCAA Tournament run to the Elite Eight. With a full off-season under his belt and plenty of time to work on his game, Bell has the opportunity to show scouts that he is more than an athletic shot blocker.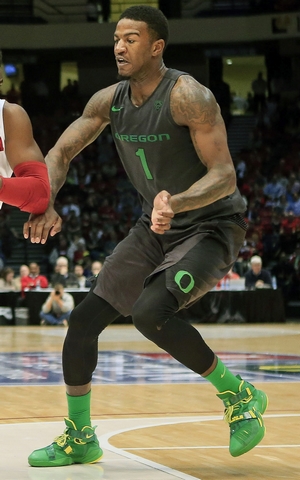 US Presswire
At 6'9 with a 6'11 wingspan, Bell has solid size for the power forward position, but average length. His wiry 227-pound frame continues to improve, and looks like it will fill out long term as much as needed. While he plays mostly the center position offensively and doesn't have great height or a long wingspan to do so in the NBA, he is able to compensate for that with a tremendous athletic profile for a big man. He runs the floor well in transition, demonstrates excellent quickness and mobility covering ground exceptionally well all over the court, and is highly explosive around the basket.
While Bell remains quite raw on the offensive end, he played a bigger role in Oregon's offense as a sophomore, and didn't see any real drop-off in his efficiency in turn. He averaged a much more acceptable 13.1 points per 40 minutes pace adjusted, up from 7.8 as a freshman, while posting a 57% TS%. As was the case during his freshman season, he saw nearly all of his possessions in the immediate vicinity of the basket, but was given more opportunities to create looks for himself in the post as a sophomore.
Bell saw a majority of his touches off of cuts to the basket, in transition, and off of his teammates misses. On film, it's clear as to why this is the case. Bell's footwork is raw, he tends to favor his right hand, and he does not have particularly soft hands or shooting touch. While he occasionally strings together a series of impressive plays, his post repertoire is limited to spin moves and the occasional up-and-under. In general, he still relies on his quickness over fundamentals to score in the post.
Bell continued to show some potential in his face-up game, but in a relatively small sample size. He can occasionally put the ball on the floor and get to the basket in a few dribbles, but his handles are not reliable enough to do so consistently. Likewise, he displays better shooting mechanics than you would expect from a 51.9% free throw shooter, but on just 12 attempts and to inconclusive results. He also shows better court vision than one would expect, but his 23% turnover rate reflects the fact that sometimes he appears to play as though he does not know his limitations.
He is at his best, however, while using his physical tools to his advantage and letting his teammates create opportunities for him. Most notably, he is a reliable finisher in transition and does a good job of cutting to the basket. He does not have the softest hands, but he is far quicker and more nimble than many collegiate big men and uses his explosiveness and length to make acrobatic plays at the rim look easy.
Bell's defensive versatility and overall prowess is what will give him a chance to make a NBA roster and stick long term. Few players show the ability to cover ground the way he can, as he displays an excellent combination of lateral quickness, agility and quick-twitch explosiveness, which allows him to defend big men, forwards, wings and guards all over the floor, while disrupting passing lanes, and altering shots at the basket. He once again stood out as one of a handful of players in our database to average two blocks and two steals per 40 minutes pace adjusted. He set Oregon's career blocked shot record in just 50 games while averaging 3.0 blocks per 40 minutes pace adjusted as a sophomore.
Yet, his fundamentals still lag behind his athleticism and he lacks the strength to hold his position against stronger offensive players. While he improved somewhat as a rebounder, his 7.0 defensive rebounds per 40 minutes pace adjusted still situate him as just average
relative to other big men in our database
and he does not consistently display the fundamentals or intensity required to exploit his physical advantages at this level.
Overall, Jordan Bell's sophomore season wasn't all that different statistically than his freshman season, which makes sense considering the injury he suffered and needed to recover from. His breakout NCAA tournament performance showed scouts that he still a highly intriguing prospect, though, as few players possess his combination of athleticism and defensive versatility at his size, being able to guard virtually any position on the floor. Bell could take a significant step forward as a junior with a full offseason under his belt, as he showed some very impressive things at the Nike Academy in Los Angeles this past June. The time is likely now as Bell will turn 22 in January. Oregon returns quite a bit of talent next year and Bell will be able to showcase his talent thoroughly on a team looking to repeat its deep 2016 NCAA Tournament run.
[
Read Full Article
]
Top NBA Prospects in the Pac-12, Part Seven: Prospects #17-20
September 9, 2015
Matt Kamalsky

A consensus top-75 recruit in high school, who was subsequently forced to redshirt his first year at Oregon due to not being cleared academically until December, Jordan Bell got thrown into the fire as a freshman, averaging 4.9 points, 6 rebounds, and 2.6 blocks over 24 minutes per game, emerging as a regular starter for Oregon mid-year.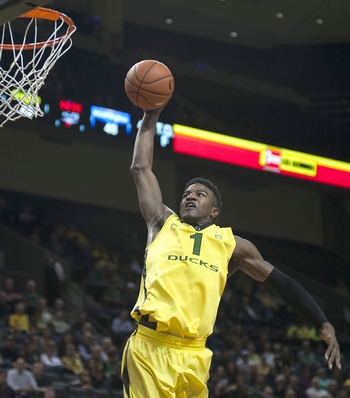 US Presswire
Listed at 6-9, with a long wingspan, Bell is a mobile, agile power forward who makes an impact with his athleticism. Tipping the scales around 220, Bell will need to get stronger in the coming seasons to help him hold his own inside, but he has plenty of time to work on his body in the coming years.
Skill-wise, Bell is a fairly limited player at this point, seeing most of his touches around the basket and in transition, while not being counted on for scoring regularly in Oregon's offense. Capable of playing above the rim and showing nice explosiveness inside, Bell has average footwork and touch and tries to do too much in the air at times. He finishes reliably, and flashes some potential as a midrange shooter and face up driver, but doesn't have a reliable means to create for himself at this stage. Getting to the line at a low rate, shooting only 50% once he gets there, and showing little post game to speak of, Bell has a long way to go offensively as his skill-level is clearly still catching up with his physical tools, even if he surprises you at times with his court vision and passing ability.
As a rebounder, Bell is capable on both ends, but could be more aggressive crashing the boards. He doesn't appear to have the best instincts, getting by largely on athleticism, and doesn't always seek out bodies to box out, two things he'll have to improve if he's to take the next step as a rebounder.
Where Bell does already make contributions is as a shot-blocker, an area where he ranked among the top-20 players in the entire country on a per-minute basis. An extremely aggressive off-ball defender, Bell pursues shots rotating over from the weakside with reckless abandon, swatting shots that many players wouldn't even pursue. Committing 4.4 fouls per-40 minutes pace adjusted while blocking 4.1 shots, Bell can be a bit too aggressive at times defensively, but flashes terrific potential as a rim protector.
As an on-ball defender, Bell is a bit less successful, as more mature, polished, and stronger post scorers take advantage of his lack of strength and discipline inside. He has nice foot speed allowing him to defend smaller players at times on the perimeter, but doesn't have a great grasp of how to use that to his advantage, often finding himself out of position when opposing players look to take him off the bounce. At this stage, Bell still has room to grow as a defender, but has a lot of upside on this end of the floor.
Unlike so many young, fairly raw defensive-oriented big men we've seen in the past, Jordan Bell got the opportunity to play significant minutes right away. While he wasn't overwhelmingly productive, his inclusion on the Pac-12 All-Defensive and All-Freshman teams a year ago is telling of how big his role was a year ago. Players in his mold can make big, sudden jumps in ability so it makes sense to continue to keep track of his progress to see how he's improving, and despite offseason foot surgery, there's little question Bell will have ample opportunity to showcase whatever progress he's made once again this season.
[
Read Full Article
]