Top NBA Prospects in the Big 12, Part Five: Prospects #5-9
September 21, 2015
Matt Kamalsky

Ranking among the top-100 or so recruits in the high school class of 2013, Johnathan Motley emerged as a starter for Baylor, averaging 7.8 points and 4.2 rebounds over 21.4 minutes per-game as a redshirt freshman. Though Motley struggled at times, he also turned in a number of impressive performances, gaining valuable experience a year ago, while flashing interesting potential.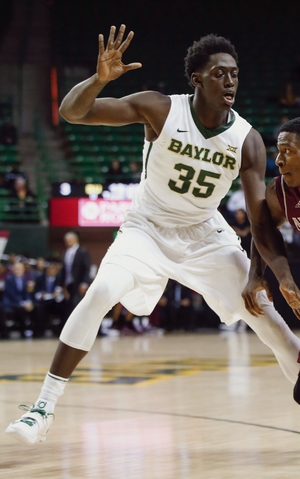 US Presswire
Motley's upside starts with his impressive length and athleticism. Our last official measurements taken over 3 years ago between his junior and senior year of high school had him at 6'7.5 with a 200-pound frame and a 7'3.5 wingspan. Using his redshirt year to work on his body, Motley is currently listed at 6'9 with a 230-pound frame. His wingspan likely hovers around 7'4 or more. Though the improvement in the young power forward's frame is unmistakable, he still needs to continue adding muscle as he got pushed around at times a year ago. A bouncy, mobile athlete whose length allows him to effortlessly play above the rim, Motley has a nice base of physical tools to build on.
Offensively, Motley was asked to play a surprisingly post-up heavy role for balanced offensive team that ranks among the more imposing offensive rebounding lineups in recent memory. More than one-third of his possessions came in one-on-one situations on the block, as he accounted for almost half of the Bear's total post up possessions according to Synergy Sports Technology, although he only finished as the team's fifth leading scorer.
Shooting only 36% in the post, Motley did a nice job battling inside, but is still early in his development as a one-on-one scorer, as his lack of touch, strength, and polished post-moves limited his effectiveness. He relied heavily on his right handed hook shot, which is still a major work in progress. It took Corey Jefferson three years to find his touch and blossom as a post option under Scott Drew, and it will be interesting to see if Motley ultimately follows a similar trajectory.
Outside of his post game, Motley had some nice moments finishing around the rim, especially in transition where his long strides made him one of the more promising rim-running big men in the college game. In the half court, Motley struggled a bit with his efficiency as he appeared rushed to get the ball up on the rim at times, and was prone to getting pushed off balance by defenders looking to use his lack of strength against him. Shooting just 49.4% as a finisher in the half court, Motley's numbers take a hit because of how frequently the Baylor big men played volleyball on the backboard amongst themselves offensively, but even so, he still has a lot of room to improve his ability to convert consistently inside.
Away from the basket, Motley attempted around one jump shot per-game, but converted only 25% of his looks from the perimeter and 64% from the line. He will need to tighten up his mechanics if he wants to be a weapon from the mid-post and beyond. He can be a bit turnover prone when he tries to do too much, but also faced quite a few double-teams for a player so early in his offensive learning curve.
At this stage, there's two things Motley does at a high level. First, he's a very good offensive rebounder, especially when his motor is running hot. His length allows him to get his hands on caroms that other players simply can't at the college level. His 4.3 offensive rebounds per-40 minutes pace adjusted is particularly impressive when you consider he's playing alongside Ricardo Gathers, who is arguably the best offensive rebounder in the country.
Second, Motley is a nice rim protector playing on the side of Baylor's 2-3 zone. His length and aggressiveness allowed him to make an impact altering shots at times, but also got him into foul trouble as well. Possessing outstanding foot speed for his size, Motley has intriguing defensive potential at the next level even if he won't have played much man-to-man at Baylor. He lacks discipline closing out on the perimeter at times, but changes direction well and could be a standout, multi-positional defender down the road if he retains his impressive quickness as he adds strength.
Thrown into the fire a freshman, Johnathan Motley performed fairly well for a Baylor team that ultimately fell victim to R.J. Hunter's timely shooting in the NCAA Tournament, even if he was clearly rough around the edges. He should play a similar role for the Bears this year as they figure to be a staple of most Top-25 polls once again. Motley is a player who may not factor into the draft in the short term, but his physical tools, effort and defensive potential give him a lot of promise and make him a player worth monitoring as he develops.
[
Read Full Article
]