John Collins vs Villanova Matchup Video
January 26, 2017
Julian Applebome takes a closer look at John Collins's 17 point, 6 rebound, and 3 block performance vs defending NCAA champions Villanova on November 18th in the semi-finals of the Gildan Charleston Classic.



After showing impressive sparks of potential as a freshman, the 19 year old sophomore out of West Palm Beach, Florida has really come on strong in his second season under Head Coach Danny Manning.

Collins leads the ACC in points per 40 at 27.39 and also has the top PER in the conference at 33.9. He is rebounding the ball at an extremely high level (14.5 rebounds per 40) and has shown promise as a rim protector, blocking 2.5 shots per-40 minutes.

Collins still has plenty of work to do in terms of refining his offensive game (particularly his passing ability) and becoming a more consistent presence on the defensive end, where he is incredibly foul prone, but his physical tools and strong play in one of the countries toughest conferences has his name being discussed as a potential first round pick. The fact that he is younger than many of the freshmen in our mock draft, having only turned 19 in September, will certainly help his cause.

Julian Applebome is a video analyst for DraftExpress. Follow him on twitter and check out the DraftExpress Video section. He will be breaking down the NBA draft in digital format all year long for us.
[
Read Full Article
]
Top NBA Draft Prospects in the ACC, Part 15: Prospects 24-27
November 2, 2016
Josh Riddell

John Collins was not the most heavily recruited big man coming out of Florida, ranked 134th by RSCI, before signing with Wake Forest. He had a productive freshman season in limited minutes, averaging 20.4 points and 11.3 rebounds per 40 minutes on 55% from the field while playing just over 14 minutes per game.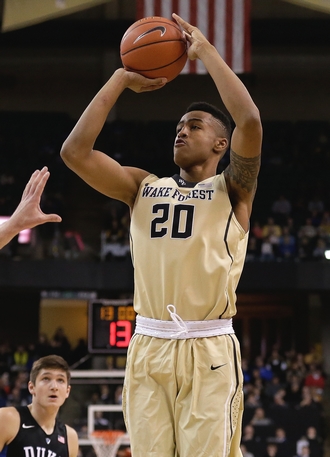 US Presswire
Listed at 6'10", 225 pounds with a long wingspan, Collins played primarily the center position as a freshman. He does have the mobility and quickness to play a power forward role going forward if he can expand his offensive skill set and be able to contribute outside the restricted area. He has an excellent frame that he'll need to continue to add muscle to in order to compete against NBA big men, but he's a very fluid athlete and was extremely active in his limited minutes, showing off a high motor and always looking to make a play on both sides of the court.
The biggest area that Collins needs to improve upon as a sophomore is his ability to stay on the court. Committing over seven fouls per 40 minutes, Collins had trouble controlling his energy and struggled with his defensive fundamentals, which limited his minutes and his ability to contribute. He needs to adjust to the speed of the game and become more disciplined so he can play a larger role in a frontcourt that lost a ton of production with Devin Thomas graduating.
Offensively, Collins looks to dunk everything inside the paint and has a high level of explosiveness and a quick second jump to be able to play above the rim. He finished 56% of his attempts around the rim last season according to Synergy Sports Technology and is a useful complementary scorer with his ability to finish off of offensive rebounds (4.7 offensive rebounds per 40), cuts and rolls out of ball screens.
He has good hands and an ability to get to the line, which only helps to improve his offensive efficiency. He attempted a very high 8.4 free throw attempts per 40 minutes last season, but does need to get better at finishing through contact which should hopefully come as his frame matures. He also converted only 69% of his attempts, and will need to improve his shooting form to capitalize on his ability to draw fouls.
Although he took just a handful of jump shots last year, his mechanics looked passable which does give him a nice foundation moving forward. He will need to get more comfortable playing on the perimeter as his range ended at the free throw line as a freshman. Improving his shot mechanics would give him the ability to score outside the paint in the flow of play while also increasing his prowess from the free throw line, raising his ceiling as a prospect.
Collins did use a high percentage of his offensive possessions with his back to the basket and showed some flashes of skill that he can build on to help him score in the post. He will need to improve his lower body strength to hold position on the block, but has displayed some impressive skills for a freshman. He likes to face up and attack his defender off one dribble, or look to shoot a short jumper, but has also shown some strong footwork with his back to the basket. He will be able to get separation from his defender, but he's often out of control or not in a good position to finish his shot after his post move. He also gets tunnel vision around the basket, and recorded a paltry seven assists in 446 minutes on the season, posting an awful 3.5% assist percentage.
Defensively, the game was clearly moving a little too fast for Collins, which contributed to his high foul rate. He played with a high level of energy, but was often a beat slow to react to the play around him, which left him vulnerable to cheap fouls. He's a confident defender who likes to switch everything, but he struggles to move his feet against quicker guards and doesn't get into a good stance to help his cause.
Collins pulled down 6.6 defensive rebounds per 40 minutes and he uses his body well to box out before exploding to meet the ball coming off the rim. He could become improve in this area if he adds strength to hold off his opponent on the glass, as he can get pushed under the rim even when holding a box out. He also contributed 2.1 blocks per 40 minutes and flies around the paint looking to block every shot. While this does help him protect the rim, he will have to pick his spots better to stay out of foul trouble. Learning to play under control while maintaining his motor defensively will be key for Collins as a sophomore to make him more effective as a defender and to keep him on the court and out of foul trouble.
One of the youngest players in the country last season after just recently turning 19 in September, Collins has a huge amount of room for growth as a sophomore and beyond. Being able to stay out of foul trouble will be his biggest area of improvement to allow him to stay on the court and impress NBA scouts as his career progresses. With his size and athletic ability, he'll certainly be a player to watch to see how his skills develop over the next few seasons.
[
Read Full Article
]