Top NBA Draft Prospects in the Big 12, Part Seven: Prospects 10-13
September 27, 2016
Jonathan Givony

Oklahoma State is coming off a highly disappointing season, going 3-15 in-conference play, leading to the dismissal of head coach Travis Ford and hiring of Stephen F. Austin's Brad Underwood.

The lone bright spot for the Cowboys was freshman Jawun Evans, who was named Big 12 Freshman of the Year while also receiving an All-Conference Honorable Mention nod. Evans' season ended prematurely due to a shoulder injury, causing him to miss the last 11 games of the year, with his team going 1-10 in his absence.

A McDonald's All-American in high school, Evans scored a solid 19 points per-40 pace adjusted last season on solid efficiency (58% TS%) while posting some of the best passing metrics in the country (certainly among freshmen) at 7.2 assists per-40.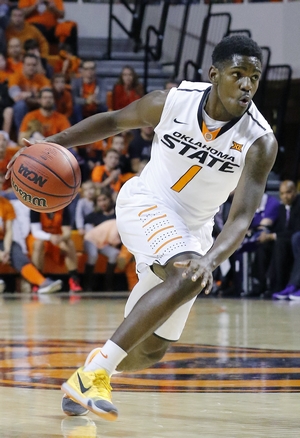 US Presswire
Standing around 6'0 in shoes, Evans is not an exceptional athlete to compensate for his lack of height, but does sport a chiseled frame and fairly long arms (6'4 wingspan) that allows him to play slightly bigger than his size. He handles the ball on a string and has an innate ability to operate at different speeds, which blends well with his strong basketball instincts and tough, unselfish style of play.
Evans saw the majority of his offense pushing the ball in transition or operating on the pick and roll. His strong ball-handling skills, crafty footwork, shiftiness and willingness to drive deep into the paint gives him nice potential in that area. He's a willing and creative passer who uses both sides of the court nicely and does a good job of kicking the ball to open shooters as the floor opens up on his drives. He shows a nice command of making many of the basic passes high level point guards need to have in their arsenal to run a team effectively, showing nice touch and timing on his feeds, which helps him compensate somewhat for his lack of size.
The fact that he was able to post such gaudy assist totals, while not being surrounded by a great deal of talent by Big 12 standards, is a testament to his ability to make plays for others. Scouts will want to see how Evans' decision making skills evolve as a sophomore, as he had some careless moments with the ball last year, a reflection of his lack of experience, which is normal for his age.
As a scorer, Evans is a mixed bag at this stage. He proved to be somewhat of a reluctant jump-shooter as a freshman, far preferring to drive right into the teeth of the defense or find the open man. The problem is that he doesn't have great size, and also isn't an incredibly explosive finisher, which causes issues for him in converting plays in traffic, despite his toughness and aggressiveness driving into contact. While he has some shiftiness to him, the fact that he isn't blessed with an elite first step makes it difficult for him to create the separation he needs from defenders to get clean looks off at the rim. Evans converted just 50/109 (46%) of his half-court field goal attempts inside the paint last season according to Synergy Sports Technology, and similarly struggled in transition as well. This could likely become even more of an issue as he moves up a level, where the big men are far more talented the ones he'll face in college.
Developing his ability to make shots from the perimeter will likely be a big key moving forward for that reason. Only 57 of Evans' 283 points (20%) came from beyond the arc last year, as the 3-pointer simply wasn't a major part of his game. He did make 47.5% of his 3-point attempts last year, but attempted less than two per game. He actually shows some potential in this area, though, as he has natural touch and shooting mechanics, as well as the ability to make jumpers both with his feet set and off the dribble, which leaves a lot of room for optimism in this area. The fact that he shot 83% from the free throw line is encouraging as well.
Like many young players, Evans is still working on becoming more consistent with this part of his game, as he has a tendency to kick his legs out or contort his body sideways unnecessarily on many of his attempt, leading to poor balance. He sometimes holds the ball for too long and in turn shoots his jumper on the way down as well.
Defensively, Evans shows nice competitiveness, strong fundamentals, and didn't appear to use his outsized role on offense as an excuse to take plays off on the other end of the floor. He has some peskiness to him and likes to get up on shooters and use his length to his advantage on the perimeter. His toughness is reflected in the amount of charges he takes each game, as well as the excellent 6.4 rebounds he averaged per-40 minutes, which is a huge rate for someone his size. He gets in the passing lanes at a nice rate as well.
With that said, Evans still has work to do on this end of the floor as well. He doesn't have elite lateral quickness, and wasn't immune from getting blown by off the dribble at times last year. He also will fall asleep at times in his stance off the ball when his teammate appears to be out of the play, losing his focus and making him a target for backscreens or cuts.
Evans had a strong freshman season, accentuated by the 42 points he put up in a narrow loss to Oklahoma, a team that eventually went on to make the Final Four. With the Big 12 seemingly taking a step back this season, having lost quite a bit of talent to graduation and the NBA Draft, it will be interesting to see whether Evans is able to lead his team to more success. Will he have enough help around him to do so?
[
Read Full Article
]