Top NBA Draft Prospects in the Big Ten, Part Five (#16-20)
September 15, 2012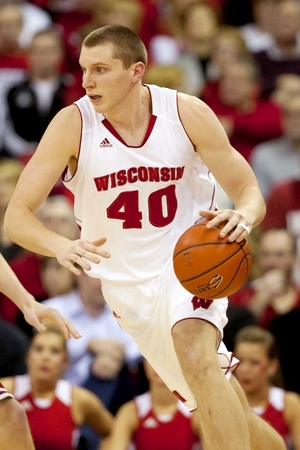 US Presswire
Jonathan Givony
After redshirting his freshman season and seeing just 277 total minutes of action over the following two years, few could have anticipated
Jared Berggren
developing into one of the most effective big men in the Big Ten. That's exactly what he was for Wisconsin, though, leading the conference in blocks per-minute, while shooting 37% from beyond the arc. Now going into his senior year, Bo Ryan will need Berggren to continue to make strides, as the team moves forward without their floor general and leading scorer from last season,
Jordan Taylor
.
From a physical standpoint, Berggren doesn't really jump off the page on first glance. While he has a solid wingspan, he possesses a frail frame which may struggle to carry too much additional weight, and isn't very fluid or graceful with his movements. He doesn't run the floor particularly well, and won't wow NBA scouts seeing him for the first time with his quickness or explosiveness either.
Berggren's role in Wisconsin's offense was fairly simple last year, seeing most of his time at center. He received a decent amount of looks in the post with his back to the basket, where he has the footwork, craftiness and touch to score against many of the weaker or less experienced big men he'll match up with at times in the Big Ten. Against bulkier post players he doesn't always find the same success, as he lacks the strength to establish great position and finish through contact at times, one of the reasons he's doesn't get to the free throw line at a great rate.
Berggren also spends a good amount of time on the perimeter, where is a confident shooter who doesn't hesitate to fire away when open from mid-range or beyond the arc. He possesses unconventional shooting mechanics, but shoots it the same every time and thus sees good results, to the tune of 37.2% last season on 3.4 three-point attempts per game. He can also put ball on the floor a little in a straight line and make his way to the rim, showing a solid skill-level for a collegiate big man in the process.
The anchor of one of the
top five
defensive teams in college basketball according to Ken Pomeroy, Berggren doesn't look like a defensive stalwart on first glance, but certainly backs that up when watching him on film.
Switching out onto smaller players on the perimeter regularly defending the pick and roll, Berggren doesn't have too much of a problem moving his feet and staying in front of quicker ball-handlers. He's fairly agile recovering after getting beat, and uses his long wingspan really well to contest and reject shots around the rim. His timing and footwork is excellent, and he is capable of sending shots back with either hand, helping explain why he
led the Big Ten
in this category in front of players like
Meyers Leonard
,
Cody Zeller
,
Jared Sullinger
and others.
Inside the post, Berggren isn't quite as effective, as he struggles giving up deep position inside the paint to bulkier big men, who can get him in foul trouble. Considering his lanky frame, burgeoning jump-shot and increasing proficiency guarding the perimeter, it appears that his future at the pro level lies at the power forward position, rather than at center. It will be interesting to see if he's able to get more playing time there next season, something that will likely depend on the continued development of fellow Wisconsin big men Frank Kaminsky and
Evan Anderson
.
Berggren's biggest issue as far as the NBA is concerned is the fact that he's a very poor rebounder on both ends of the floor, ranking amongst the worst big men in the NCAA in this category last season in fact, even when adjusting for the snail's pace Wisconsin plays at (
second slowest
in the NCAA). Getting stronger and doing a better job of boxing out his opponent could help here, but it's possible that with his frail frame and average leaping ability he may never be dominant in this area. Nevertheless, NBA teams will want to see him doing a better job cleaning up the glass in his senior year.
Berggren did a good job emerging as a prospect to watch last season, and now has a chance to take another step towards solidifying his professional future with a strong senior year.
[
Read Full Article
]