Jamel Artis Vaulting Into NBA Conversation With Strong ACC Play
January 16, 2017
Julian Applebome takes a look at Pittsburgh Panthers senior wing Jamel Artis, and how is strong play of late might vault him into the NBA Draft Conversation.



Artis, a senior out of Baltimore, Maryland, has had a very strong year under first year head coach Kevin Stallings and is coming off a huge 43 point performance vs. Louisville. He currently leads the ACC in scoring at 22.4 points per game and is second in 3-pointers made at 2.9 per game.

Artis' 3-point percentage has taken a dramatic jump from last season and he is currently shooting 46.3% on 6.4 attempts per game. What makes Artis intriguing as a pro prospect is his versatility as a scorer and his ability to handle the basketball at 6'7" and 215 pounds.

If he can continue to shoot the ball consistently, develop further as a playmaking wing, and use his size more effectively on the defensive end, Artis has the tools to be in the discussion as a potential 2nd round pick in the upcoming draft, despite the fact that he's already 24 years old without standout length, athleticism or defensive prowess.
[
Read Full Article
]
Top NBA Prospects in the ACC, Part Ten: Prospects #26-31
October 16, 2015
One of the most improved players in the ACC a year ago, Pittsburgh's Jamel Artis earned All-ACC 3rd Team honors despite Pittsburgh's struggles in conference play. Leading the Panthers in scoring averaging 13.9 points while also contributing 6.2 rebounds per-game, Artis had a breakout year after a relatively quiet freshman campaign.

Measured at 6'6 in shoes with a 6'6 wingspan and a 207-pound frame at the LeBron James Skill Academy in 2011, Artis is currently listed at a very reasonable 6'7/220. Though he lacks great length, he has a nice combination of size and strength for the small forward position, even though he spent much of last year at the four spot. More rugged than explosive inside, Artis isn't a freak athlete, but does possess tremendous toughness and can play above the rim with a head of steam.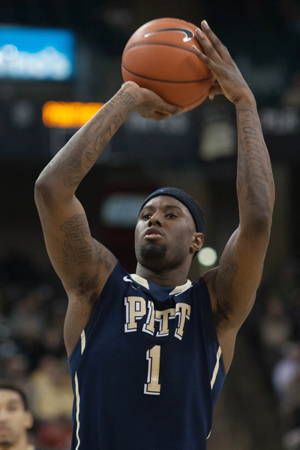 US Presswire
Flashing potential as an inside-outside scoring threat as a freshman, Artis improved his jump shot dramatically as a sophomore. After making 36% of his jump shots in his first season at the college level and attempting more of them inside the arc than beyond it, Artis connected on 42% as a sophomore while extending his range considerably. Shooting the ball with an extremely compact, consistent release, the Baltimore native attempted only 2.9 3-pointers per game a year ago, but made a surprising 40% of those attempts (up from 29% the year before) while continuing to make defenses pay for giving him space from the midrange or when he faces up in the mid-post. It will be interesting to see if Artis is more aggressive from deep this season.
Around the basket, Artis relies on his quick release and physical strength to either score over the defense or bully his way to good scoring position off the bounce. His aggressiveness plays against him at times as he takes some difficult, highly contested shots inside. Despite that, the junior seldom turns the ball over and does a decent job finding the open man moving the ball down low. Playing an increasingly efficient, low-mistake brand of basketball, Artis relishes his role as a combo forward at the college level.
Defensively, Artis moves his feet pretty well on the perimeter when he gets into a stance and makes the effort and proves to be a very capable rebounder. Unfortunately, he was too upright at times and a step slow getting out to shooters on the perimeter when he over-rotated defending off the ball and opposing offenses made him, and the Panthers as a whole, pay dearly as last year's team ranked as the worst defensive unit since Jamie Dixon became the Panthers Head Coach.
The second oldest player in our junior class rankings, Artis turns 23 in January. He may not be a particularly glamorous NBA prospect, but his sudden improvement as a shooter leave some room for optimism. He'll certainly be able to find a play to play at the next level, but that level will depend upon whether he can show improvement defensively and continue his growth offensively on the perimeter.
[
Read Full Article
]