Trending Prospects: Jack Cooley
February 13, 2013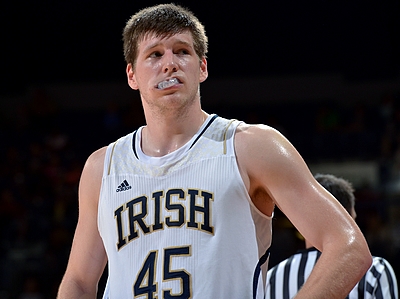 US Presswire
Walker Beeken
After a somewhat surprising breakout junior season in which he established himself as one of the best big men in the Big East, Notre Dame's
Jack Cooley
has continued his productive play as a senior, scoring efficiently and
leading the NCAA in rebounding per-minute
.
Standing at 6-9, with a strong, sturdy frame, Cooley's intrigue as a prospect starts with his work on the boards, as he's taken his rebounding prowess to another level this season, hauling down a phenomenal 15.3 rebounds per-40, which ranks him
amongst the 20 best college basketball rebounders
in our database's history, which goes back to the 2001-2002 season.
Cooley utilizes his size and strength to fight hard for position around the basket, and he embraces contact and pursues the ball with great intensity, enabling him to get rebounds out of his area, despite a lack of overwhelming quickness or explosiveness.
In addition to his rebounding prowess, Cooley is also an efficient scorer at the college level (62% true shooting percentage), doing the majority of his damage in the basket area, off of deep post ups, offensive rebounds, cuts, and as the roller in pick-and-roll sets.
He is an excellent screener, and Coach Mike Brey has used him more this season as the screener for guards Eric Atkins and
Jerian Grant
in pick-and-rolls, where Cooley rolls hard to the rim and shows good hands, with the ability to finish through contact and with either hand.
About 28% of Cooley's possessions as a senior have been post-ups, and he's continued to score effectively from his sweet spot on the right block. His go-to move is a jump hook turning to his left shoulder, which he gets off quickly and shows nice touch, and he also does a nice job establishing position and sealing off his man for easy baskets off of ball reversals. He doesn't show much variety in his post moves or footwork, and he isn't much of a face-up threat, but he does a nice job playing within his limitations and focusing on what works for him offensively.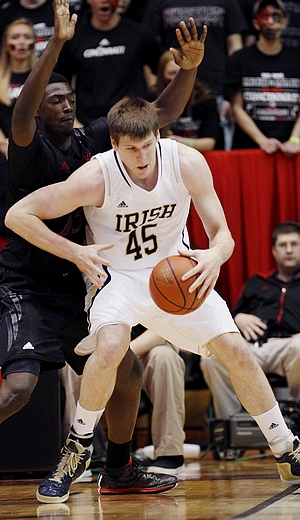 US Presswire
Cooley's effectiveness as a post scorer likely wouldn't all translate against the bigger, longer, more athletic players that he'd face at the NBA level, which is why we noted in the preseason that being able to consistently knock down catch-and-shoot mid-range jump shots would likely be a big boost to his stock and give him more value on the offensive end.
So far this season, he's still shooting less than one jumper per game, but he's connected on 10 of those 20 attempts. With such a small sample size, NBA teams would likely want to see further evidence in workouts to get a better idea of where he is as a shooter. His release is a bit slow, and his mechanics are not very fluid, but he does show some comfort out to about 15 feet, and he shoots 67% from the free throw line, which puts him around the middle of the pack amongst big men.
On the defensive end, not much has changed from what we noted in the preseason. Cooley is tough and physical and willing to battle for position on the interior, but he doesn't possess great size, length or athleticism to defend one-on-one in the post against the types of interior big men he'd likely face at the NBA level. He also lacks the lateral quickness to defend face-up big men further away from the basket, which is something he'd see much more of at the NBA level, particular if he's asked to defend power forwards.
Overall, even though Cooley hasn't shown great improvement in any one area as a senior, his continued production likely squashes any notions that his breakout junior year was at all a fluke. He's a player who probably doesn't have great upside to grow into due to his lack of physical tools, but scouts should have some comfort in knowing what they're getting with Cooley.
While 6-9 centers with limited athleticism aren't highly coveted by NBA teams, he is a tough, physical presence around the basket who plays with a great motor and has proven to be
one of the best rebounders in Big East history
, which should be enough to earn him plenty of looks through the pre-draft process and beyond.
[
Read Full Article
]
Top NBA Prospects in the Big East, Part Three
October 16, 2012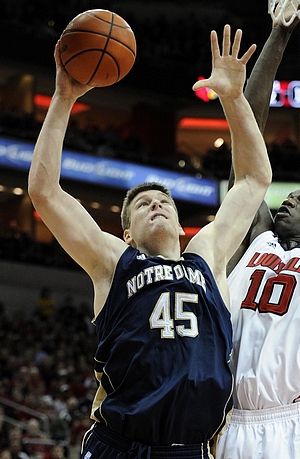 US Presswire
Jonathan Givony
Seeing limited playing time in his first two years at Notre Dame, few could have envisioned Jack Cooley developing into one of the most productive big men in the Big East as a junior. That's exactly what he did, though,
leading the conference in rebounding
per-40 minutes pace adjusted and
True Shooting Percentage
, while finishing 11th in scoring.
A 6-9 center with a strong, wide and well-conditioned frame, almost all of Cooley's offense comes right around the basket. He does a terrific job of establishing deep post-position thanks to his excellent lower body strength, and doesn't have any qualms banging up against his opponent ferociously to carve out an extra inch or two of space to get his shot off. He also sets very good screens, and shows perfect timing rolling to the rim, having soft enough hands to catch virtually anything thrown his way, and excellent touch finishing off the glass, with either hand.
In addition to his proficiency finishing off cuts and pick and rolls, Cooley is one of the most effective back to the basket scorers in all of college basketball. He sees more than a third of his half-court touches in post-up situations, and scores 1.063 points per possessions on them according to Synergy Sports Technology, which ranked in the top-10 amongst collegiate players with 100+ post-touches.
He doesn't have a terribly diverse arsenal in terms of advanced footwork and moves, though, as most of his post-offense is heavily predicated on him establishing and catching the ball with one or two feet in the paint, and he tends to struggle dealing with double teams. NBA scouts may wonder whether he can continue to score in this manner against better competition, as the big men at the next level are generally much taller, stronger, longer and more athletic.
With that said, there is no question that Cooley's style is brutally effective at the college level, as he scored at a very high rate last season, shooting a terrific 63% from the field,
#1 in the Big East by a wide margin
. He also gets to the free line relatively often, and makes 68% of his attempts once there.
Cooley is also a force on the offensive glass, pulling down 5.8 offensive rebounds per-40 minutes pace adjusted, which
ranked #1 amongst all prospects
last season. He attacks loose balls coming off the rim with reckless abandon, showing a terrific activity level and great timing. Unlike his post-game, these are things which would undoubtedly translate in some shape or form to any level he played at.
One part of his offensive arsenal that NBA scouts may have questions about is his mid-range jumper. This isn't a part of his game he's asked to display very often, as he only took a dozen or so jump-shots all of last season, some of which he actually managed to convert. Based on the hesitance he showed taking these shots, it doesn't look like this is something he's incredibly comfortable doing right now. Considering he'll likely be asked to move down a position and spend most of his time at the power forward spot, this is a part of his game he'll probably be asked to develop in time.
Likewise for his ability to put the ball on the floor from the perimeter or make plays for teammates –things he simply isn't asked to do as a center in Notre Dame's offense. Cooley dished out an assist on just 6.6% of his used possessions. To his credit, though, he is not a turnover prone player. He's simply used as a finisher, not a creator.
The biggest concerns Cooley will face making the transition to the pro level will likely revolve around his play on the defensive end. Spending all of his minutes at the center position, he really struggles any time he's asked to step out outside and guard a perimeter oriented big man. Looking very upright in his stance, and showing poor lateral quickness, Cooley has a difficult time bending his knees and moving his feet effectively, usually letting players drive right by him when being isolated against. At the college level his team can just go into a zone—which Notre Dame often does—but in the NBA that's not as much of an option. If he's going to transition to the power forward spot, this is something he'll likely have to overcome.
Playing man to man defense inside the post, Cooley is a little bit more effective, thanks to his strong frame and high activity level. He tends to struggle here too at times, though, giving up deep post position and allowing taller big men to shoot over the top of him. The Big East didn't have very many talented back to the basket players who could expose him too badly last season, but he did have some poor outings against some fairly undistinguished big men.
Cooley does show very good timing as a weakside shot-blocker, doing a nice job protecting the rim last season. He rotates very well inside the paint, rejecting shots with either hand, and usually keeps his blocked shots in-bounds, which is an added bonus. On top of that, he's also a pretty good defensive rebounder, ranking third in the Big East in that category on a per-minute basis last year.
All things considered, Cooley is likely to get some very strong looks from the NBA at the end of the season, provided his junior year performance wasn't a fluke and he's able to make some progress on some of the weaknesses outlined above. Solidly built 6-9 big men who can score, rebound and block shots and play both hard and smart don't grow on trees, so there's a good chance Cooley will get an opportunity to show he belongs.
[
Read Full Article
]