Top NBA Prospects in the Big East, Part Seven: Prospects #16-20
September 16, 2015
Matt Kamalsky

A consensus top-40 recruit in the high school class of 2013, JaJuan Johnson's first two seasons at Marquette were mostly a learning process, averaging 6 points, 2 rebounds, and 1.5 assists in 18 minutes per-game.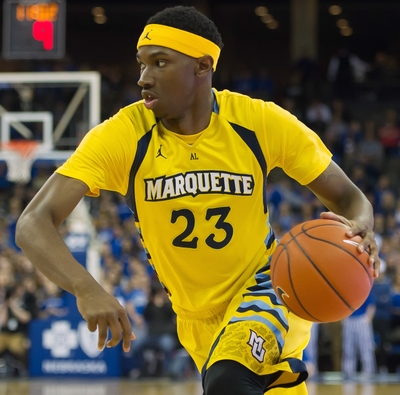 US Presswire
Listed at 6-5, with a 6'9 or even larger wingspan, Johnson has solid size for a shooting guard and a terrific blend of speed, length and explosiveness. He's added some weight to his frame since his high school days, but still has some room to get stronger to add to his already impressive physical tools.
Skill-wise, Johnson has a lot of room to grow. In his first year under Steve Wojciechowski he excelled in the open floor where his run-jump athleticism made him an effective finisher running the wings, he made fairly sound decisions with the ball posting a 2.4 assist-to-turnover ratio, and he even looked comfortable knocking down an occasional jump shot.
In the half court, Johnson didn't enjoy the same degree of success, he drove into bricks walls at times, posted 0.8 assist-to-turnover ratio, and shot 31% compared to the 65% he shot in transition as he made only 23% of his catch and shoot jump shots and 18% of his pull ups.
Bringing the ball across his body when he shoots and struggling to pick and choose his spots a bit as a slasher, Johnson was thrust into a role that he likely wasn't ready for a year ago, with a 24% usage rate on a young team that lacked significant talent. With a talented five-man class entering the fold, Marquette likely won't demand as much of him, and the opportunity to take a step back this year and settle into a smaller role may benefit him as he begins to improve his skill level and feel for the game.
Defensively, Johnson has solid potential. He has long arms, and his combination of size and quickness could allow him to match up with players at both guard positions if he dedicates himself to being a stifling defender. Marquette played a considerable amount of zone last season, so it's a bit difficult to evaluate his immediate upside locking down man-to-man, but he made some nice plays in the passing lanes a year ago and played with solid intensity, which leaves plenty of room for optimism long-term.
Like many young, raw wings, the best thing you can say about Johnson at this stage is that he has potential, as he was clearly not very productive as an underclassman. Whether Johnson takes a considerable step forward as a sophomore remains to be seen, but he was solid for the Golden Eagles during their tour of Italy and is a player to keep an eye on in the coming years.
[
Read Full Article
]