Trending Prospects (1/26/2012)
January 26, 2012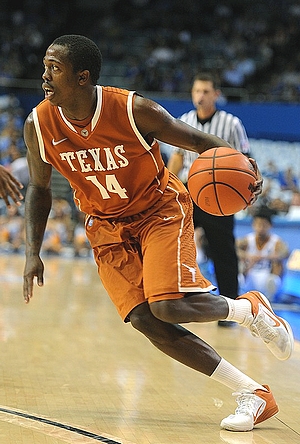 Icon SMI
Walker Beeken
After playing the role of a sparkplug off the bench as a sophomore, combo guard J'Covan Brown has taken on the role of go-to scorer this season for a rebuilding Texas team. With former teammates
Tristan Thompson
,
Jordan Hamilton
, and
Cory Joseph
all going in the first round of the 2011 NBA Draft, Brown has seen his minutes and creating responsibilities increase substantially, and he's improved his production across the board, despite some inconsistency.
While Brown is again spending much of his time off the ball, alongside freshman point guard
Myck Kabongo
, he'd likely need to function as more of a point guard at the NBA level, as his size at 6'1" likely makes him too small to be a full-time shooting guard. He's never really been given this opportunity at Texas due to their commitments to the McDonald's All-American guard prospects they've landed the past three years (Kabongo, Joseph and
Avery Bradley
), making it a bit of an unknown how he'd fare as a team's full-time ball-handler.
Brown plays with great confidence and a scorer's mentality, and is depended upon heavily to manufacture offense for a young Longhorn team without many other proven offensive options. He's able to score in a number of ways, but his perimeter jump shot opens things up for him, as he's a threat to shoot from NBA 3-point range, and is effective running off screens, spotting up with his feet set, or shooting off the dribble.
About 68% of Brown's shot attempts this season have been jumpers, and he's connected on a solid 38% from 3-point range this season on over six attempts per game. His shot selection has been very poor at times, however, as evidenced by his last two games for example, where he shot 8 for 28 in a loss at Kansas State and made just 7 of 26 shots in a loss at Kansas.
Brown is heavily depended on for scoring and needs to be very aggressive in the situation he's in, but his mediocre 32% on pull-up jumpers so far this season illustrates that he's taking quite a few difficult shots. He's also getting to the free throw line slightly less often this season, as Texas' lack of perimeter shooting and poor spacing has made it much easier for opponents to sag into the paint and force Brown to beat them from outside, which he's often too willing to do.
Despite his overreliance on his pull-up jumper, Brown is actually very good at getting into the paint off the dribble, always in attack mode and showing great shiftiness off the bounce, changing speeds and directions to keep his defender on his heels. With his excellent ball-handling skills creating shots with either hand and advanced scoring instincts, this is a part of his game that could actually look better in the NBA thanks to the improved spacing he will find due to the farther 3-point line.
This season Brown has struggled with his efficiency, though, shooting just 45% on 2-pointers this season. His lack of vertical explosiveness limits his abilities as a finisher, and he has a tendency to throw up some wild shots driving to the basket. He shows flashes of a nice mid-range jumper and floater, but he's doesn't connect on either with enough consistency, possibly in part due to the huge amount of defensive attention he draws each game.
As a playmaker, Brown shows good court vision and throws some impressive passes on occasion in the open court and off of dribble penetration. He's also turning the ball over on only 13% of his possessions as a junior, which is less than either of his first two seasons. With that said, a big question scouts will likely have for Brown will be whether or not he's able to function as more of a facilitator and run an offense, as he hasn't had that opportunity at Texas.
Defensively, Brown covers multiple positions in college but stacks up much better to defend NBA point guards than shooting guards due to his size. His lateral quickness appears to be adequate, and his length, strength, toughness, and competitiveness all help him as on-ball defender. Displaying focus and consistent effort on this end will be keys for him going forward.
Brown's intangibles and attitude will be put under the microscope by NBA teams during the draft process, as he's had a history of issues, including fouling out on a technical foul in an early season game against North Carolina State that led to his team's collapse and a loss for the Longhorns. His body language often appears to be less than ideal, and he's butted heads on occasion with his head coach Rick Barnes—things teams will want to study and learn more about.
Overall, while Brown hasn't been a model of consistency, he's done a pretty nice job so far this season adjusting to a new role and carrying a large load offensively. He doesn't fit the mold of a prototypical pass-first point guard, but if he lands in the right situation and can prove that he's coachable and has an improved attitude, it's not out of the question that he could work his way into a similar role at the NBA level that he played last season, as a combo guard who can provide a scoring punch off the bench. The fact that he has good physical tools, can create his own shot and has range out to the 3-point line gives him nice upside to grow into.
[
Read Full Article
]
Top NBA Draft Prospects in the Big 12, Part Two (#6-10)
October 3, 2011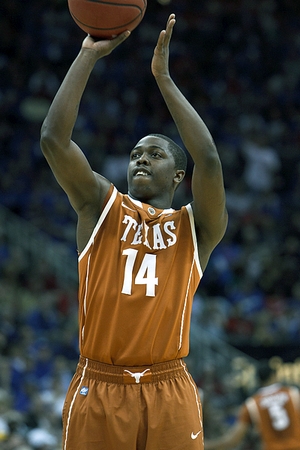 Icon SMI
Derek Bodner
J'Covan Brown finished off his sophomore year with his most consistent stretch of basketball to date. Coming off the bench all year, Brown scored in double figures in 7 of his last 8 games, and followed that up with 22 points per game while going 25-25 from the free throw line during the NCAA tournament.
Brown's role as an offensive spark off the bench was largely the same as he filled during his freshman year, but how he came about that changed significantly with the arrival of
Cory Joseph
at the point. Brown has been asked to create less in half-court sets last year than he did during his freshman campaign and the result was a more efficient season scoring the basketball, raising his true shooting percentage from 49.3% to a much more efficient 56%.
Used heavily as a pick and roll player his freshman year, Brown saw his shot-creating responsibilities drop substantially, instead becoming more of a catch and shoot and spot-up shooter, where he flourished. Brown has a quick release, gets good elevation on his jump shot and shows good consistency in his release when he gets his feet set. 42% of his field goal attempts came from beyond the arc last season, and he converted a solid 38.5% of those attempts.
When Brown gets in the paint, things become a little more murky, as he struggles to finish around the basket. Playing largely below the rim, Brown doesn't have great body control or touch around the rim, particularly with his off hand. He only converted 42% of his 2-point attempts last season, which ranks as one of
the poorest rates
in college basketball amongst guards.
Despite a sizable drop in usage in pick and roll sets -- they were over 30% of his offense his freshman year, which was down to 14% his sophomore year, according to Synergy Sports Technology -- pick and rolls still take up a significant amount of Brown's half-court offense, and it's mostly a mixed bag. Brown shows the ability to make shots off the dribble, has range to make shots off the pick and roll, and did a much better job of drawing contact last season than he had in his freshman year.
That being said, his previously mentioned struggles finishing at the rim and his limited playmaking ability limit his usefulness in this regard. An improved mid-range game would help Brown establish himself better in pick and roll sets, and give defenders another facet of the game to concentrate on when defending him.
Brown's ability to play the point is still a huge question mark, and one he's not likely to get a chance to fully prove with
Myck Kabongo
replacing the departed
Cory Joseph
for the Longhorns. He doesn't have particularly good court vision, and doesn't have an offensive set he can consistently create for his teammates from. He's done a better job of limiting his mistakes and careless turnovers, but he will still occasionally force a pass from time to time.
Brown's shot selection was a huge question mark his freshman year, and from time to time he will still launch an ill-advised jumper early in the shot clock, particularly in transition. That being said, it has improved considerably, particularly in half-court sets where he now has a much more defined role, and one that suits his skill-sets better.
Brown moves his feet well defensively, but at 6'1" can be susceptible to bigger guards, and would have considerable trouble defending the shooting guard position with regularity at the next level.
The move off the ball helped Brown become a much more efficient contributor, finding a consistent role in Texas' offense. He butted heads consistently with Coach Barnes up until this point, at times showing poor body language and being benched for his selfish play. With the loss of three first round picks and the arrival of highly touted point guard
Myck Kabongo
, Texas is going to be a very different team this year, and it will be interesting how this change in personnel affects Brown's usage, and whether or not he can develop into more than a spark off the bench.
[
Read Full Article
]