Top NBA Draft Prospects in the ACC, Part Seven
September 25, 2012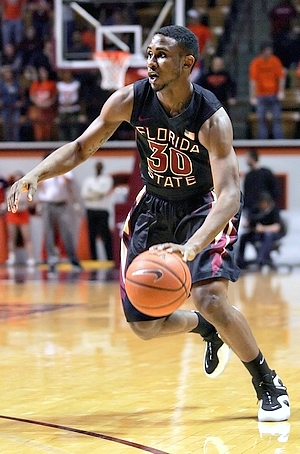 US Presswire
Jonathan Givony
Forced to miss a significant amount of action due to academic issues in both his freshman and sophomore years,
Ian Miller
will finally get to play his first full season at Florida State as a junior. With senior point guards Luke Loucks and Jeff Peterson graduated, Miller will likely see a lot more time with the ball in his hands, which should shed plenty of light on just how good of a playmaker and prospect he actually is.
Not playing his first game last season till late December, Miller was relegated to a sparkplug role off the bench for FSU. He scored at a solid clip, but did so in a rather inefficient manner, making 43% of his 2-point attempts and 35% of his 3s, while posting a 1/1 assist to turnover ratio.
Despite having solid athletic tools, most of Miller's offense comes off his jumper, as he rarely seems to venture inside the paint in the half-court. He shows excellent shooting mechanics and the ability to create separation effectively from his defender with his pull-up jumper. Showing the utmost confidence in his stroke, he makes some very tough shots from time to time with a hand in his face, even from well beyond the NBA arc. He has a quick release and is always ready to fire away on the catch, making him difficult for opposing defenses to neutralize.
Miller's self-confidence comes at a cost to his team at times, though, as he's prone to taking a lot of contested, off-balance attempts that would be difficult looks for even the most talented shot-makers. He's able to convert some of these bad shots at times, which convinces him to keep taking them. This is one of the reasons he's yet to shoot over 40% from the field in either of his two seasons thus far, so it will be interesting to see whether his poor percentages will improve this year.
NBA scouts will likely want to see whether Miller can do a better job getting inside the paint and finishing as well, something he struggled with last year. He converted just 12 of his 28 (43%) attempts around the rim in the half-court last season in 24 games, as nearly 75% of his shots come on jumpers. Despite sporting a very quick first step, Miller doesn't know how to use his athleticism to create high percentage opportunities around the basket yet. He needs to improve his ball-handling skills and make more of an effort to get all the way to the rim and finish through contact in traffic, instead of settling for floaters and pull-up jumpers, which are much lower percentage looks.
Considering his size, scouts will also want to see more playmaking ability than Miller has displayed thus far. Prone to dribbling with his head down, and clearly thinking shoot first with the ball in his hands, Miller's court vision looks average at this stage. He'll miss open teammates at times, and when he does make the extra pass, rarely is it to get someone the ball in position to convert an easy look. Most of his assists are simple passes that come within the flow of the offense, leaving some question marks about his ability to run an offense full time.
Miller still has work to do on the defensive end as well, especially considering the fact that he's somewhat stuck between positions at the moment. He's not always as focused or aware as he needs to be on this end of the floor, looking very upright in his stance, and allowing opposing players to drive by him. His fundamentals appear to be just average here, as he tends to get caught flat-footed and just try to reach from behind after getting beat. He doesn't do a good enough job of fighting through screens as well.
Miller has very quick feet and is capable of playing solid defense when fully locked in, so there's definitely hope he can become more effective on this end of the floor. Considering his below average size for a shooting guard, there's no doubt that he will need to moving forward.
An athletic scoring minded guard with excellent shot-making ability, Miller can be expected to put points on the board frequently for a Florida State team that has often struggled in that area over the past few seasons. NBA scouts will want to see whether he can do so in a reasonably efficient manner, though, and especially if he can make other players around him better.
[
Read Full Article
]
Top NBA Draft Prospects in the ACC, Part Two (#6-10)
September 19, 2011
Jonathan Givony
A highly regarded high school recruit according to some services—Dave Telep had him ranked as the #21 prospect in the country for example—
Ian Miller
struggled to make much of an impact in his freshman season due to academic issues which continue to rear their head.
From a physical standpoint, it's not difficult to see what scouts might like about Miller, as he's got great size for a guard at 6-3, to go along with a strong frame, long arms and very good athleticism.
Billed as a point guard coming out of high school, Miller played mostly off the ball as a freshman, and showed mostly a scoring mentality when given freedom to operate.
Blessed with a picture perfect shooting stroke, Miller appears to have considerable potential as both a catch and shoot and off the dribble threat, elevating well on his jumper and showing a quick release and an excellent follow through. He made 36% of his 3-pointers as a freshman and 93% from the free throw line, despite fighting through bouts of inconsistency stemming from his erratic playing time and off-court issues.
Defensively, Miller has very good tools with his excellent size, length and quickness, and appears to have the versatility to guard both backcourt positions, which is a major plus. He puts a very good effort in, doing a nice job moving his feet and contesting shots, which is a prerequisite for getting minutes on the team he plays for, one of the best defensive squads in college basketball.
As a playmaker and shot-creator, Miller isn't quite as effective at this stage. Capable of scoring in transition thanks to his strong physical tools, Miller doesn't show great polish in the half-court, only converting a paltry 43% of his two-point attempts last season. He's just an average ball-handler and isn't able to get to the rim as much as you'd expect considering his athleticism. He doesn't show much of a left hand, only plays at one speed, and doesn't do a great job finishing through contact at this stage.
Miller's court vision and decision making skills are still underdeveloped, and his shot selection often leaves something to be desired. He tends to dribble with his head down, and will force the issue trying to thread the needle with a spectacular pass, instead of just making the simple play.
He sported a negative assist to turnover ratio last season, but did make some very nice passes on occasion that hinted at good things that might come in the future. Unfortunately, his lack of experience definitely held him back at times, and he really could have used a full year running the point this season, which unfortunately does not look likely at this stage.
According to the word on the street, Miller will not be eligible to play during the fall semester at Florida State, due to the fact that he did not pass the minimum amount of credits required from him last spring.
Florida State thus went out and recruited an experienced point guard in Jeff Peterson who is eligible to play out his last season of college basketball immediately since he graduated from Arkansas already.
If he's able to make the grade, Miller will likely be able to play starting in December, which puts him at a pretty big disadvantage as far as this season goes.
While Miller definitely shows strong long-term potential, the fact that NBA scouts haven't been able to see much from him thus far means that he's likely a ways away from being discussed as a serious prospect. A player to keep an eye on in the in-conference portion of Florida State's schedule, it will likely be at least another year until we're able to get a full gauge on his pro potential.
[
Read Full Article
]