Glen Rice Jr Demonstrates There's More Than One Path to the NBA
May 2, 2013
Scouting Report by Jonathan Givony. Video Analysis by Mike Schmitz.

Glen Rice Jr officially hit rock bottom somewhere around the middle of January. 22 games into the D-League season, he'd only played a total of 147 minutes (6.6 per game), not even suiting up for many of Rio Grande Valley's contests, instead being asked to sit in the stands. The D-League Showcase had come and gone, and Rice had hardly made a whimper, as most NBA scouts that attended were barely aware that he was even on a roster, let alone a candidate for the 2013 NBA Draft.

Rice was in the D-League not so much by choice, but out of necessity, as he was kicked off Georgia Tech's basketball team in March of 2012 by head coach Brian Gregory.

"There are certain standards that have to be met both on and off the court, and there has to be accountability when those standards aren't met," Gregory said in a statement released at the time. "I'm disappointed that we have to take this action."

Rice had a tumultuous career at Georgia Tech, being benched by then Head Coach Paul Hewitt for the final five games of his sophomore (2010-2011) season for "disciplinary reasons," and then suspended in November 2011 by Hewitt's replacement, Gregory, for the first three games of his junior year for a "violation of team rules."

He was again suspended on February 15, 2012 for another violation of team rules, missing the team's final six games, and eventually got kicked off the team after being charged with "permitting unlawful operation," essentially allowing a Georgia Tech graduate assistant to drive his car intoxicated the day before the 2012 ACC Tournament. After leaving an Atlanta nightclub, another passenger in the car fired a gun, causing them to be pulled over by police.

"I was at the wrong place at the wrong time" Rice told us over the phone this week about the incident. "I was immature. Being around the wrong crowd and the wrong people. I was having a little bit too much fun in college. I'm done with that now. I really had to mature."

With his reputation in the mud, and his college resume spotty at best, Rice decided not to enter the NBA Draft or transfer to another school, which would have forced him to sit out for a full year. Instead, he signed up for the D-League, but had to wait until the fourth round of the draft to hear his name called, as the #55 pick by the Houston Rockets' affiliate, the Rio Grande Valley Vipers. With that, he became automatically eligible for the 2013 NBA Draft, as unlikely a goal as that may have appeared at the time.

When Terrell Harris got hurt, and in-between call-ups to the mothership for the likes of Terrence Jones and Donatas Motiejunas, an opportunity for minutes arose, and Rice took full advantage. His first start of the season came on February 4th, and he responded by scoring 35 points in 40 minutes, knocking down 6-10 3-point attempts, and grabbing 15 rebounds for good measure. Rice hasn't looked back the rest of the way, as he's averaging 18 points, 8 rebounds and 2.5 assists in 31 minutes per game in 25 games as a starter since February, shooting 56% from 2-point range, 43% for 3, and 76% from the free throw line.

This past Saturday Rio Grande Valley won the D-League championship after sweeping the Santa Cruz Warriors, and Rice was the best player on the court in the series, averaging 29 points, 11.5 rebounds, 4 assists, 3 steals and 3 blocks per game. Fortunes can change quickly in the basketball world, but rarely will you see a player go from racking up DNP-CDs in the D-League to being mentioned as a potential first round NBA Draft pick in the span of just four months.

Video Analysis

More Video Scouting Reports

On first glance, it's not difficult to see what made Rice a top-50 high school recruit according to Rivals.com in 2009. He's got good size for a wing player at 6-6, with long arms, a massive frame, and very good athletic ability. The fact that his father scored over 18,000 points in the NBA and made three all-star games probably didn't hurt his cause either.

Like his father, Rice's most attractive skill lies in his jump-shot, which he's honed into an extremely dangerous weapon as of late. Only shooting 30 and 33% from beyond the arc as a sophomore and junior at Georgia Tech, Rice has been absolutely deadly this season from the perimeter for the Vipers, making 39% of his overall attempts on the season, despite having to transition to the much further NBA 3-point line that the D-League plays with. He's deadly with his feet set and is capable of coming off screens or shooting off the dribble, showing consistent mechanics, a quick release, and deep range, sometimes making shots from a few feet beyond the NBA line even, and looking effortless when doing so.

Rice was the fourth most efficient all-around scorer in the D-League this season, mixing in his smooth 3-point shoot stroke with the ability to get to the rim and finish at a solid rate, making an outstanding 58% of his 2-point attempts, while getting to the free throw line over five times per-40.

D-League Overall Scoring Efficiency (min. 250 poss.)
While Rice is not the most talented shot-creator around at the moment, he has the makings of a budding floor game that could make him a versatile all-around threat offensively down the road. He pushes the ball well in transition, using his strong frame and above average athleticism to get into the paint and finish very effectively around the basket. He has a solid basketball IQ as well, looking both willing and capable of making the extra pass and finding the open man, posting a positive assist to turnover ratio this season, as he did in his three years at Georgia Tech. He also shows some potential in the post, converting 15 of the 25 shots he attempted there this season, having added a good amount of bulk to his frame since his Georgia Tech days, where he was listed at just 206 pounds, a testament to the work he's put in in the weight room.
Spending a significant amount of time as a face-up power forward in the heavily small-ball oriented D-League, Rice is a capable straight-line slasher, able to attack the defense for closing out too aggressively, particularly if he can get a full head of steam driving to the rim.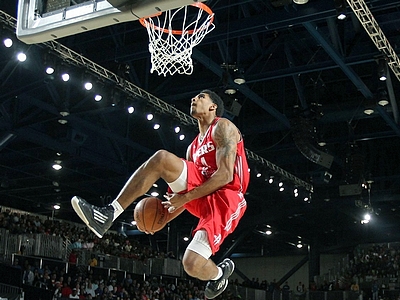 Getty Images/NBA Entertainment
In the half-court, he was rarely utilized in pick and roll and isolation situations by Rio Grande Valley, as they were stacked with talented ball-handlers for most of the season with the likes of
Andrew Goudelock
,
D.J. Kennedy
,
Terrell Harris
and NBA assignment players
Royce White
and
Terrence Jones
all needing a fair share of touches when in uniform with the Vipers. He can definitely still stand to improve on his ball-handling skills, though, as he mostly prefers to drive left, does not have an incredibly explosive first step, and can have some difficulties when he needs to create his own shot from a standstill against a set defense.
Defensively, Rice is athletic enough to make plays, regularly coming up with blocks and steals, and posting an impressive 10 rebounds per-40 minutes pace adjusted, but it's not difficult to see why it took him so long to get playing time early on in the season. He doesn't shows great fundamentals, awareness or intensity on this end of the floor, as he's very quick to get out of his stance, gets lost a fair amount off the ball, and struggles to keep quicker players in front of him. Rio Grande Valley played at the fastest pace (103 possessions per game) of any team in the extremely up-tempo D-League, so there will certainly be an adjustment that needs to be made from guarding small forwards and power forwards in the D-League to defending wing players in the NBA. Rice acknowledges that saying that "working on being in the right spot defensively" is one of the main things he needs to improve on.
All in all, Rice did an outstanding job of making the most of his time in the D-League, which is not an easy thing to do considering he was a 22-year old rookie playing professional basketball against grown men. He calls his experience "very humbling" and described to us how difficult it was initially for him, not even being able to suit up for games or travel on road trips after being put on the injury waiver list waiting for his opportunity to arrive.
"When I wasn't playing early in the season, that made me want to get into the gym even more," Rice told us. "You have to be mentally solid in the D-League. I needed to grow up. I had to sit back and wait my turn. That sparks something in you. I had to be a man about it. I needed to go in and work and when the opportunity presented itself, be ready."
His development throughout the year is something the League deserves credit for as well, in particular the team and coaching staff he played for. He's drawn a good amount of attention from NBA personnel for what he's been able to accomplish over the past four months or so, and he has a good chance of hearing his name called on draft night in turn, possibly in the first round. Scouts will be watching closely to see how he performs in settings like the NBA Combine and Group Workouts like the Nets Combine in late May. If he's able to show that he can dominate his peers from college basketball, he could really see his draft stock rise.
It will be interesting to see if other young prospects take notice of the unique path (forged by the likes of
Mike Taylor
and
Latavious Williams
) Rice elected to take, as it could present an interesting alternative for those who aren't interested in playing college basketball and being subjected to the rules of the NCAA. After all, it's difficult to argue that Rice wasn't preparing himself better for the NBA by playing with NBA rules (particularly the 3-point line and shot-clock) going up against strong competition made up mostly of former all-conference college players on a nightly basis, even if the route he took was anything but glamorous.
"I think going to the D-League was a good decision," Rice says now. "I made the best of it when my time finally came."
We'll see what the NBA thinks on June 27th.
[
Read Full Article
]