Trending Prospects (3/3/2011)
March 3, 2011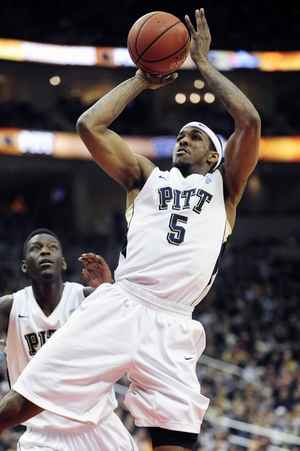 Icon SMI
Kyle Nelson
Gilbert Brown
emerged as a legitimate NBA prospect after a solid junior season and he has continued to play a vital role for Pittsburgh Panthers as a senior.
At 6'6 with a long, 200-pound frame, Brown looks the part of an NBA player. He is a good athlete, as well, both explosive around the basket and quick in the open floor.
While Brown was never a particularly productive player to begin with, his scoring rate and shooting percentages have both decreased during his senior season as his minutes have risen, to the tune of 16.7 points per 40 minutes pace adjusted on 44.6% FG.
Brown plays a complimentary role on one of the
most efficient offenses
in college basketball, where over one-third of his offensive possessions are created for him in the form of spot-up opportunities. He has shown marked improvement as a shooter, shooting a a career-high 40.2% from beyond the arc on nearly five attempts per 40 minutes pace adjusted. His mechanics remain awkward and he is still most effective shooting with his feet set, but he has improved consistently throughout his collegiate career and he definitely has potential to play a role with his spot-up perimeter shooting ability at the next level.
Brown has not developed his shot-creating ability very much this season, something he likely won't be expected to do much of in the NBA. He's getting to the free throw line a bit less this season, and is not very efficient operating inside the arc. Just an average ball-handler at best, he tends to settle for mid-range jumpers in lieu of attacking the rim, which has caused his 2-point conversion rate to drop from 54% to 49% this season.
Though he is limited as a scorer at the collegiate level, Brown compensates by displaying excellent intangibles on the offensive end. He is a willing passer and teammate, exemplified by his career-high 1.60-assist/turnover ratio. Furthermore, he knows his limitations as a player and he rarely forces anything on the offensive end.
He is equally steady on defense, confirming his reputation as one of the most effective and versatile defenders at the collegiate level. He is a very good one-on-one defender and his quick hands, length, and excellent lateral quickness allow him to stay in front all but the quickest collegiate guards. With his ideal physical tools, toughness and college pedigree, there is no doubt that he has the potential to develop into an elite defender a the next level.
Though he will be 24-years-old by the start of the NBA season and there are question marks regarding whether he can consistently make NBA three-pointers with his awkward mechanics, Brown remains an intriguing prospect whose niche as a pro is already well-established. His intangibles and defensive abilities will certainly translate to the next level and, if he can continue to distinguish himself as a reliable spot-up shooter during the NCAA Tournament and Pre-Draft process, then there is a good possibility that he will find himself on a NBA team.
[
Read Full Article
]
Top NBA Draft Prospects in the Big East, Part Three (#11-15)
October 9, 2010
Jonathan Givony

Playing in only 23 games last season after being ruled academically ineligible for the fall semester—bizarrely just a few months after winning Pitt's academic Excellence award—Gilbert Brown had a topsy-turvy junior season filled with ups and downs.

Standing 6-6, with a nice frame, long arms and solid athleticism, Brown fits the mold of an NBA wing player from a physical standpoint. He's got a quick first step, is effective in transition, and is capable of making plays above the rim.

Offensively, Brown is an efficient and fairly versatile player who played his role coming off the bench effectively for Pitt last year, even if he was very inconsistent at times. He converted his 2-pointers very well at 54%, got to the free throw line at an excellent rate, posted a positive assist to turnover ratio, and shot the ball better than he ever has from the perimeter at 40% from beyond the arc.

Brown doesn't have any glaring weaknesses at this stage, although there are some question marks regarding whether he can continue to shoot the ball from the perimeter as well as he did last season. He only took 2.3 attempts from 3-point range last year, and did so in 22 games, which is a pretty small sample size considering that he never shot better than 28% prior to that.

His mechanics are also somewhat unconventional, flicking the ball at the basket from way above his head, which may cause some problems when it comes time to transition to the much further distance of the NBA 3-point line. While very solid with his feet set last season, Brown struggles shooting the ball off the dribble, and converted just 71% of his free throws last season, two things he would be well served working on.

As a shot-creator, Brown has room to improve, as his advanced ball-handling skills are just average at this stage and he relies heavily on his first step to gain an advantage and make his way into the lane. He does finish very well around the basket, though, and got to the free throw line at a great rate as mentioned, which is largely a testament to the aggressiveness he brings to the floor.

Defensively, Brown is outstanding, showing great physical tools with his size, length and lateral quickness, and having the toughness and intensity to put them to use. He guards pretty much any position at the college level, often seeing time at the power forward position on an undersized Pitt team, but rarely allowing opponents to take advantage of him inside the paint.

On the perimeter he's extremely effectively with the way he moves his feet and puts pressure on the ball, getting down in a low, fundamental stance and doing a great job smothering his opponent with his length. Pitt likes to switch on the pick and roll and Brown is a huge part of that strategy, as he has the ability to keep up with pretty much anyone thrown his way at the Big East level.

Despite his modest production last season—10.7 points in 24 minutes per game--and somewhat advanced age--turning 23 in September--Brown might be somewhat of a sleeper prospect to make an NBA team, and could even stick around for a while if he continues to improve and endears himself accordingly. He's extremely solid in every facet of the game and is incredibly strong in probably the most important one from his perspective—defense, which will give him a fighting chance anywhere he ends up. If he can prove that his perimeter shooting accuracy from last season was not a fluke, he's got a pretty good case to merit being drafted even.
[
Read Full Article
]