Trending Prospects (1/27/2011)
January 27, 2011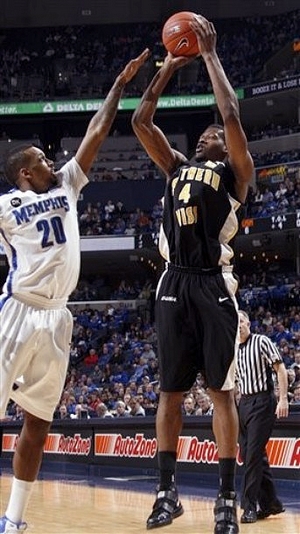 AP
Kyle Nelson
After showing potential as a junior, Southern Mississippi forward
Gary Flowers
has made significant strides thus far during his senior season.
As has been written in the past, Flowers has above-average size for a combo-forward with good length to compensate. In addition, he is a fluid athlete, which makes his tweener skill-set more adaptable to the next level.
There is a lot to like about Flowers on the offensive end, as well, where he ranks
amongst the best scorers in college basketball
, shooting a very efficient 52% inside the arc and 44% from 3-point range. His shooting motion remains inconsistent and his jump shot gets little arc, but he has nonetheless developed into a solid perimeter shooter and a reliable pick-and-pop and spot-up threat at this level.
Inside of the arc, he continues to show potential as a face-up scorer with his growing comfort in his pull-up jump shot. He must continue to work on his ball handling, however, as he rarely is able to utilize his athleticism off the dribble and he is still very limited as a shot creator. He is a solid finisher around the basket, as well, where his quick feet, explosiveness, and soft touch off of the glass work to his advantage. While he struggles to carve out space in the post and he does not move particularly well without the ball, he has some solid post moves and can catch-and-finish.
At this stage his skill set resembles that of a face-up power forward, but his improvement and athleticism continues to suggest that with continued work he could see minutes at the small forward position in the future.
Unfortunately, Flowers has improved little on the defensive end this year, still showing the combination of mediocre fundamentals and general lack of effort that hindered him as a junior. With solid lateral quickness, length, and athleticism, he has the physical tools to be versatile, and will occasionally make a standout play, but he is, at best, a below average defender at this stage.
Gary Flowers
is intriguing given his size, athleticism, and scoring ability. He will also be 25-years-old (with a
checkered past
) at the beginning of his rookie season, so how much more he can and will develop is unknown.
Furthermore, he has done little this season to dispel the notion that he is a tweener on the defensive end, too small to guard traditional power forwards and not solid enough to be trusted to guard small forwards, a reputation that might hurt his draft stock.
Fortunately, however, Flowers will have the opportunity to prove himself at the Portsmouth Invitational Tournament, which is well-suited to his style of play and where he can prove to scouts that he can play a role at the next level.
[
Read Full Article
]
Top NBA Draft Prospects in Non-BCS Conferences, Part Three (#16-20)
November 7, 2010
Matt Kamalsky

A former Oklahoma State player who went the Junior College route before landing at Southern Mississippi, Gary Flowers made a strong impression in his first season of Division I college basketball. Leading the Golden Eagles in scoring and rebounding last season, the senior will be relied upon heavily to keep Southern Miss in the top-half of Conference USA. After declaring for the draft in 2009 before returning to the college ranks, Flowers has some intriguing NBA tools,

Flowers's production last season was predicated on his tremendous athletic profile. Standing 6'8, Flowers has an excellent first step and well above average leaping ability. Very fluid in the open floor, the Dallas native has the athleticism to play the small forward position at the NBA level, and while he's made some strides as a perimeter player since his high school days, he's still a bit of a tweener. Fortunately for Flowers, he has an absolutely massive wingspan, allowing him to play considerably taller than he is list and retain some potential as a face-up power forward on the next level.

The progress Flowers made on the Junior College level was apparent when watching him operate from the perimeter and face up in the post last season. While his handle is still very loose, he has absolutely no trouble creating his own shot and getting to the rim from the perimeter. His excellent first step allows him to get his man off balance, and he's strong and athletic enough to finish at the rim when his man can't recover and he's developed some quick spin moves that lack polish, but afford him enough space to get his shot off.

Flowers's ability to score in one-on-one situations only adds to what he brings to the table as a finisher around the rim. An outstanding catch-and-finish threat and offensive rebounder thanks to his long arms and leaping ability, Flowers can make an impact around the rim in half-court and transition situations alike.

The biggest flaw in Flowers's game at the moment is his poor shot selection. Though he can get his shot off at will, Flowers tends to settle for far too many contested jumpers. His efficiency with his feet set on the perimeter has improved immensely, but he remains erratic at best off the dribble. Lacking a consistent release point, Flowers's ability to become a reliable perimeter shooter will help dictate what position he's best suited to play at the next level.

Defensively, Flowers uses his length effectively to rebound and block shots, but lacks discipline, gets beat of the dribble regularly, and doesn't show great intensity. Seldom getting in a defensive stance, Flowers is a capable defender on the few occasions that he appears dialed in. Able to block shots by virtue of his length alone, Flowers would be well served to focus on his defense next season, as he has all the physical tools to be a quality defender on the next level.

A bit of a mixed bag in his first year at Southern Miss, Flowers has the physical tools to play in the NBA. If he can become a better defender and add the shooting ability that would allow him transition to the three position full time, he could become a more interesting prospect. A candidate for the Portsmouth Invitational Tournament, Flowers's athleticism makes him a player worth keeping an eye on as he enters his final season of eligibility.
[
Read Full Article
]