Trending Prospects (3/22/2012)
March 22, 2012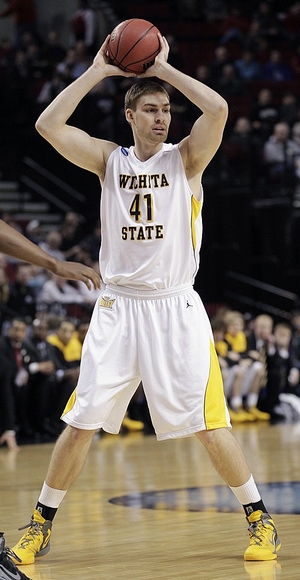 Icon SMI
Joseph Treutlein
Garrett Stutz
and the Wichita State Shockers had an early end to their excellent season, suffering an upset lost to 12 seed VCU in the first round of the NCAA Tournament. This culminated the end of Stutz' four-year career, one in which he improved dramatically since arriving on campus as a very raw, 215 pound, 7-foot tall freshman.
Standing a legit 7'0 with a strong, well-built 255 pound frame and solid length, Stutz has excellent size and strength for the center position at any level. He has done a great job developing his body, which was no easy task,
as he reportedly had to eat 6,000 calories daily
and work out every day early in his collegiate career, a testament to his work ethic.
While Stutz has strong physical attributes for his position from a pure size and strength perspective, he has some considerable disadvantages from an athleticism standpoint, not being an especially quick or explosive player. While Stutz does exhibit high coordination and doesn't really look awkward in any of his movements, he is slow running the floor and gets very little elevation off the ground, being a decidedly below-the-rim player even at his height.
On the offensive end, Stutz does most of his work directly around the basket, with his back-to-the-basket game making up almost 50% of his half-court possessions according to Synergy. Stutz is a physical post presence, constantly fighting for position and having no problems backing down anyone he faces. When he gets the ball, Stutz has a simple but well-developed post game, relying mostly on hook shots with either hand turning off either shoulder.
Stutz does a good job finishing in the post at the college level, showing good touch and taking advantage of often getting the ball very close to the basket. He's excellent at keeping the ball high and not wasting movements, usually going right into his move with little hesitation. Unfortunately for Stutz, he does often run into some problems with his post game at this level, and there are questions about how this aspect of his game will translate to the next level.
Stutz' inability to elevate is his biggest problem going forward, as he rarely gets any lift on his moves in the post. Despite usually having a considerable height advantage on his opposition, almost all of his post moves are closely contested in one-on-one situations, and despite a strong willingness to absorb contact, he doesn't do a great job finishing through it.
Stutz' lack of elevation also renders him almost completely unable to finish with power in the post, as he rarely goes up for a power dunk when contested, which is surprising given his height and how close he plays to the basket. At the next level, playing against larger, more athletic competition, Stutz should have an even more difficult time getting his post moves off, and could have a tough time translating this aspect of his game.
Aside from his post game, Stutz does most of his finishing on cuts, pick-and-rolls, and offensive rebounds, something that would surely have to become a larger part of his game were he to make it in the NBA. Not having to create on his own, Stutz' lack of athleticism doesn't hurt him as much here, and he does a slightly better job getting up around the basket.
Stutz is an excellent off-the-ball finisher at the college level, showing good hands and nice ability to catch and quickly transition into a lay-up, showing good awareness of where he is relative to the basket when he gets the ball.
The other intriguing aspect of Stutz' offensive game is his spot-up jumper, something he's shown decent success with in his four years in college. Shooting a very strong 82% from the free-throw line and as solid 32% from three (albeit on just one attempt per game), Stutz clearly has some solid ability in this area of his game, and it will be very important for his success if he further develops it moving forward.
Stutz does a solid job finishing on spot-up mid-range and three-point jumpers, and could have a chance at being utilized as a pick-and-pop big at the next level, something he didn't do much of in college.
On the defensive end, things are a bit more concerning for Stutz' chances, as his lack of athleticism leaves him very limited defending one-on-one situations. On both the perimeter and the post, Stutz has a very tough time moving laterally and is prone to being beat badly off the dribble, despite good effort to move his feet and stay in front of his man. He's also very vulnerable in the pick-and-roll, being forced to play a conservative strategy where he drops back almost every play, not having the change-of-direction ability to hedge well.
He's also limited as a shot blocker, seeing most of his blocks in man-to-man situations, not being a significant weakside force. While Stutz could be a solid positional defender and could do a good job holding his own against other slow-footed, power centers, he will likely have problems against better athletes on this end of the floor in the NBA.
Stutz is, however, a great rebounder on both ends of the floor, something that could somewhat make up for his other defensive shortcomings, as he does a good job taking advantage of his size and motor to get close to the rim for boards. His 12.5 rebounds per 40 minutes pace adjusted ranks near the top of our database, and will definitely be one of his biggest selling points as something highly likely to translate.
Looking forward, Stutz brings some clearly defined strengths to the table as a player with his size, rebounding, inside scoring, and developing jump shot, but also has some significant liabilities with his lack of explosiveness and defensive abilities.
His excellent improvement in his four years on campus, both from a production and physical standpoint, is surely a strong point in his favor, and he may still be able to squeeze out some increased athletic ability by firming up the significant mass he's put on in college.
Given his size, he'll likely have multiple opportunities to catch on in the NBA down the road, and could be an effective overseas player regardless if he's unable to crack the NBA.
[
Read Full Article
]