Frank Mason: Kansas Senior Bulldog
February 23, 2017
Julian Applebome analyzes Kansas Senior Point Guard Frank Mason III, and the impact he has on one of the top teams in college basketball.



In his fourth and final season under Bill Self, Frank Mason III has become one of the most valuable players in all of college basketball. Mason arrived at the University of Kansas following a post-grad year at Massanutten Military Academy in Woodstock, Virginia. After a relatively quiet Freshmen year playing behind Naadir Tharpe, Mason took over the starting point guard responsibilities his sophomore year, and hasn't looked back. He has posted an 84 and 17 record as a starter at Kansas, becoming one of the winningest players in the NCAA during that span.

While at 5'11", there are some concerns surrounding Mason's lack of ideal size, there are no such questions regarding his toughness and shot making ability in clutch situations. He is a strong lead guard, with a bulldog mentality, and is fearless attacking the basket and drawing contact. He can play over aggressively at times and force the issue, but he has shown improvement with his decision making and shot selection as his career moved on. He is shooting a career best 50.4% from deep on 4.4 attempts per game, and has become one of the most dangerous shooters in the country, both off the dribble and with his feet set.

Mason is facing an uphill battle heading towards the NBA Draft because of his size, age, (turns 23 in April) and struggles scoring efficiently inside the arc, but it is hard to look past his overall improvement and consistent dominance in the Big 12. He will get plenty of looks in the second round, and even if he goes undrafted, ala Fred VanVleet or Yogi Ferrell, he certainly will have opportunities to make a roster and show he can play a role as a backup.

Julian Applebome is a video analyst for DraftExpress. Follow him on twitter and check out the DraftExpress Video section. He will be breaking down the NBA draft in digital format all year long for us.
[
Read Full Article
]
Top NBA Draft Prospects in the Big 12, Part Eight: Prospects 14-17
September 28, 2016
Jeremy Bauman

Frank Mason has come a long way from the fall of 2013, when he was committed to play for Towson in the Colonial Athletic Conference. Mason didn't qualify academically and wound up back on the summer circuit, where he impressed the Kansas staff with his competitive fire and potential and pledged to play for the Jayhawks following a postgraduate year at Massanutten Military Academy.

As C.J. Moore of Bleacher Report profiled, Mason was known as more of a scoring guard at the prep level, and never fully adjusted to his role of off-the-bench combo guard during his freshman season, oftentimes playing alongside starting junior point guard Naadir Tharpe, whose departure from the program in the summer of 2014 created an opportunity for Mason to take control of the team as a sophomore.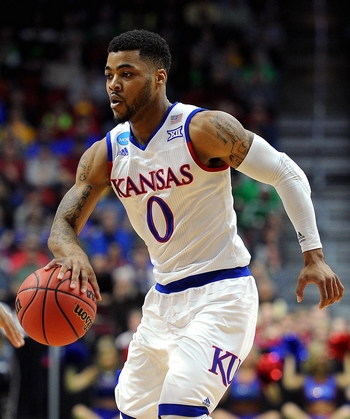 US Presswire
Now a rising senior, Mason has since extinguished any doubts about whether he is capable of being a productive player and floor general against Big 12 competition, as he has morphed into one of Coach Bill Self's most reliable players over the past two seasons. The Petersberg, VA native, who started just three games as a freshman, started 62 out of 63 games during his sophomore and junior seasons while posting solid passing metrics across the board.
The 22-year old lead guard has the keys to a Kansas team that has national championship aspirations, so he should be in the limelight with substantial opportunity to prove himself to scouts.
At 5-11 and 185 pounds, Mason lacks ideal height or length for an NBA point guard prospect. He compensates for his small stature with toughness, athleticism, strength and a solid basketball IQ.
A prolific jump shooter off the bounce, Mason scored 1.017 points per possession in such situations during his junior season, which ranked in the 90th percentile amongst all players in college basketball last season. At his best when he's in-rhythm, Mason is efficient as a shooter off the dribble because he is decisive, low to the ground and catches the defense off guard with his release.
He has improved as a catch-and-shoot option during his three seasons at the college level but still has to work on his shot preparation, as he often catches the ball standing straight up before dipping and starting his shooting motion, which wastes valuable time and causes him to rush shots as the defense closes out on him.
Boasting a 2.1-to-1 career assist-to-turnover ratio, the rising senior leader is generally a solid good decision maker with keen vision and the willingness to deliver passes to teammates on-time and on-target in their comfort zones. He is unselfish, moving the ball from side-to-side with speed and precision. Extremely fast in transition, the point guard pushes the ball up-court in the hopes of creating scoring opportunities for open cutters, perimeter shooters or himself.
Even though he has developed as a playmaker, Mason needs to take better care of the ball when facing pressure. He has bad habits of leaving his feet and killing his dribble before he knows where he wants pass. He also must tighten his handle and be more calculated with his dribbles to cut down his turnovers.
An excellent scorer in the pick-and-roll, Mason scored 1.017 points per possession and ranked in the 92nd percentile last season, according to Synergy. Adept at utilizing the screen or refusing the screen, the diminutive guard thrives when attacking in space. He's extremely quick with the ball in his hands and shows the ability to use a variety of dribble moves to find openings.
Mason has developed a consistent floater and running layup as options to catch the defense off guard and finish over the length of big men, necessities for a potential undersized NBA guard who has significant trouble finishing at the rim and doesn't have enough confidence to consistently finish plays with his left hand. His small stature will always likely be a hindrance around the basket, though, despite his extremely impressive explosiveness, as he converted just 43% of his half-court field goal attempts inside the paint last season, a very poor rate.
A member of the 2016 Big 12 All-Defensive Team, the lead guard is especially disruptive because he's capable of pressuring his assignment far from the rim, using his speed and strength to repeatedly turn the ball-handler. He is a determined competitor with quick hands and anticipation skills, which he has utilized to become an excellent rebounder considering his size, hauling in 136 total defensive rebounds last season (3rd most for the Jayhawks).
Still, there are instances where you would like to see him navigate pick-and-roll and off-ball coverage plays better. He needs to move with more force as he fights through screens and gets caught standing straight up as a help-side defender. When projecting Mason to the point guard position at the NBA level it's tough to see him being a true impact defender because of his limitations in terms of size, wingspan and strength as it feels like he's nearly maximized his potential on this end of the court.
Mason, who will turn 23 in April, is as an older guard who has improved year-over-year, and it is crucial for his NBA stock that he continues to produce and progress during his senior season. He is a tenacious competitor who has addressed the deficiencies in his game and shown the willingness to improve them thus far. Once caught in between positions, Mason has established himself as a floor general for Bill Self and a very successful, winning program over the past two seasons and will enjoy a long professional career whether he's drafted or not.
[
Read Full Article
]
The Top Ten Performers at the 2016 adidas Nations College Games
August 6, 2016
#6) Frank Mason, 5'11, Point Guard, 22.3 years old, United States, Kansas

EWA: .5
PER: 19.6
TS%: 61.0%
9.8 PTS, 2.8 REB, 2.6 AST, 1.2 STL, 2-7 3P%, 9-14 FT%, 55.8 FG%

Senior point guard Frank Mason will return to Kansas next season for his final year of College Basketball. Mason has been a rock for Coach Bill Self over the last 2 seasons, starting 72 of his last 73 games over the course of his sophomore and junior years. Mason will return with Devonte Graham to form one of the toughest and most experienced backcourts in the country, and to give himself one last shot at a Final Four.

At just 5'11, Mason is short in stature, but he compensates for that with toughness, athleticism and strength. He's 185 pounds and despite his stocky frame, he is extremely quick with the ball in his hands, showing the ability to take his man off the bounce with a variety of dribble moves which he can use to create space. He is a blur in transition, and although he might not look like it on first glance, he is an extremely explosive leaper who can go up and catch lobs above the rim.

While at times he can struggle finishing around the rim due to his size, that doesn't stop him from trying to get there, and he'll use his body effectively to try to create space or draw contact. He is a scoring guard at nature, but still very much a capable point guard. He's a high IQ guy who will look to make the extra pass, and can make some nice plays out of ball screens or dribble drives. He has some catch and shoot ability, but his percentages fell off last season going from 43% to 38% on 3 attempts per game. He has some limitations on the defensive end of the floor given his size and lack of length, but that doesn't take away from how hard he competes. He is not afraid to get into ball handlers and play physical defense, as he demonstrated with one impressive chase down block in Los Angeles.

Where Mason's career goes after his senior season at Kansas is very much up in the air. He is a tough College Point Guard who will be the leader of a deep Kansas team next season, but he lacks size and hasn't been overly prolific or efficient as a scorer. Mason won some scouts over in LA and is certain to get some long looks from NBA teams when his career is up. He is a tough, strong competitor who has been a major piece for Bill Self and a very successful, winning program over the last two seasons, and will absolutely have a long professional career wherever he ends up.
[
Read Full Article
]