Top NBA Prospects in the Pac-12, Part Eight: Prospects 16-21
September 18, 2016
Julian Applebome

USC took a step in the right direction in 2015-16 under third year head coach Andy Enfield, winning nine more games than the previous season, while making their first NCAA Tournament appearance since 2011. Sophomore guard Elijah Stewart was a key piece for an improving Trojan team, but, for the most part, didn't change much from his freshman year. Stewart found himself bouncing in and out of the starting rotation, stringing together some very impressive performances, while also looking like a non-factor in several games.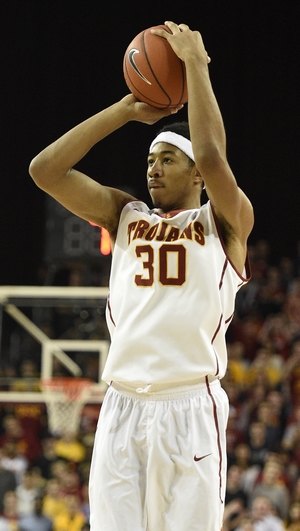 US Presswire
At 6'5" and 190 pounds, with above average length, Stewart has decent size for the shooting guard position. He is a dynamic athlete who possesses explosive vertical leaping ability, and has the explosiveness needed to finish above the rim off one or two feet. He is a threat running the wings in transition, getting behind the defense for alley-oops, or crashing the rim for tip dunks.
The most translatable skill Stewart possesses is his ability to shoot from beyond the arc. As a freshman, Stewart converted 34.6% of his 107 attempts from deep, but took a big leap forward last season, hitting 42.9% of his 140 3-point attempts. He doesn't have the most conventional shooting mechanics, often letting his elbows flail out, but has the size and quick release needed to get his jumper off cleanly on the catch, and saw excellent results. He is a threat to run to the 3-point line in transition, and found a lot of open looks from deep early in the shot clock.
Outside of his perimeter shooting ability, Stewart is limited offensively in the half court. 54% of his field goal attempts last season came from beyond the arc, with the majority of them in catch and shoot situations. His reliance on his outside shot caused several inconsistent performances over the course of the season, including nine games in which he scored 5 points or less.
Much of Stewart's limitations in the half court can be tied to his poor ball-handling skills. He has the ability to step in and knock down a smooth one or two dribble jumper, but any other shot-creation moves outside of that can be a struggle. He seems to be aware of his lack of ball-handling ability, and generally plays within himself, as evidenced by his very low 1.3 per 40 minute turnover rate. Stewart's inability to make plays with the ball dampers the effectiveness he can have offensively, despite the athletic ability he possesses. He'll occasionally try to get into the paint with a straight-line drive or using a ball screen, but often his forays to the rim will end with awkward runners that he doesn't convert at a high rate. When he does get all the way to the rim, he can finish effectively using his explosiveness and body control, but is generally a finesse finisher who doesn't get to the free throw line at a high rate. He was featured in a fair amount of ball screens last season, but didn't show much in terms of creating for others. He'll make the extra swing pass when he is closed out on the perimeter, but hasn't shown much else as a playmaker.
Defensively, Stewart has all the physical tools to be a contributor. He has the length, strength, and athletic ability to guard players that are both quick and strong, but he is plagued by over aggressive defensive tendencies. In nine games last season he had four or more fouls, with many of them coming far from the basket. He likes to get into ball-handlers, close out hard on shooters, and gamble for steals, often drawing whistles in turn. When he is staying out of foul trouble, he competes, and has a high activity level that allows him to influence the game as a defender. He moves his feet well, stays in a stance, and does a good job covering ground on the perimeter and using his length and athleticism to close out on shooters. He can occasionally get lost as an off ball defender, keeping his eyes on the ball handler and preparing to jump passing lanes, rather than sticking with his man. His steal and block percentages were both cut by about half this season from last year , but he was still able to influence a good amount of shots from the guard position.
USC will return a similar roster to what they fielded last year, as they look to build on their first winning season since 2010-2011. For Elijah Stewart, his junior season will be an important one, as he looks to distinguish himself as an everyday starter and a future NBA prospect. In order to build on his game he'll need to show more diversity on the offensive end, while continuing to shoot the 3 at a high rate. He has the physical tools to continue to improve, but will need to show more consistency on both ends of the floor, and take a bigger leap than he did from his freshman to sophomore year.
[
Read Full Article
]
Top NBA Prospects in the Pac-12, Part Seven: Prospects #17-20
September 9, 2015
Derek Bodner

6'5" wing Elijah Stewart came on strong towards the end of the season, starting the last 8 games for USC while averaging 13 points, 4.4 rebounds, 1.75 blocks and 1.5 steals in just over 30 minutes per game over that span, connecting on 43.4% of his three point attempts. Stewart's emergence down the stretch was a ray of light in an otherwise disappointing season for the Trojans.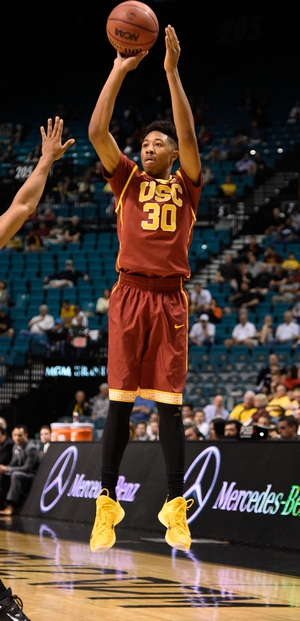 US Presswire
On the offensive side of the court, over half of Stewart's field goal attempts came from behind the three point line, where he connected at a respectable 34.6% clip. Stewart gets excellent elevation on his jump shot and can get the shot off with relatively little space, doing a good job getting in position before the pass, providing him with a relatively quick release. His form can break down occasionally, with his shooting elbow flailing out at times, but Stewart shows a natural shooting touch, and it's something that he should be able to correct with repetition.
Stewart also shows an ability to shoot off the dribble as well as from the catch, with comfort taking one or two dribbles in either direction to setup a step-back jump shot. Because of his athleticism, Stewart is able to rise up over his defender to get separation, giving him a clean look at the basket. Stewart's overall effectiveness when shooting off the dribble, only 0.719 points per possession according to Synergy Sports Technology, still leaves something to be desired, but shot selection likely has a significant impact on that number, and it's something that he could see an improvement in down the line.
The rest of Stewart's half-court offense mostly comes off the ball. While he's an incredible athlete, with great ability to elevate in the lane and a quick first step, his ability to create off the dribble is largely held back by his mediocre ball handling ability, especially with his left hand. Rarely does Stewart get all the way to the rim off the dribble, instead settling for difficult, contested perimeter jump shots, when asked to create for himself.
On the positive side, Stewart does find ways to contribute without the ball in his hands. Besides shooting off the catch, which does have the potential to be a strength of his down the line, Stewart's athleticism makes him a threat both cutting to the basket and off offensive rebounds, with Stewart finishing a number of emphatic putback dunks that showcased his athleticism for the position.
On the defensive side of the court is where Stewart most consistently made an impact for the Trojans last season. Stewart has good length for his position and moves his feet very well on the perimeter, which, combined with his high activity level, can cause some problems for opposing offenses, as Stewart averaged 1.6 steals per 40 minutes pace adjusted. Stewart also averaged an impressive 1.9 blocks per 40 minutes pace adjusted, which is the top figure for a shooting guard in our top-100, and shows how quickly Stewart can get off his feet, either off of one or two feet, another one of his athletic gifts.
Beyond just the numbers, Stewart was largely an attentive defender. While he could get caught ball watching and gambling for steals when playing off the ball, Stewart largely did a good job keeping himself close enough to his man that he could recover while still keeping himself in proper closeout position. Stewart is largely an engaged defender who gives consistent effort, and this should form the basis of his standing as a prospect down the line.
Stewart is far from a polished prospect, especially offensively, where a little more consistency on his jump shot and more confidence in his ball handling ability would go a long way to helping him find a role at the next level. That being said, there are signs that point to potential as a 3-and-D type of player down the line, and having the athleticism, and mindset that Stewart has is a good starting point for him to build on.
[
Read Full Article
]