Top NBA Draft Prospects in the Non-BCS Conferences, Part 7 (#31-35)
November 14, 2011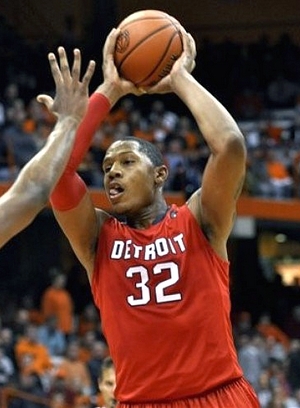 AP
Joey Whelan
Eli Holman
's collegiate career - though blessed with quality play each of the last two seasons - has been a rollercoaster of off the court troubles. Following his freshman season at Indiana, the former top-100 high school recruit decided to transfer to Detroit under the suspect circumstances, allegedly being involved in a tantrum with Hoosiers coach Tom Crean. Then, this past off-season, Holman was involved in an undisclosed incident at a Detroit fraternity house that currently has him suspended indefinitely from the Titans roster. In spite of all that, his size, production and potential are enough that pro teams will at least have him on their radar should he return to the court this season.
Standing 6-9, with a chiseled frame and an excellent wingspan, the senior has the necessary build to handle the physicality of being a frontcourt player in the NBA. He's also an above average athlete, running the court well and elevating quickly off the floor for strong finishes at the rim.
Holman spends the majority of his time around the basket, with 91.1% of his shots coming around the rim or from posting up according to Synergy Sports. His efficiency numbers on the block are excellent (.966 points per possession, 57% shooting), but he is certainly able to get away with more at this level than he would against NBA level defenders. He seals exceptionally well thanks to his large frame and strength, establishing position inside is no problem for him. Holman's back-to-the-basket game isn't all that refined however. He is much more comfortable going to dominant his left hand inside and regularly goes to a jump hook which has nice touch when he isn't rushed, but he tends to force the issue sometimes.
There are two main areas where he gets himself into trouble presently when posting up - first is awareness. There are times where Holman receives the ball and immediately begins attempting to execute a move without establishing his place on the court. This often yields poor angels on shots or turnovers along the baseline when he realizes he's trapped himself. He also needs to significantly improve how he handles double teams - plain and simple, he can't. When defenses came with a hard double team Holman tends to either shuffle his feet in panic or force errant passes.
He's a tireless offensive rebounder – ranking as one of the top returning players in our database in this respect. His high intensity level, combined with his excellent length and strength allow him to excel on the glass. In order to have any chance at the NBA he will have to continue to attack rebounding with this same fervor.
When stepping away from the basket there is a definite drop off in productivity. Holman's shooting numbers aren't great, just 30% shooting on jumpers on 69% shooting from the free throw line. Still these marks are improvements from the previous season, at least showing some degree of progression. The thing is, Holman's shooting form isn't all that bad when he's comfortable and can catch the ball in one fluid move. His motion is a bit long, but he hurts himself with an inconsistent release point. Becoming a little more regular in this regard would surely help his numbers. He also isn't much of a threat to attack off the dribble from the mid-range, looking out of place and uncomfortable here.
Thanks to his physical tools, Holman has excellent potential on the defensive end. It hasn't all come together for him at this stage, though. In the post he has the bulk to hold his own and has no problem bodying up opposing players and changing shots with his smothering length, but his poor fundamentals often work against him. His awareness is average and he doesn't always put the work in early enough to prevent opponents from getting off good looks against him. When stepping further away from the basket though he is very much out of his element, often getting burned by his indecision on when to close on shooters versus playing the dribble drive. He isn't quick or smart enough to consistently guard face-up power forwards away from the paint, but shows enough prowess to handle playing fifteen feet and in.
Holman currently faces an uphill battle to the NBA. His physical profile are very good for a power forward, but his average skill-level and advanced age don't work in his favor. There's also the big question of his off the court issues that have been somewhat of a trend in his career. Pro teams may take a chance of a physical specimen with massive upside or a supremely skilled player with these kinds of issues, but for a borderline at best player like Holman, they could prove his downfall if he doesn't get his career together.
[
Read Full Article
]